QEP Resources, Inc. (NYSE:QEP) is a leading independent natural gas and crude oil exploration and production company focused in two major regions: the Northern Region (primarily the Rockies and the Williston Basin) and the Southern Region (primarily Oklahoma, the Texas Panhandle, and Louisiana) of the United States.
Since its spinoff from the regulated utility Questar Corporation in 2010, QEP Resources develops, gathers, compresses, treats, processes and stores natural gas. The company is the majority owner of QEP Midstream Partners, LP (NYSE:QEPM), which recently went public this year, and owns 100% of the partnership's general partner.
The Acquisition
On December 9, 2013, QEP Resources Inc. announced that its wholly owned subsidiary, QEP Energy Company, entered into a definitive agreement with EnerVest Ltd. to acquire oil and gas properties in the Permian Basin for an aggregate purchase price of approximately $950 million. This follows the company's largest transaction to date of $1.4 billion in the Williston Basin in August 2012, adding 125 MMBOE of reserves. Click here for Williston Basin news release. The newly acquired properties, which are located in the Midland sub-basin, primarily in Martin and Andrews counties in west Texas, add to the company's emphasis on high-margin crude oil and natural gas liquids production. The Company's Board of Directors was unanimous in its approval of the Acquisition. Click here for QEP's Permian Basin news release.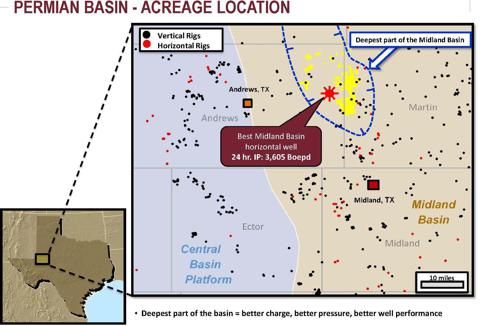 The planned acquisitions provide QEP an entry into the world class oil play of the Permian Basin. The assets have a current net production of approximately 6,700 barrels of oil equivalent per day [BOEPD] from 264 vertical producing wells, of which approximately 68% is crude oil. This results in a transaction value of $141,971 per daily flowing barrel with 32% of reserves as PDP.
With the acquisition, QEP adds 26,519 net acres with an average working interest of 94% and a net revenue interest of 75%.
Proved reserves will increase by approximately 47 MMBOE with approximately 300 MMBOE of potentially recoverable resource. The acreage holds potential for more than 200 additional vertical wells and up to 775 horizontal drilling locations with nine discreet targets for development.
Despite not previously holding a position in the Permian, QEP said it has a team with significant petro, technical and operation experience in the play.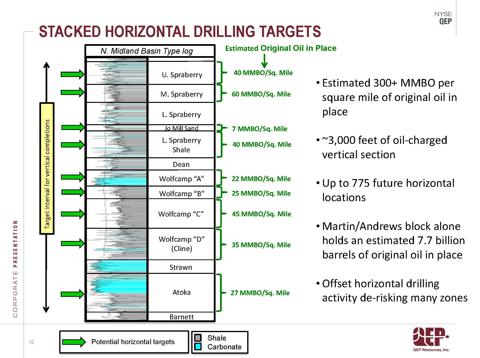 The Company plans to fund the Acquisition with proceeds from its revolving credit facility and cash on hand, and expects to close the transaction on or before January 31, 2014. In addition, QEP expects to sell various non-core E&P assets located in the Midcontinent during the first half of 2014, allowing the Company to maintain a strong balance sheet and to have adequate liquidity. Pro forma for these transactions, the Company expects to focus its capital spending on its two premier oil assets: the Williston and the Permian basins, and its two liquids-rich gas assets: the Pinedale Anticline and the Lower Mesaverde play in the Uinta Basin.
QEP currently has Market Capitalization of $5,635MM (as of Dec. 6, 2013), cash on hand of $123MM, and debt of $2,882MM (as of Q3 report 9/30/2013) resulting in a Debt to Market Cap ratio of 51% prior to the transaction. If QEP utilizes the cash on hand and draws $827MM on their revolving credit facility, that will result in total debt of $3,709MM and a Debt-to-Market Cap ratio of 65.8%. While there is an increase, it is still well below the average of 101% in EnerCom's E&P database for Debt-to-Market Cap ratio.
"Along with the planned separation of QEP Field Services Company, the Acquisition and the anticipated asset sales will continue the Company's transformation into a liquids-focused, pure-play E&P company with assets located in premier basins across North America," said Chuck Stanley, Chairman, President and CEO of QEP.
The acquisition moves QEP toward a strategic repositioning of their E&P portfolio and combined with anticipated asset sales, significantly transforms QEP's asset base towards oil- and liquids-weighted growth. Increasing the oil production weighting of the company will also add ten-plus years of drilling opportunities. The company feels the opportunity is financially attractive (4.0x adjusted 2015E EBITDA, and roughly $20 per BOE) and provides upside with additional horizontal drilling benches.
In a conference call following the acquisition, QEP mentioned crude oil will represent 20% of the company's production volume by year-end 2013. By contrast, crude accounted for 11% of year-end reserves in 2011. Its 2014 guidance has not been determined, but management anticipates devoting $250 million to the new area next year. An expected six rigs will run in the area until 2015, with the potential for additional rigs for horizontal opportunities. Until then, the initial focus will be on the Wolfcamp A, B and D zones, and then the upper middle Spraberry. Since the initial focus will be on vertical drilling, QEP expects to drill up to ten horizontal wells in the upcoming year.
The acquisition will not affect the company's decision to split from its midstream business on December 2, 2013.
To access QEP's acquisition presentation Click Here.
Disclosure: I am long QEP. I wrote this article myself, and it expresses my own opinions. I am not receiving compensation for it. I have no business relationship with any company whose stock is mentioned in this article.