The Cline Shale is approximately a 1.6 million acre area in the Permian Basin; and it is expanding further with the new exploration. The Cline Shale is a huge new field for that most important commodity to the US -- oil. This shale layer is found at approximately 9000-11,000 feet of depth. It is approximately 200 to 550 feet thick with total organic content of between 2% and 8% and a porosity of 5% to 12%. It has produced light sweet crude with an API gravity of 38 to 42 degrees, which is similar to Eagle Ford Shale light sweet crude. Estimates for how much oil the Cline shale contains range from 30 to 36 billion barrels of recoverable oil. However, as the area is explored, the Cline Shale has been found to be larger than originally thought; and it may contain even more recoverable oil. A map of the Permian Basin below delineates the Cline Shale, which is also know as the Permian Basin's Wolfcamp D area.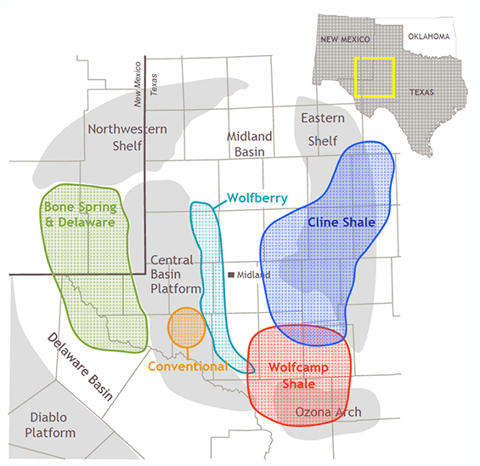 Recent results from Pioneer Natural Resources' (NYSE:PXD) Cline Shale test program have really stirred interest. One well was a monster with an initial peak production rate of 3,156 Boe/d. This was in Andrews county, which was far outside the Glasscock "hotspot" (or perhaps former hotspot). The other two test wells from this area produced only initial peak production of 2,128 Boe/d and 1,509 Boe/d; but these were still great results. They are also some of the highest flow rates reported from exploration in the Cline Shale. The 3,156 Boe/d was the highest horizontal 24-hour rate ever from the entire Midland Basin.
Pioneer Natural Resources holds 640,000 net acres in the Permian Basin region. PXD is a big player in other prolific fields as well such as the Eagle Ford. Its large presence in the Cline Shale bodes well for the Cline Shale's future. It bodes well for the other early players in the Cline Shale.
Another company in the Cline Shale is Laredo Petroleum Holdings Inc. (NYSE:LPI). LPI has about 141,230 net acres in the Midland Basin. About 65% of this is already held by production. In the areas of its holdings there are multiple horizontal zones in addition to the Wolfcamp and the Cline shales. The graphic below shows the location of LPI's holdings.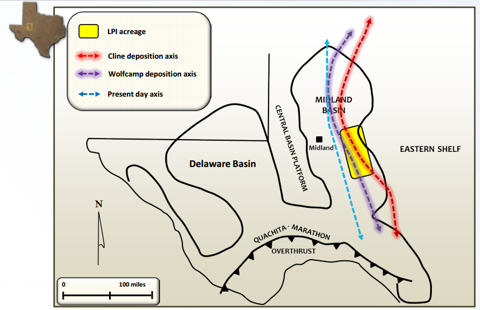 LPI is simultaneously going after many of these stacked plays at once. The following graphic gives a better approximation of the stack.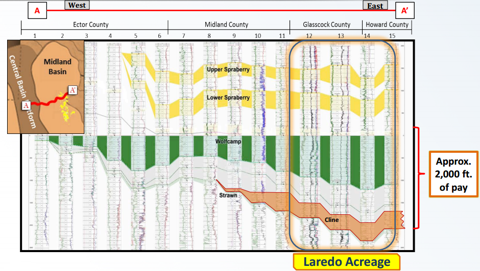 Some of the results it has been getting are shown in the graphic below.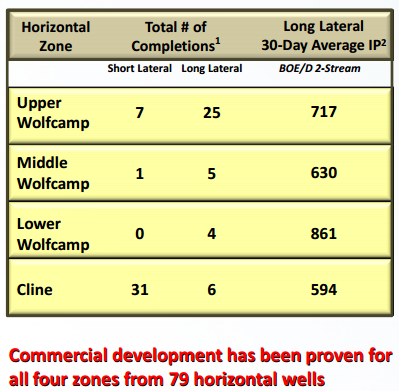 The above results are really very good for all areas, not just the Cline Shale. However, the intricacies of developing the Cline Shale are still being worked out by most developers, since the play is relatively new. Many expect that the results from the Cline Shale will improve vastly over time as the engineers improve their approach. In fact LPI in Q3 2013 drilled one of the most prolific wells in the Cline Shale. It had a record 24-hour IP rate of about 1,888 boepd. LPI reported a 1,052 Boe/d 30-day IP for the Glass-Glass 10#153H well on a two stream basis. This is a great result; and I am sure the company would like to follow it with many similar results. However, the average results it has seen so far are still good. LPI has seen EUR's (Expected Ultimate Recoveries) of 550-690 Mboe with 30-day IP rates of 663-828 Boe/d with roughly 73% oil. Keep in mind that results from "prime" targets are likely to improve with greater knowledge and understanding of the play.
Apache Corp. (NYSE:APA), a major player with 520,000 net acres in the Cline Shale, is another company just starting out in the Cline Shale. It owns acreage in the core of the play in Glasscock and Howard counties, and now also in Martin and Midland counties. Its early wells cost up to $9 million to drill and complete. APA has so far brought this cost down to the $6.5 million per well range; and there is probably further progress to come. It has also had some successes with the Barracuda 45 #2H well with an EUR (estimated ultimate recovery) of 604,000 Boe. Its Marlin well is estimated to have an EUR of 400,000 Boe. These are not as good as LPI's wells or most of PXD's wells, but APA is just starting out; and it does not sound discouraged. With the news of the recent PXD well, that is not surprising.
The eastern parts of the Cline Shale have higher clay content, with less clay toward the western parts. The clay makes economic recovery more difficult. However, Halliburton (NYSE:HAL) and other service companies are working to find ways to deal with the complications arising from clay. One gets the impression that excellent recoveries from even the higher clay environments are simply a matter of time.
The above are just some of the results. There are many more; but perhaps even more illustrative is the number rigs now active (as of December 2013) in the Cline Shale -- 215 according to Baker Hughes (BHI). This makes the Cline Shale sound very much like the real thing. It makes it sound like many companies are keeping many of their results "under wraps" in order to keep the competition to a minimum. Regardless of efforts to keep this area "under wraps", the word seems to be leaking out; and we are likely to see major development efforts soon in the Cline Shale.
Further sedimentary rock in the Gulf of Mexico can reach 50,000 feet in thickness, while it is only about 3,000 feet thick at the Atlantic coastline. That means Texas could theoretically drill deeper than the 10,000 - 15,000 feet onshore norm. In other words, the Permian Basin and other like areas may provide more and more black gold (NYSEARCA:OIL) the deeper you drill. This may prove a very important concept for the owners of such leaseholds and for oil developers in general (and the oil markets as well as investors). We may have just scratched the surface in Texas.
The Cline Shale is an area that all serious energy investors will want to keep an eye on. It looks to be increasingly important.
Good Luck Trading.
Disclosure: I have no positions in any stocks mentioned, and no plans to initiate any positions within the next 72 hours. I wrote this article myself, and it expresses my own opinions. I am not receiving compensation for it (other than from Seeking Alpha). I have no business relationship with any company whose stock is mentioned in this article.