Many wireless and wireline service providers have announced quarterly and fiscal 2009 results in the last fortnight. The common theme seems to be that profit margins are under pressure and in some cases even revenues have come in lower than in 2008.

Despite a boost from iPhone, AT&T (NYSE:T) revenues and operating profits declined in the Q409 quarter. In fact the wireless revenues increase is typically compensated by a decline in wirleline voice revenues.

AT&T: Revenue And Margins Trend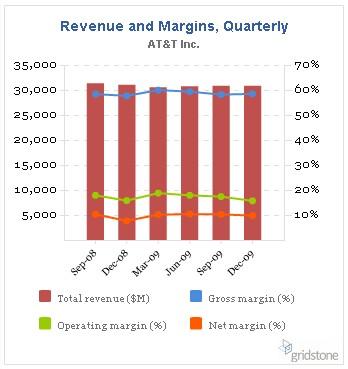 Source: Gridstone Research

The same holds true for Verizon (NYSE:VZ). In both 2008, and 2009, Verizon has derived more revenue from its wireless business than Wireline.

Verizon: Revenue And Margins Trend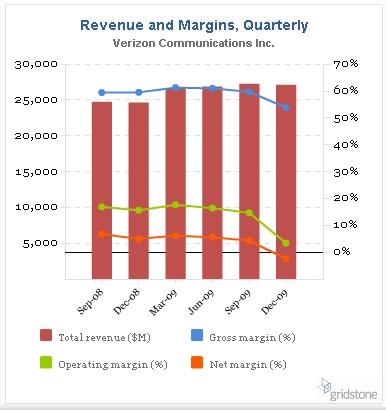 Source: Gridstone Research

With wireless segment growing ~25% while wireline revenue declines, Verizon still has seen operating profits decline thanks to the nearly $2B spurt in D&A expenses (Depreciation & Amortization) and a more than 15% increase in total costs and expenses.

Verizon Revenue - Wireless And Wireline Revenues In 2009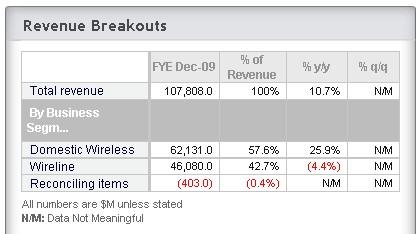 Source: Gridstone Research

Even emerging market operators have suffered a similar fate. America Movil (NYSE:AMX) provides services in Mexico and Latin America. While revenues have grown by ~15%, D&A expenses have increased by 27% as high capex spends in the last 2-3 years have impacted profits.

America Movil: Revenue And Margin Trend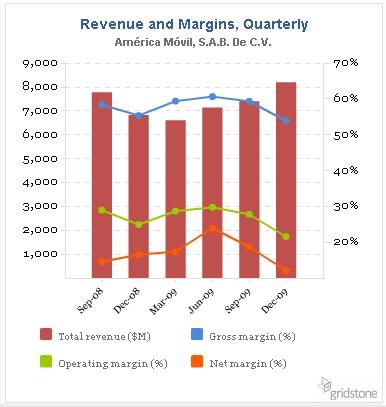 Source: Gridstone Research

With revenues either growing in single digits or declining, telcos will end up being very conservative on their capex spends. As the table below shows, net profits growth on a 3 year CAGR basis has dramatically declined for most telcos in 2009 when compared to 2008. Capex spends in Telcos reached their peak in 2006-07 when the wireless services growth was strong in developed markets and mind-boggling in emerging markets. As revenues decline or grow at a slow pace, the yields on such capital investments have dropped and are bound to drop further in the face of increased competition and near saturation in terms of penetration of the world's biggest markets - be it in developed markets like US/Europe or emerging markets like China, India and Mexico.

2009 Telco Results : Net Profits/Profit Growth Has Declined

(Click to view enlarged image)



Source: Gridstone Research

In my opinion, this sets the stage for 'shared networks' to take off in a big way. While more passive infrastructure such as towers and long-haul network infrastructure have already seen consolidation with most of these assets being owned by a few specialized tower firms, active network equipment such as edge routers/switches and core routers/switches within a metropolitan area or license area are still exclusively owned by each telco. Only by reducing network costs meaningfully can telcos improve or maintain profit margins in the face of subdued revenue growth.
With 'Reach' no more being a selling point, the marginal cost of expanding the network to new areas is probably not beneficial for many telcos to do it on a standalone basis. It would make perfect sense to 'outsource' such costs to a 'shared network' which telcos can use and pay for their usage. An additional benefit would be that network upgrade costs to keep pace with technological changes will also be shared.

What This Means For Network Equipment Vendors

Such 'Shared networks' could have a significant impact on how large equipment vendors such Cisco (NASDAQ:CSCO), Nokia-Siemens (NYSE:NOK), Ericsson (NASDAQ:ERIC), Alcatel (ALU) and Juniper (NYSE:JNPR) approach the telco market. This is probably the time for them to move from being 'pure-play' equipment vendors to being 'infrastructure providers' i.e.. Build,own and upgrade networks on behalf of telcos. When that happens, network sharing could become the default option for all telcos as a big part of 'fixed' costs can be moved out of their P&L. Entities like Nokia-Siemens have had a headstart in this area in meeting the evolving needs of telcos and its time for others to catch up. Cisco has taken some steps in this direction and I had written about it earlier( Read my earlier article on Cisco's plans).

Shared networks will also help telcos expand to newer markets faster and regulators should welcome this as that would be perceived as pro-consumer. Unless such industry moves pass regulatory muster, it would rarely see the light of the day as many emerging markets are still highly regulated telecom markets.

In summary, shared infrastructure should be both pro-service provider and pro-consumer. How network equipment vendors exploit this opportunity will probably decide if they are favorably or adversely affected by such a change. This could entail a big shift from a 'product' mindset to a 'service' mindset as it could be no more about cutting edge-products alone but about deploying and managing these equipment for their customers.
Disclosure: No positions