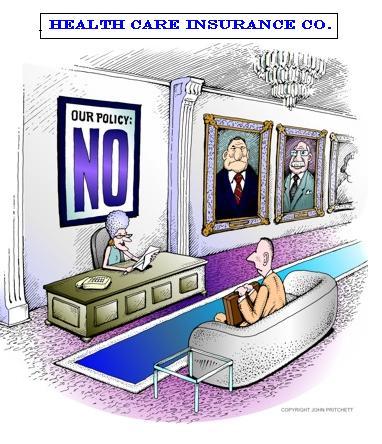 Outlook: The "Wall of Worry" was scaled this week. Equities and commodities advanced as investors temporarily put aside EU sovereign debt concerns as well as domestic fiscal crisis management and political uncertainties. Favorable economic news and a constructive interpretation of Fed's rate hike trumped. Only near-term market certainty is volatility.
CEF Weekly Review: The 13 closed end fund (CEF) types on average posted a 1.3% increase for the week ending 2/19/10. On an aggregate, unweighted basis, the weekly average price change for the 500 CEFs was up 0.7%.
The weighted 49 CEFs comprising the Claymore CEF Index registered a jump of 2.9% for the week and pared YTD loss to 3.2%. The S&P 500 increased 3.1% for the week; down 0.5% YTD.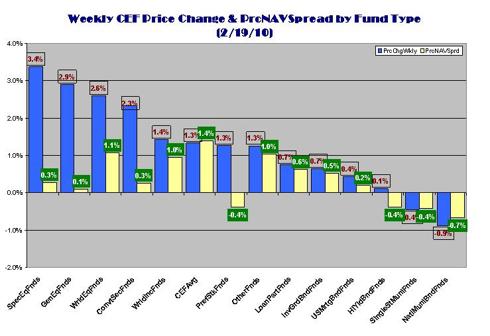 (Click here for YTD CEF performance. The table is based on a 271 CEF sample size as all the data fields are not available for the CEF universe.)
The Eqcome CEF Fear Index was essentially flat with price and NAV both advancing 0.7% for the week.
The CBOE Volatility Index (VIX), which typically moves inversely with the stock market, drifted sequentially lower ending the week down 11.9%. This was after dropping 12.9% the previous week. Since the end of January the VIX has taken on the characteristic of a jagged mountain range. Volatility will likely be a mainstay of the market for the foreseeable future as global political and economic uncertainties play-out.
The S&P 500 average daily trading volume during the holiday-shortened week was off 8.2% from the previous week. Average daily share volume was off 4.0 billion—off this year's average pace of 4.7 billion.
CEF Weekly Fund Type Performance: Preference for the risk trade spilled into this week as equities and global fund types advanced strongly. More concern regarding fiscal pressure on municipalities and more talk about Chapter 9 applied downward pressure on muni funds—particularly single state funds.
The PrcNAVSprds [1], which typically move in the direction of the stock prices, played out pretty much as expected; the exception being PrefStkFnds and HiYldBndFnds—both possibly a victim of the prospects of higher interest rates.
The strong price advances in equities and global fund types were not accompanied by a comparable increase in underlying NAV's. This could either signal investors are over-enthusiastic for risky assets or they're prescient with regards to a lag in the underlying assets.
CEF Winners and Losers: One of the CEFs with the greatest positive PrcNAVSprd for the week was Liberty All-Star Growth Fund (NYSE:ASG). ASG price advanced 7.3% while its NAV advanced 2.8% generating a positive PrcNAVSprd of 4.5%. ASG recently declared its quarterly a return-of-capital distribution of $.06 per share which will go ex-dividend next week on the 24th. This seems an unlikely reason for the recent strong price advance.

This week's CEF with the greatest negative PrcNAVSprd was Eaton Vance Senior Floating Rate Trust (NYSE:EFR). EFR saw its price decline 8.4% versus a NAV decline of 0.4% thereby generating a negative PrcNAVSprd of 8.0%. Much of the decline may be attributable to it going ex-dividend on February the 17th.
Economic & Earnings Outlook: (Click here for next week's economic calendar; click here for earnings announcements and estimates.)
ETFs: (Click here for ETF YTD sector performance.)
Insider Trading: Insider transactions for the third week of February again were led by the Horejsi Group (Horejsi) continuing to acquire interest in its two favor target CEFs.
Horejsi was again an aggressive buyer of shares of Boulder Growth & Income Fund (NYSE:BIF). Horejsi added an additional 157,953 shares of BIF to the 214,949 shares it has already accumulated this month.

Its average price for the month was $5.86 per share. The stock closed at $6.05 per share on Friday. Its holdings now represent 8.0 million shares or approximately 30.2% of the company according to SEC filings.
As it relates to BIF, it appeared that Doliver Capital Advisors, LP, (Doliver) reported it has reduced its shareholdings in BIF by 587,802 shares from its last filing of June of 2008 to 14.6% ownership. Assuming that any change of a 5% or greater holdings must be reported, the sale may have been recent. Additionally, in a similar filing it was a small seller of Fort Dearborn Income Securities (NYSE:FDI)
Doliver was also busy selling Cornerstone Progressive Return (NYSEMKT:CFP) in January. Doliver sold 584,708 shares of CFP.
Horejsi also continued its insider buying of Denali Fund (DNY) where its stake is now at 76% (3,168,740 shares) of the outstanding shares. Horejsi acquired an additional 22,793 at $14.30 per share for the month for a capital outlay of $326,537 (rounding).
An initial position in AllianceBernstein Global High Income Fund (NYSE:AWF) was established by director James D. Guzy of 2,100 shares at 12.91 for an expenditure of $27,111. This is the first insider transaction in AWF since 2007.
There was other deminimous insider buying. (Click here for a hyperlink to the Joe Eqcome CEF Weekly Insider Report.)
CEF Distribution Announcements This Week: The following is a link to a table of CEF distribution announcements this week as well as the previous week's with yet expired ex-dividend dates. The list is not intended to be inclusive. (Click Here for Weekly CEF Distribution Announcements.)
Significant CEF Corporate Events: Four Neuberger Berman closed-end funds (NBW, NBH, NBO and NRO) announced that tender offer program measurement periods shall commence on February 19, 2010 and end on May 14, 2010. Under each tender offer program, if a Fund's common stock trades at an average daily discount to NAV of greater than 10% during a 12-week measurement period, the Fund will conduct a tender offer for between 5% and 20% of its outstanding common stock at a price equal to 98% of its NAV. (Are you listening, Adams Express?)
Kayne Anderson Energy Total Return Fund (NYSE:KYE) announced it reached a conditional agreement with institutional investors relating to a private placement of $85 million of senior unsecured notes and $90 million of mandatory redeemable preferred stock.
Equus Total Return (NYSE:EQS) announced a series of strategic leadership moves within its Board of Directors and senior officer ranks to internalized management. Separately, EQS announced a decrease in the value of its portfolio securities of approximately $13.8 million decreasing its NAV by 21.1%.
The S-Network launched a Composite Closed-End Fund Index (Symbol: CEFX). "CEFX is designed to serve as a benchmark for closed-end funds listed in the US that principally engage in asset management processes seeking to produce taxable annual yield. The CEFX is divided into three main closed-end fund sectors: a) Investment Grade Fixed Income Closed-End Funds; b) High-Yield Fixed Income Closed-End Funds; and c) Option Income Closed-End Funds."
CEFs Focus for the Week: Cornerstone Progressive Return Fund (CFP) last Saturday, in the "dead-of-night" slashed its return-of-capital distribution in half for April, May and June. As predicted, it got a "dead cat" bounce this week after having fallen 35.4% this year post its new distribution rate announcement. Investors may see some modest future price appreciation as it now heads into its last, higher distribution in mid-March, but it will be temporary.
Here's How Silly This investment Is: The internal rate of return (NYSE:IRR) on CFP based upon a continuation of its current return-of-capital distribution policy and the stock trading at NAV par at the end of a 4 year holding period is a negative 5%.
Let's be generous. Let's assume that for the same period CFP experiences an annual growth rate of 3% (average long-term for economic growth) and is able to sell at a 20% premium to NAV at the end of that period, then an investor only ends up losing 1%.
Therefore, its not hard to understand why its major shareholder has disgorged 5.1 million shares reducing its position from 91.4% in June '09 to 37.2% at the end of January '10. Apparently, they've done the math.
Barring a miraculous, "Hail Mary" corporate event, this stock likely has another "leg down" later this year.
Which bring up an interesting question: who is buying the stock? There is no indication that another institutional investor has stepped into their place. At least this might raise the possibility that someone has done an analysis and uncovered some hidden value. Not to be—at least from recent SEC filings.
While there may be a "play" here for short-term traders to catch a price swing, my concern is for long-term investors unwittingly creating future tax losses. It you own it—move on, leave it for the traders to "put it to one another".

---
[1] A positive PrcNAVSprd can be interpreted as negative because it typically signals a share price movement less favorable than the NAV. All things being equal, price and NAV should move in tandem. A price movement greater than the NAV may indicate the stock is overvalued relative to its NAV which in theory is the stock's intrinsic value. The opposite would be true for a negative PrcNAVSprd.

Disclosure: Author owns a diversified portfolio of CEFs including a long position in BIF and ADX (buying more) and has literally and figuratively no interest in CFP.