Today's hot topic is the Fed's surprise announcement Thursday evening to hike the discount rate (discount window) from 0.50% to 0.75%.
The central bank also announced that, effective March 18, the typical maximum maturity for primary credit loans will be shortened to overnight from 28 days earlier (90 at the height of the crisis). The central bank also confirmed that the latest TAF (Term Auction Facility), already reduced to $25bn from $50bn 8 February, would be extended, effective 8 March, at a rate of 0.50% instead of 0.25%.
This TAF will enable banks to borrow money from the Fed for a comfortable time periods (84 days in September 2009), up to $225bn, against a great diversity of collateral. For more information, check out the following links providing details on the nature of collateral accepted and their valuation, which was more than generous when it was needed - Risk Collateral Margins and Frequently Asked Questions.
However, all the measures announced Thursday evening represent only the beginning of the normalisation of American monetary policy and the usage of unorthodox measures. The move reflects a certain stabilisation of interbank market conditions, but does not signal the beginning of a series of interest rate hikes, regardless of the hawks' wishes.
However, before analysing the consequences of these decisions, I would like to emphasise the quality of the new Fed led by Ben Bernanke. We are far from the days (1988) when Alan Greenspan declared before the Economic Club of New York:
I guess I should warn you, if I turn out to be particularly clear, you've probably misunderstood what I said.
Compare that with Bernanke's statement before Congress 10 February before the so-called surprise interest rate hike:
"Before long, we expect to consider a modest increase in the spread" between the Fed Funds and The Discount Window.
In the FOMC minutes (.pdf) of 26-27 January, we can read:
They agreed that it would soon be appropriate to return the maturity of primary credit loans to overnight and to widen the spread between the Primary credit rate and the top of the Committee's target range for the federal funds rate.
We now know that when this new Fed says "before long" and "soon", they mean "quickly" and truly "soon".
Some may be surprised by my headline: The Doves Counterattack, although, I might just as well have chosen The Return of the Doves, since I consider them more like Jedis than adepts of the dark side.
In fact, I find the dramatic twist to Bernanke's move to be pretty clever, because it was more than past time to react to the rising chorus of hawkish voices, as illustrated by the public dissent of Hoenig and his and Plosser's recent statements.
They insisted on the need to hike interest rates faster than their colleagues appeared to believe necessary and to reduce and purify the Fed's balance sheet of assets that they felt did not fall under the Fed's mandate as quickly as possible (MBS and long-term treasuries).
By moving on these "technical" mechanisms, which had become antiquated since the return of calm on interbank markets, Bernanke made a cost-free gesture to the bond vigilantes, who continue to work themselves into a lather about high government deficits and the Fed's so-called monetisation of government debt.
The message could not be clearer for investors that these changes will have no real impact on monetary policy:
The modifications are not expected to lead to tighter financial conditions for households and businesses and do not signal any change in the outlook for the economy or for monetary policy, which remains about as it was at the January meeting of the Federal Open Market Committee (FOMC). At that meeting, the Committee left its target range for the federal funds rate at 0 to 1/4 percent and said it anticipates that economic conditions are likely to warrant exceptionally low levels of the federal funds rate for an extended period.
As if that were not enough, doves insisted heavily on this point Thursday evening, with an impressive salvo of statements:
James Bullard, St. Louis Federal Reserve Bank President
The Discount Window Hike does not signify or set the stage for an actual tightening of monetary policy.

It does not indicate anything one way or the other about what we might eventually do with the federal funds rate...

An increase in the overnight money market rate is still off in the future...

The idea that's in the markets that (a rate hike later this year) is a high probability is overblown.

The market has priced in too high a probability of tightening this year.

Some of that probability should be moved to next year...

The Fed is not going to raise rates for awhile...

A Fed interest rate hike is as far away as it ever was

Fed to begin asset sales slowly and gradually, not in an aggressive way...

The Central bank sales would start small, in a gradual way.

Commercial real estate problems are very serious, and we're watching the situation very carefully.

What's more, those problems "feed back" into the financial system

Labor markets remain weak and are at best stabilizing
Elizabeth Duke, Federal Reserve Board Governor
The decision to hike the discount rate and tighten the terms on primary credit does not signal a change in the monetary policy outlook

I'd emphasize that the changes are simply a reversal of the spread reduction we made to combat stigma.
The economy today is by no means nearly as strong as we'd like it to be and some parts of the financial system are still not functioning smoothly.
Dennis Lockhart, Atlanta Federal Reserve President (who is considered to be more of a hawk)
My point is that the public and markets should not misinterpret today's move.

The move to increase the discount rate by 25 basis points does not mean a tightening of monetary policy is imminent.

Monetary policy -- as evidenced by the fed funds rate target -- remains accommodative.

This stance is necessary to support a recovery that is in an early stage and, in my view, still fragile.
William Dudley, Federal Reserve Bank of New York President
With modest growth, we expect price pressures to remain well contained.

Unemployment remains unacceptably high

Slow growth in bank lending could restrict growth in the near term.

Smaller banks with large commercial real-estate portfolios are under pressure.

Households and businesses find that their access to credit is still constrained.
We only have to hear what Ms. Yellen said to make the case even clearer.
These measures are undoubtedly part of an overall plan where the Fed, particularly Mr Bernanke, still absorbed by the the consequences of the Great Financial Crisis, continues to focus on the major credit and inflation macro variables.
The index of inflation, published Friday in the United States, is consistent with this caution, at -0.1% (Core) in January vs. an expected +0.1%, limiting yearly inflation to +1.6% (vs an expected +1.8%), which is more comfortable range for the Fed.
As for our asset allocation biases, the big question now is the shape of the yield curve.
This curve has steepened dramatically since 2007, under the impact of the deep cut in interest rates orchestrated by central banks and investor jitters about the market's ability to absorb the record government debt issues.
And that's leaving aside the hysterics' fears of a resurgence in hyperinflation, based on their confusion between quantitative easing and printing money. They will eventually come to understand that sleeping on a bed of gold ingots is not so comfortable after all, especially when the river of buyers dries to a trickle.
You might check out below the graph of 2-30 year debt spreads in the US and Germany since 1990.
The United States has reached historical levels and we in Europe are not far behind.
We also see this change in 2-5 and 2-10 year spreads.
You are well aware of our structural bias in favour of government fixed rate instruments in a world macro context of high deflation risk. And to take the cake, even Wal-Mart (NYSE:WMT) is worried: Wal-Mart Dispels Inflation Fears. The Japanese example, which is just as astounding on the fast food front, (Beef Bowl Economics), is never far from people's mind.
In recent weeks, we have gradually moved from short to medium-term maturities (5-7 years); The question now is whether we should frankly extend the maturity of exposure, given the following factors:
The central banks' efforts to burnish their image as inflation fighters

They have no intention of moving their short term rates for an extended period of time

Inflation remains nonexistent

Growth is becoming increasingly uncertain, once the stimulus spending is halted under pressure from the bond vigilantes

An extraordinary event cannot be excluded (Iran?)
This looks very much like Bull Flattening and I am fully aware of being totally isolated with this scenario, and the entry timing is very, very important.
Especially since, although these spreads are at historic levels, the crisis itself is of such historical dimensions that the old records may have lost their relevancy.
But I think it worthwhile to raise the idea.
2-30 Year Spread, USA and Germany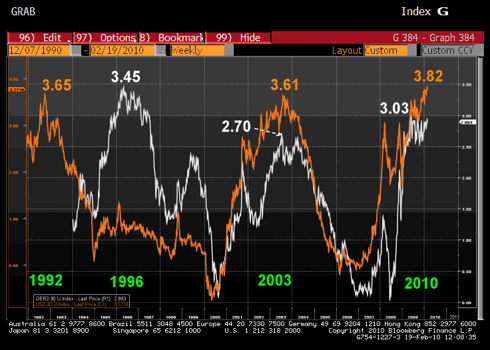 Disclosure: Long 20 years OAT Zero Coupons, EDF Corp 5 Years 4.5%.