The last time I said the words "Celsion (NASDAQ:CLSN) could be heading into the new year with some momentum", Celsion shareholders took a 90% haircut on the back end of a failed Phase III trial for liver cancer.
While the company has been digging through post-hoc data from the HEAT trial - some of which seemingly proving that increased RFA times on tumors could positively impact efficacy - Celsion's DIGNITY trial for ThermoDox in recurrent chest wall cancers has been carrying on in the background.
It's been an unceremonious year from Celsion, who ended 2013 with a reverse split and a stock that continues to seem anchored. The split adjusted 1 year chart looks anything but promising, making Celsion an easy target for the likes of biotech skeptics to take shots at - and, to be honest, I don't really blame them. Without scratching the surface, Celsion does look like your typical biotech catastrophe.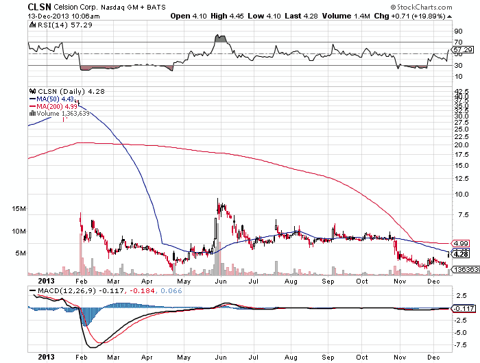 In the past year, the company's post-hoc hypothesis on its January 13' Phase III failure has been that RFA (radio frequency ablation) to the tune of 45 minutes or more could seriously increase the efficacy of the doxorubicin when it is released from Celsion's liposomal transport vessel at the tumor site. They gathered this from the post-hoc data of the failed HEAT trial that took place in January 2013.
However, there's a small stir about in the Celsion camp this Friday morning, as the company released information suggesting that its Phase I DIGNITY study was showing some positive results - with a local response rate of over 60% in a pool of 23 evaluated patients:
The two similarly designed Phase I studies enrolled patients with highly resistant tumors found on the chest wall and who had progressed on previous therapy including chemotherapy, radiation therapy and hormone therapy. Unresectable BCRCW is very difficult to treat and often responds poorly to radiation and systemic chemotherapy. These patients can suffer from disfiguring tumors and clinical symptoms including pain, reduced range of motion, and skin ulceration with bleeding and potential necrotic, infected wounds. ThermoDox® in combination with mild hyperthermia was evaluated in these patients in up to six cycles. Both studies employed an open label 3+3 dose escalation study design to determine the Maximum Tolerated Dose (NYSE:MTD), evaluate safety and determine early effects of ThermoDox® in combination with mild hyperthermia. There were 29 patients treated in the two trials (11 patients in the Company's DIGNITY study and 18 patients in the Duke study). Of the 29 patients treated, 23 were eligible for evaluation of efficacy. A local response rate of over 60% was reported in 14 of the 23 evaluable patients with 5 complete responses and 9 partial responses. Based on the results from these two Phase I studies, Celsion is currently enrolling up to 20 patients in an open label Phase 2 study at 5 US clinical sites.
The importance of this treatment is similar to the importance of the HEAT study. The pool of patients that are subject to these types of tumors generally have little or no treatment options, with some of them already having prior exposure to doxorubicin - just not through Celsion's delivery method.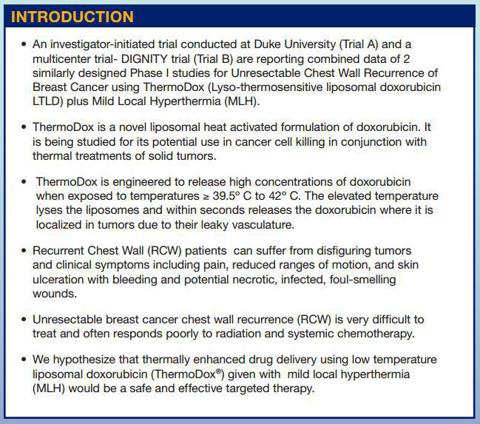 Which would coincide with a lot of the bulls arguments for Celsion - that it's the delivery and not necessary the drug that provides most of the efficacy for ThermoDox. As discussed a million times over, doxorubicin is a drug that's been around for treating cancer for a while. It's the patented liposomal delivery method that could be the key and, if it is, Celsion has a bright future ahead of it.
A caveat here is that Celsion seemed to show the same type of promising lead up to the HEAT study - only to be met with a "we missed by a lot" the morning that the company reported the Phase III results. However, with continued M&A talks, Hisun Pharmaceutical pushing for another HEAT study in China, and a seemingly positive step in the right direction for Celsion's DIGNITY study - dare I again say that Celsion could be heading into the new year with a little momentum?
I'll be watching closely - and best of luck to all investors.
Disclosure: I have no positions in any stocks mentioned, and no plans to initiate any positions within the next 72 hours. I wrote this article myself, and it expresses my own opinions. I am not receiving compensation for it (other than from Seeking Alpha). I have no business relationship with any company whose stock is mentioned in this article.