GEVO Inc (GEVO) is a renewable chemicals and next generation biofuels company focused on the development and commercialization of alternatives to petroleum-based products based on isobutanol produced from renewable feedstocks.
On December 10, 2013 GEVO announced its intentions to offer and sell common stock units in an effort to raise the capital necessary to complete and ramp up the startup production and sales at its Luverne, Minn. plant. As of the writing of this article, GEVO has fallen approximately three months behind a schedule that the company had set in Q1/2013. The company has fallen behind schedule partially due to unexpected delays in optimizing the operating process that is being originated, refined, and executed at the Luverne plant and partially due to changes made to their construction and temporary operating process in an effort to conserve cash. Both concerns should be greatly reduced after the recent capital raise and GEVO looks to maintaining the following schedule going forward: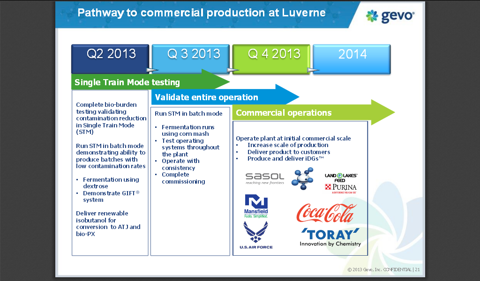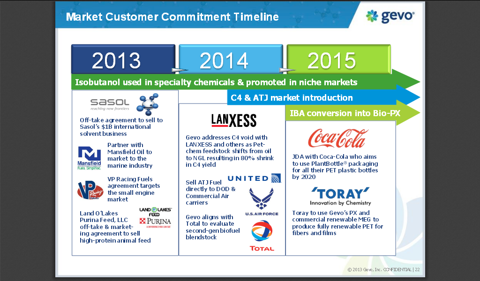 The recent cash raise of ~25 million brings the company's cash on hand level to ~40 million, or just over two quarters worth of current cash burn. Assuming a slight uptick in capital expenditures, it is the opinion of this author that GEVO has enough cash to operate into the end of the second quarter of next year. That timeframe, if the company can keep delays to a minimum, would take GEVO into what they are expecting to be their first break of being company EBITDA positive. Although the Luverne plant does have the potential to make the company EBITDA positive, the initial goal is to simply get the Luverne plant to plant positive levels. For the company as a whole to reach EBITDA positive levels GEVO must either get their Redfield plant to full production or develop and monetize any number of their licensing agreements that are currently under LOI (letter of intent) commitments. This is also operating under the assumption that GEVO has not had to make significant concessions in its LOI's that would hurt expected gross margins of between 20-30%. GEVO has said before that it is targeting to sell its product portfolio at an average of $3.50-$5/gallon and its long term goal is to produce product for under $3.00/gallon. Both reasonable expectations when at full production. The following slides help to illustrate the joint venture and margin potential that GEVO provides: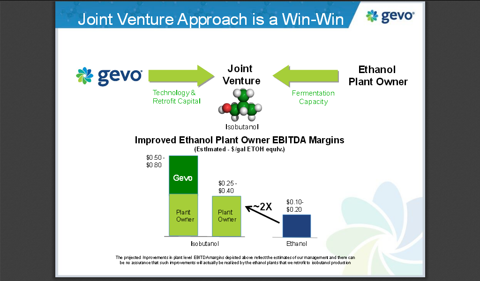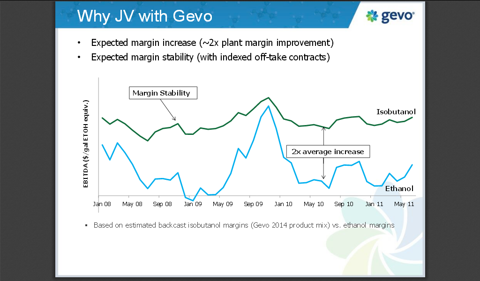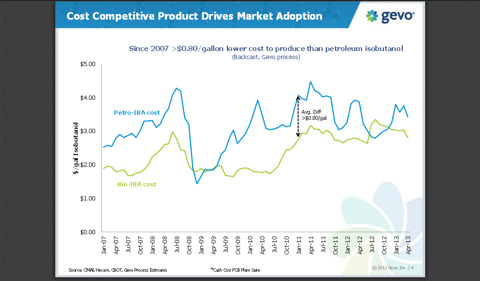 Two extremely important factors to keep in mind when discussing future margins for GEVO and how they will manage to keep these margins from breaking a particular level is that GEVO has structured its LOI's so that the buyer pays the price of corn plus the fee that GEVO charges for conversion to Isobutanol, passing entirely the risk of corn price volatility and risk onto the buyer while guaranteeing GEVO a flat margin, and GEVO has LOI's for product off take that exceed their capacity plans through 2015, including a major "take or pay" agreement with Sasol that accounts for 90+% of their automotive blending market earmarked product (see below):
Beginning upon the Company's first commercial sale of high-purity isobutanol under the terms of the agreement, if Sasol desires to maintain its exclusive distribution rights, Sasol is obligated to either purchase certain minimum quantities of high-purity isobutanol or pay the Company applicable shortfall fees and the Company is obligated to either supply Sasol with certain minimum quantities of high-purity isobutanol or pay Sasol applicable shortfall fees. No amounts have been recorded under this agreement as of September 30, 2013.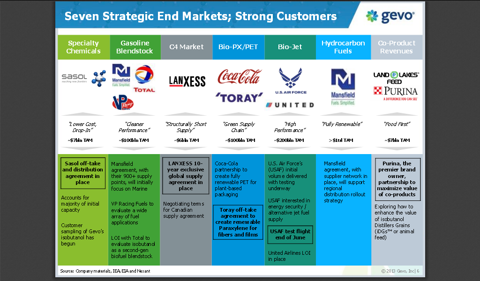 This off take agreement and the way that it is structured has also been a driving factor behind GEVO's decision to slow its operations at its Luverne plant to make sure that they don't deliver product to partners before being sure that they can deliver product on a consistent basis at a consistent level of quality. Once the selling begins it cannot stop. It is absolutely paramount to the long term success of the company that they get this right, the first time. Any extended periods of delays or sub quality product output could be catastrophic. They also want to make sure that when entering into new joint venture agreements that they can provide reasonable guarantees to partners when it comes to transitioning existing plants to new isobutanol producing plants. GEVO has willingly slowed the process, at the expense of their market cap and the frustration of the shorter termed shareholders, to make sure they can get the job done correctly the first time. In the long run this is the only strategy that makes sense. GEVO also was the beneficiary of having their falling behind schedule coincide with flattening oil prices which could have potentially hurt their value add to purchasers bottom line if corn prices would have remained high, which they didnt, but is something to keep in mind going forward as a potential risk. If the spread between oil prices and corn prices compresses drastically (meaning high corn prices and low oil prices), that most definitely could cause GEVO to make short term concessions in LOI terms to remain a value add.
In summary, its important to remember that the hard part is already behind GEVO. They have proven their technologies, being able to produce Isobutanol and successfully separate it from their yeasts, and have lined up an impressive list of clientele, both from a brand name standpoint and from a sales capacity standpoint. The next step, which is the final step in a long journey to profitability and beyond, is simply pressing the plant levels to full run rates. The actual operating process has taken longer than expected but the fear mongering and worst case scenario story telling that has gone on in recent weeks is not only unrealistic but unnecessary. If GEVO decides to focus more on their licensing, which I believe is the short term (capital focused) goal of the company, rather than the developing of their "own" plants I think shareholders will be pleasantly surprised at how quickly the company can show explosive growth in revenues. Risks that remain are further delays in getting the Luverne plant to full production, failing to either monetize joint ventures or get Redfield up to full production, and making significant concessions to current LOI's. With GEVO trading at all time lows and now in a position to make it to EBITDA positive for the first time company history I like GEVO as a buy for those with a stomach for volatility.
Disclosure: I am long GEVO. I wrote this article myself, and it expresses my own opinions. I am not receiving compensation for it (other than from Seeking Alpha). I have no business relationship with any company whose stock is mentioned in this article.