Once prominent Japanese tech firms Sony - SNE and Panasonic - OTCPK:PCRFY have been bleeding money over the last several years, but now may be back on track to a return to profitability. Both companies have struggled due to their large bureaucratic company structure, which has left them in the dust in many consumer markets. The bright side to this is after several years of being in the red, both companies are painfully aware of their shortcomings and are making strides to return to profitability.
Sony (NYSE:SNE)
Sony operates in several business segments including; imaging products and solution, game systems, mobile products and communication, home entertainment and sound, devices, movies, music and financial.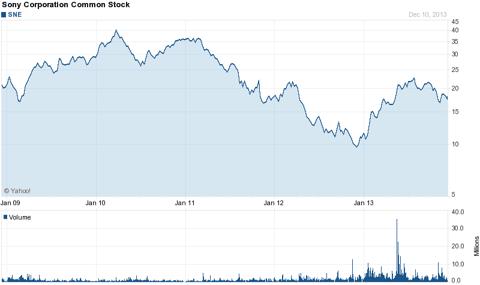 Sony had a disappointing 2Q2013 ending September 30. The few highlights included, a significant increase in sales of image sensors reflecting high demand for mobile products and the Financial segment posting a $400 million operating income, due primarily to the rise in the Nikkei during the quarter. Image products, mobile products, home entertainment, devices and pictures all received downward sales revisions from the August forecast.
| | | |
| --- | --- | --- |
| Business Segment 2Q2013 | Revenue ($millions) | Operating Income (loss) |
| Image Products and Solutions | $ 1,791.0 | $ (24.0) |
| Game | $ 1,588.0 | $ (8.0) |
| Mobile Products and Communication | $ 4,271.0 | $ (9.0) |
| Home Entertainment and Sound | $ 2,692.0 | $ (123.0) |
| Devices | $ 2,123.0 | $ 122.0 |
| Pictures | $ 1,815.0 | $ (181.0) |
| Music | $ 1,773.0 | $ 99.0 |
| Financial Services | $ 2,500.0 | $ 400.0 |
| Total | $ 20,573.0 | $ (198.0) |
Reason for Optimism
PS4
The most obvious catalyst in Sony's business has been the launch of the PS4. Through the first 14 days of sales, the PS4 sold over 2.1 million units. The PS4 is well on its way to Sony's goal of 5 million units sold by the end of March 2014, which will get a boost from a Japan launch date of February 22, 2014. The sales numbers have been great, but will this translate to a profit? A tear-down of the PS4 by research firm, IHS, puts the total assembly cost at $381. This cost is only $18 lower than the retail price of $399. IHS further stated that the PS4 should begin to make money on the consoles as manufacturing costs decline. (Article here)
All along Sony has said the PS4 will make a profit more quickly than the PS3 and it will recoup its costs when users purchase PS Plus subscriptions, which is $49.99 for a 1-year subscription.
Another X-factor in profitability for the PS4 has been the weakness of the yen vs. the dollar. The dollar is up nearly 2% vs. the yen since the November 15 launch of the PS4 in the US. When it comes to small profit margins, any potential boost is worth mentioning.
Strength in Movies
The worst performing segment last quarter was Pictures, due to 2 huge movie flops of After Earth and White House Down. White House Down brought in just over $73 million, while its estimated budget was $150 million. After Earth brought in $60.5 million and had an estimated budget around $130 million. These 2 movies alone lost close to an estimated $150 million.
The latest quarter has had success with its movie lineup.
| | | |
| --- | --- | --- |
| Movie | Gross ($mil) | Budget (est.) |
| Captain Philips | $ 103.5 | $ 55.0 |
| Cloudy with a Chance of Meatballs 2 | $ 115.3 | unknown |
| Carrie | $ 35.3 | $ 30.0 |
4Q2013 has only 1 movie release in American Hustle, which should perform well.
The 2014 lineup includes:
RoboCop - 1Q2014
The Monuments Men - 1Q2014
About Last Night - 1Q2014
Pompeii - 1Q2014
The Amazing Spider-Man 2 - 2Q2014. Sony made huge profits on the first Spider-Man movie and are hoping for a repeat in the sequel.
Sony rejected a proposal this past August from billionaire activist Dan Loeb to spin-off its entertainment business, saying it was integral to Sony's strategy and promised more disclosures into its entertainment operations.
(See: Reuters article)
Sony Music
Sony recently scored a licensing deal where it will represent and manage Warner Music's catalog in India. Sony sees India as a huge opportunity in the digital music marketplace.
PS4 beating Xbox One
I know the actual winner of the console wars is more a boost of pride than a realized victory in profits, but the market isn't always rational and may reward Sony for selling more units than Microsoft (NASDAQ:MSFT). If current sales figures hold up, Sony should beat out Microsoft in the console wars.
Bottom Line
Sony had a rough 2Q2013, but I think Sony will surprise people over the next two quarters with renewed strength in Gaming, Pictures and Music. At current levels around $17, the downside appears minimal with support around $16. Sony still has its share of problems, but at these levels it's a safe entry point for patient investors.
Panasonic (OTCPK:PCRFY)
Panasonic is an electronics maker operating under 4 main business segments, Appliances, Eco-Solutions, AVC Networks and Automotive & Industrial systems. The Japanese electronics producer became a lumbering giant through the years employing over 330,000 people at its largest point. FY 2013 saw a net loss of over $8 billion. Kazuhiro Tsuga was appointed the new Panasonic president on June 27, 2012 and immediately set out to bring Panasonic out of the red. Rounds of lay-offs were announced, unprofitable business segments were reduced or revamped and strong segments were given priority. After painful cuts and bleeding money, Panasonic seems to be on the right path once again. YTD Panasonic is up 125%. Automotive and housing Eco-Solutions are now Panasonic's main focus.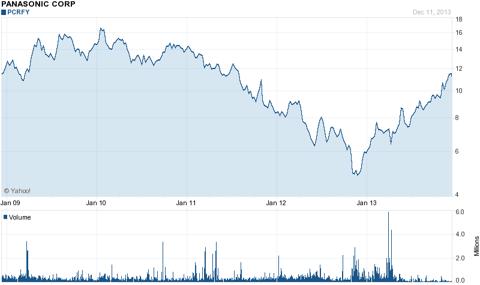 Reason for Optimism
Return to profitability
6 months ending September 30, 2013, Panasonic had a net profit of $743 million compared to $3 billion loss for the same period ending 2012. This remarkable turnaround in profitability shows the company is executing its strategy successfully.
Selling and deemphasizing unprofitable/non-core assets
November 26, 2013: Panasonic sold 3 semiconductor plants in Japan to Israeli chipmaker TowerJazz.
September 26, 2013: Panasonic sells 80% stake in healthcare unit to KKR & Co. for $1.67 billion.
Panasonic is currently in talks to sell chip assembly plants in China, Indonesia and Malaysia.
Panasonic will halve the number of new digital camera models in 2014 as well as stop all plasma television production in December 2013 and all plasma television operations by March 2014.
Tesla (TSLA)
Panasonic has agreed to supply 2 billion battery cells for Tesla from 2014-2017. Having arguably the most innovative automobile company relying on Panasonic to deliver the most important technology in their cars is a huge achievement for Panasonic. 5 separate auto manufacturers for 10 different models have also placed orders with Panasonic for battery cell production. Not only is Panasonic the top EV battery producer, but they also plan to expand their business to sensors, cameras, display monitors and security systems in automobiles.
Home Energy Revolution
Panasonic is starting to see strong orders in their home energy management systems (HEMS). Energy supply has been of great concern in Japan since Fukushima and energy saving measures have become a pressing need in Japan. Panasonic expects to see strong market growth in Japan due to subsidies from the Japanese Ministry of Economy, Trade and Industry. The company is gradually increasing the number of products that can be linked through HEMS, including air conditioners, cooking equipment, hot water systems, etc. Even SolarCity (SCTY) will be using Panasonic's battery technology in their new DemandLogic system. The small battery packs will be small enough to hang on the wall and comes with a 10-year warranty. When charged, the battery will supply the home with power to run basic needs such as light, refrigerator, and security systems.
Bottom Line
Panasonic's turnaround over the last year and a half has been remarkable. The company is continuing to divest from unprofitable business segments and focus on innovations for the future where there are healthy profit margins. Finally, Panasonic seems to be ahead of the curve in innovation. Look for increasing profit margins over the next several quarters as Panasonic trims its unhealthy business segments.
Disclosure: I have no positions in any stocks mentioned, and no plans to initiate any positions within the next 72 hours. I wrote this article myself, and it expresses my own opinions. I am not receiving compensation for it (other than from Seeking Alpha). I have no business relationship with any company whose stock is mentioned in this article.