When it comes to long-term dividend investing, the formula seems relatively simple, in my book. In fact, dividend investing goes hand-in-hand with the Warren Buffett process. I look for companies that are going to be around for decades with an increasing value of cash to return to shareholders.
In this case, my favorite pick for long-term dividend investing is Verizon (NYSE:VZ) due to its wonderful wireless business. While people can argue over whether Apple (NASDAQ:AAPL) or Samsung (OTC:SSNLF) makes a better phone, Verizon wins out as long as smartphone users continue to demand data and quality smartphone coverage. Verizon has a few other businesses, but I intend to focus primarily on the wireless segment that is the company's revenue driver (shown below).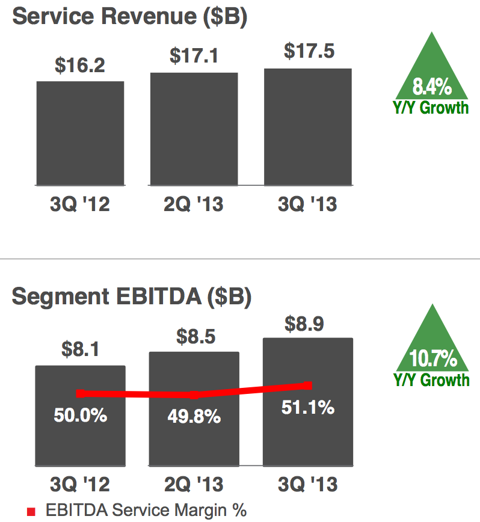 Smartphone Usage is Addictive
I don't really think this needs much evidence if you've made it out of the house lately. Everyone, everywhere is on a smartphone, hogging data. In fact, Verizon has to ramp CapEx spending in big cities like Chicago, New York, and San Francisco in order to handle the millions of users clogging networks. A survey from Time's Techland noted that 84% of survey participants couldn't go ONE DAY without using their cellphone, while 50% sleep with their cellphones. Also, 20% check their phones every 10 minutes. As I watch the Victoria's Secret fashion show, I'm hearing models say they check their phones every 3-4 minutes.
People are addicted, and Verizon, along with AT&T (NYSE:T), Sprint (NYSE:S) and T-Mobile (NASDAQ:TMUS) are the major suppliers. I won't argue that smartphones aren't valuable - we've seen the amazing margins Apple generates on the iPhone - but I think it's fair to argue that accessing the web-based applications on the phones is equally as important to the experience.
Verizon has the Best Network
A study from J.D. Power found Verizon to be the best performing network in all six regions it ranked in the United States. There are several reasons why this is great for Verizon, including (from the study):
"…there is a financial impact in providing a high-performing network, as spending increases by an average of $17 per customer among those who have switched from a previous carrier to obtain a better network/coverage, compared with those who switch for other reasons."
There is a tremendous amount of value created by Verizon's elite network. Verizon's ARPA (average revenue per account), though not comparable to its competitors that use ARPU, stood at $155.74 at the end of the third quarter, an increase of 7.1% compared to the prior year period. Smartphone penetration stood at 67%, up from 53% during the year prior, meaning Verizon is minting even more data addicts daily.
Although there are probably other reasons, including the hassle inherent in switching cell phone providers, Verizon's network has also led to incredibly low churn. Retail postpaid churn stood at 0.97% during the third quarter compared to 1.5% at AT&T, 1.99% at Sprint and 1.7% at T-Mobile. The industry goliath isn't just bigger, but it's also better, and it does a better job at retaining its customers.
Verizon Wireless Acquisition is Huge
In September, Verizon reached a deal to acquire the 45% of Verizon Wireless owned by Vodafone for $130 billion. Verizon had to raise $49 billion via a bond offering and another $60.2 billion via equity to pay for the deal. Shares have since significantly lagged the S&P 500, up only 3.5% since the deal was announced on September 2, while the S&P 500 is up 10.4% over the same time period.
I suspect the market is critical about the deal. Shareholders will see some serious dilution, and the firm's debt load is now fairly significant. However, I like this deal much more than I like traditional M&A because there is no integration risk. The deal wasn't predicated on some ridiculous assumptions for synergies or proposed cost savings, but rather, it is simply acquiring the full cash flow stream of a business it already operates.
Plus, Verizon didn't really pay an unreasonable amount for Verizon Wireless. Estimates peg the Verizon Wireless's 2013 EBITDA at approximately $34 billion, so Verizon really only paid 8.5x EBITDA for full control of the entity. And I believe this EBITDA is poised to grow going forward.
Downside Risks
At the moment, Verizon's core wireless business looks fundamentally strong, but there are certainly risks associated with the business that could impact the company's share price.
AT&T and Sprint are both investing heavily in upgrading their respective networks, so customer retention rates at the two competitors could rise, hurting Verizon's competitive advantage. However, I'm not losing sleep over potential competition. Given Verizon's current lead in network quality, it will cost competing companies billions of dollars to compete. Sprint and AT&T then may have to raise prices, which would be excellent for industry profitability.
Another risk comes from T-Mobile. The company is experimenting with some really interesting tactics, like free financing for smartphones. Some consumers won't be able to afford the $200 initial outlay for an iPhone, so T-Mobile's below-market plans coupled with 0% financing may become a very attractive alternative. I think this is a very clear threat at the low-end of the smartphone market. However, smartphone users are clearly putting a premium on network quality (as seen in churn numbers), so Verizon should be able to fend-off T-Mobile as long as its network remains superior.
Interest rates have to be mentioned as a risk to any dividend payer's stock price. If risk-free rates rise in 2014, Verizon could see some initial pressure to its share price. However, I think savvy investors see the years and years of amazing cash flow Verizon has ahead of it, so I don't think higher bond yields will destroy Verizon's share price.
Why 2014 is Verizon's Year
Throughout 2014, I expect Verizon to allocate excess free cash flow to retiring high yielding debt and deleveraging the capital structure. As long as Verizon de-risks its balance sheet, I believe investors will become more comfortable paying up for shares that sport a dividend yield of 4.3% at the current price.
More importantly, I think the firm will experience solid revenue growth in excess of 4% for at least the next 3-5 years. While Verizon spends heavily on upgrading its network, some may be worried that this incremental revenue may not be profitable. Yet, Verizon has shown the ability to consistently generate EBITDA service segment margins around 50%, and even with high capital spending, the majority of incremental revenue should hit the bottom line.
I think Verizon is worth about $56 per share, assuming dilution as well as earnings of $3.50 per share and an earnings multiple of 16x earnings. However, earnings per share underestimate Verizon's cash generating power, in my view, so I think a slightly higher share price is possible, particularly if Verizon raises its dividend.
Given the current industry landscape of wireless consolidation and an endless thirst for more data, I think Verizon is one of those few names I feel comfortable purchasing shares and reinvesting the dividend for the long-haul. Verizon looks positioned for a generation of "Coke-like" cash flow as it builds an incredible moat to defend its castle.
Disclosure: I am long AAPL. I wrote this article myself, and it expresses my own opinions. I am not receiving compensation for it (other than from Seeking Alpha). I have no business relationship with any company whose stock is mentioned in this article.