Will rooftop solar panels cause the downfall of electric utilities?
Some commentators have likened the disruptive potential of rooftop solar developer SolarCity Corp (NSDQ: SCTY) to Amazon.com (NSDQ: AMZN), arguing that a new era of distributed energy is on the verge of displacing power companies the way that Amazon.com has won market share from brick-and-mortar retailers.
SolarCity has been a hot stock, surging 329 percent this year. Nevertheless, the company remains a long way from turning a profit. And without ready access to capital markets and government subsidies, the firm would have a tough time surviving.
Given that the SolarCity story depends more on promise than profits, it's no surprise that investors are betting heavily against the stock; short interest accounts for about 23.8 percent of the company's total float.
But the real reason to doubt a solar panel-triggered apocalypse lies in third-quarter results of the power companies that I track in my Utility Report Card.
As of yet, no hard evidence has emerged that adoption of SolarCity's rooftop panels have dented sales, even in sunny California where this disruptive technology shows the most promise.
For example, Edison International (NYSE: EIX), the holding company for Southern California Edison, on Nov. 19 raised its full-year earnings guidance for this segment to $3.80 per share from $3.50 per share.
This upward revision reflects third-quarter sales that increased 6.1 percent from year-ago levels despite a cut in the company's allowed return on equity.
And even after a historic build-out of wind- and solar-power installations, these renewable-energy sources account for a tiny percentage of net electricity generation in the US.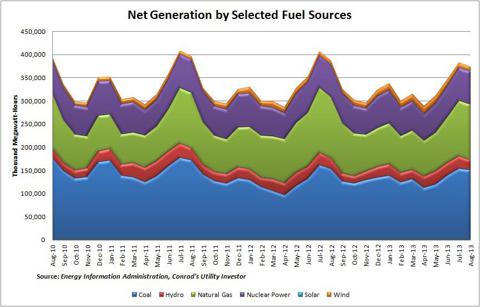 In California, massive fluctuations in daily output from renewable energy require hefty contributions from traditional sources of electricity; at their peak, renewable-energy sources accounted for 26 percent of daily power generation in the state.
Some readers may recall the early 1990s when Wall Street analysts argued that deregulation would trigger a wave of bankruptcies in the utility sector. These doomsday predictions didn't come to fruition. Instead, the industry adapted to the changes in rules and new technology - in this case, a more efficient turbine.
And utilities across the country have started to adopt solar power. For example, Dominion Resources (NYSE: D), which generates much of its power from nuclear and thermal power plants, in late October bought a small scale 5-megawatt solar-power in Connecticut.
My point isn't that SolarCity is a bad stock or that rooftop solar power won't eventually make a lot of money.
Given the stock's sky-high valuation and significant short interest, investors looking to bet on renewable energy would be better off focusing on power producers that have locked in their cash flow under long-term contracts.
Our favorite name, Canada-based Brookfield Renewable Energy Partners LP (NYSE: BEP), yields 5.5 percent and has grown its payout at an average annual rate of 4.8 percent over the past three years.
More important, we expect this trend to continue as the firm adds new hydropower and wind-power capacity and sells the output under contracts. (See Renewable Profits.)
Hung Up on Interest Rates
Still think utilities are bond substitutes?
Check out this graph comparing annual changes in the yield on 10-year US Treasury notes to the returns posted by the Dow Jones Utilities Average and S&P 500 Telecommunication Services Index over the past 21 years.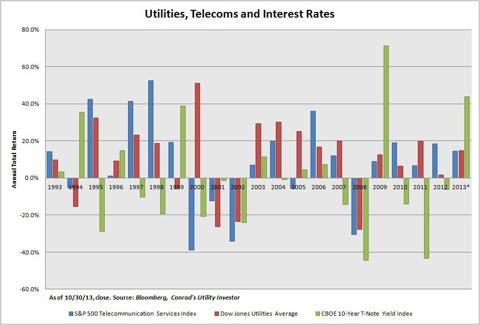 Source: Bloomberg, Conrad's Utility Investor
Both the utility and telecom indexes posted gains in 14 of those years and lost ground in four. In the three other years, one index generated a positive return while the other posted a loss.
In the 14 years that both equity indexes rallied, the yield on 10-year Treasury notes declined on eight occasions and climbed six times. Ironically, both utility and telecom stocks have rallied this year despite the upsurge in interest rates.
Of the four times that these indexes lost ground, interest rates finished the year higher on only one occasion - 1994, the year that utilities and telecom outfits faced the threat of prospective deregulation.
At the time, credit-rating agencies had forecast that stranded costs would result in a spate of bankruptcies among electric utilities, while investors worried about the break-up of local-phone monopolies and its implications for telecom names.
But the industry's resilience in the face of deregulation fueled the rally that followed in 1995. And utility and telecom stocks dropped in 2001, 2002 and 2008 even as interest rates fell sharply.
We're not suggesting that interest rates won't affect the performance of these traditional dividend-paying equities. However, the Dow Jones Utilities Average and the S&P 500 Telecommunication Services Index haven't behaved like bond substitutes over the past 21 years.
Earnings are the key to dividend growth and returns. And higher borrowing costs are only significant in terms of the extent to which they impact business profitability.
For these reasons, the pullback in utilities and telecom stocks this spring and summer marked a buying opportunity - not a time to head for the hills. Savvy investors should keep this in mind during the next rate-inspired selloff and consider building positions in my favorite utility stocks for 2014.
Disclosure: I am long BEP, D. I wrote this article myself, and it expresses my own opinions. I am not receiving compensation for it (other than from Seeking Alpha). I have no business relationship with any company whose stock is mentioned in this article.