General Electric (NYSE:GE) is a stock that investors either love or hate. Either black or white. No grey area in between. People love(d) it for its wide business moat or the way Jack Welch built this empire. People mostly hate it for the dividend cut during the 2009 crisis. "Once bitten, twice shy" applies to dividend growth investors as this group is wary of companies that cut/eliminate/do not increase dividends annually.
But GE has just announced its 6th dividend increase since 2010. Below are a few quick highlights from the announcement:
The new quarterly dividend per share is now 22 cents.
This represents an increase of 16% from the previous 19 cents per share.
The Ex-dividend date for this new dividend is 12/19/2013.
Does the company have your trust now ? We present a few points why GE might be on its way up when it comes to trust with dividend investors.
New Yield and Payout Ratio: The dividend increase has pushed the current yield on stock to well above 3% level to 3.3%. Income investors are usually wary of companies with high payout ratio, especially if the company has a history of cutting dividends. GE's payout ratio after the increase still stands at a comfortable 66% based on trailing twelve months earnings per share of $1.33.
Dividend Growth: Even though GE has increased its quarterly dividend 6 times since 2010 (From 10 cents to 12 to 14 to 15 to 17 to 19 to 22 cents), it has been following the "usual" pattern of increasing dividends after every 4 quarters just for the last 2 years.
Hence, the table shows the yearly dividend payments to track the actual dividend growth rate. The numbers are impressive no doubt, with an average of close to 18% per calendar year. In other words, GE is very close to the 5 consecutive annual dividend growth record that a lot of well known investors on Seeking Alpha look for.

Cash on Hand: GE's cash and short term equivalents have grown from a low of $88 Billion in 2009 to $130 Billion as of September 2013. That's an improvement of almost 50% from the lows. This is significant for two reasons:
Cash and short term equivalents now represent close to 50% of GE's market cap. Even though it makes no difference on paper, investors are actually paying a lot lesser than they think to acquire shares of such cash rich companies.
Significant cash on hand gives GE's investors a relative comfort that the dividends are safe(r) this time.
(Source: YCharts.Com)
Management: Jeffrey Immelt is still the person at the helm and while some might see it as a negative, his public statements about the importance of not cutting dividends and his focus on growing dividends are encouraging. Shareholder friendly companies are sought after by income investors and the backing from the management is even more important given GE's history.
Extrapolation: Let's be frank here. We are not as comfortable doing this extrapolation for GE as we've been with other stocks like Altria (NYSE:MO) or Coca-Cola (NYSE:KO).
There are a lot of questions still. GE' 2009 scare is still vivid. GE capital still contributes 25% to the total stock price according to Trefis.com and there are a lot of experts who still believe the troubles are not over for the financial companies out there, in spite of the impressive stock price return for those companies. The biggest question remains how much has the Fed contributed to the success of the financial services companies.
Nonetheless, GE is a conglomerate and its Energy, Aviation, and Helathcare divisions should be able to cushion up any blows that GE capital might land to the parent. The table below assumes that GE grows its annual dividend at just 5%. The yield on cost is still impressive for the patient long term investor.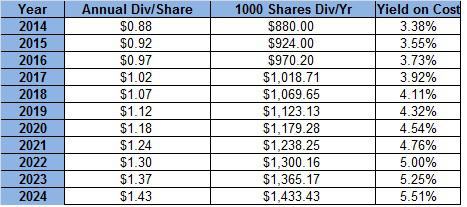 Earnings Estimates and Future Estimates: Taken with a pinch of salt, Analyst estimates are useful to play with. GE is expected to grow earnings at 9% per year for the next 5 years. While this is lower than the industry's expectations, it almost matches the S&P's.
If the earnings grow at 9% for the next 5 years, GE's EPS would be at about $2.10. Even if GE maintains the current payout ratio of 66%, we are looking at an annual dividend of $1.3 per share. That's 50% dividend growth from the current dividend level of 88 cents per share.
(Source: Finance.Yahoo.Com)
Conclusion: GE definitely has turned around from its lows, as evidenced by the share price and increasing dividends. A reasonable yield that is sufficiently backed up by cash and earnings should entice a lot of investors. Besides, it is hard to imagine this company going out of business entirely. The bright side of the 2009 crisis is the returns to those who bought during those lows as they believed in the company's long term potential. It's still the best conglomerate stock out there in our opinion.
All said and done, GE does not get a straight green light or a red light. It's in the "approach with caution" category. If we were to buy GE today, we would monitor it much more closely than the other $300 Billion companies out there.
Disclosure: I am long MO, KO. I wrote this article myself, and it expresses my own opinions. I am not receiving compensation for it (other than from Seeking Alpha). I have no business relationship with any company whose stock is mentioned in this article.