Thursday's release of retail sales for the month of November came in stronger than expected across the board. While the headline number showed growth of 0.7%, which was the strongest since June, ex-autos, the growth of 0.4% was also respectable.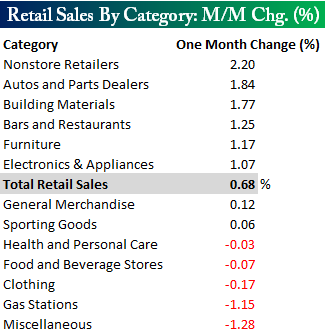 The table above breaks down this month's report by category. As shown, eight of the 13 subsectors showed growth in November, while six showed growth that was stronger than the headline reading. The strongest growth of any group was in non-store retailers (online), where sales grew by 2.2%. Based on these numbers, it looks as if it is going to be an Amazon.com (NASDAQ:AMZN) Christmas, and the company's stock price seems to reflect that.
With this month's increase, non-store retailers now account for 9.0% of all retail sales, which is its highest share ever. As can be seen in the chart below, the sector has been increasingly taking share at about as steady a rate as you can get.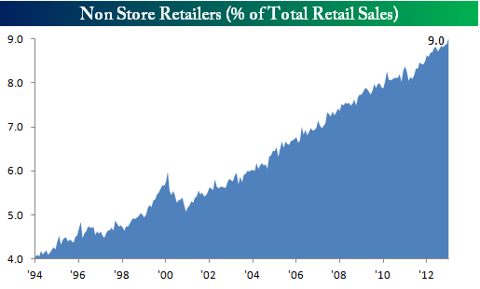 With its total share of retail sales increasing to 9.0%, online retailers now have the sixth highest share of total retail sales, right behind gas stations (10.35%) and just ahead of building materials (6.10%). Over the last year, the only sector that has taken more share is autos, which has seen its total share increase from 18.3% to 19.3%.