A monthly dividend can be of great benefit to the income-oriented investor who is saving for retirement or simply looking for a more predictable source of income. There are plenty of ways an investor can get paid a monthly dividend, but the majority of these ways are not found in stocks. Rather, they are mainly found in closed-end income and bond funds. If you are looking for stocks that will pay you a monthly dividend, you'll be hard pressed to find a major utility company that will do it. The stocks that do pay you a monthly dividend are typically the REITs, trusts, and development companies - with a few exceptions mixed in here and there. While the high yields that some of these monthly payers offer are tempting, remember that a lot of these companies don't appreciate in value over time, and therefore you're only getting a total return that is almost equal to the yield. Also, the effect of rising rates in today's improving economy is already and will continue to take a toll on some of the high yielders such as REITs and trusts - more so than utility stocks in my opinion. Another disadvantage to many of the monthly payers is that their distributions are taxed as ordinary income as opposed to utility dividends that are typically taxed as "qualified" dividends at the normal capital gains rate. This means utilities are a better choice for income investors with non-tax-deferred accounts. A list of all the monthly dividend payers, including funds, can be found here.
For the investor that wants to get paid a monthly dividend from a utility company, there is a way to achieve this. Instead of investing in one company that pays you a dividend every 3 months, invest in a few companies which pay on a quarterly basis but each in a different month so you can stagger the dividend payouts - achieving a monthly dividend. By so doing, and by investing the same amount of money in each company paying a similar yield, you will be paid roughly the same amount of money as you would on a quarterly basis - divided equally among the three months. As I said, the advantage here is you have a more predictable income. You can also take advantage of reinvesting your dividends on a monthly basis, further compounding your gains vs. the quarterly method. This monthly compounding will only have a slight benefit vs. quarterly compounding, but every little bit helps! Some may take added comfort in knowing that your income portfolio is more diversified by owning at least three separate companies, offsetting some of the risk of owning shares of only one. While it takes a bit more work to analyze and follow three companies vs. one, seeking out a system that pays a monthly dividend may well be worth the effort.
What follows is an overview of three of my favorite utility stocks - DTE Energy (NYSE:DTE); Alliant Energy Corp. (NYSE:LNT); Northeast Utilities System (NU) - that if purchased together would provide the investor with a monthly dividend payment. I consider these stocks to be safer and more undervalued than their peers in the sector based on findings from my previous articles here and here. In these articles I also offer my take on why I think utilities can offer investors an added measure of safety when compared to some of the other monthly dividend payers that pay higher yields. I also try to break down the effect of rising rates on utilities and find the companies best suited to overcome those effects.
Included are a few other choices that pay dividends during the same month as my top 3, some at 1-2% higher yields, but are considered less safe due to their higher payout ratios and debt loads.
Company #1: DTE Energy Company
DTE Energy is a Detroit-based diversified energy company involved in the development and management of energy-related businesses and services nationwide. Its largest operating units are Detroit Edison, an electric utility serving 2.1 million customers in Southeastern Michigan, and MichCon, a natural gas utility serving 1.2 million customers in Michigan. Detroit Edison is the it's principal operating subsidiary. Affiliates of the DTE are engaged in non-regulated businesses, including energy-related services and products.
DTE's recent 3rd quarter earnings report failed to impress overall, but did have a few bright spots. While revenues were up 8.2% vs. last year's 3Q, expenses were up 16.7% leading to a decrease in net income of 12.8% YoY. EPS was down 13.7% over the previous year's 3Q. DTE blamed the poor bottom line on its efforts an unseasonable warm Michigan winter combined with the still-recovering economy in their area. In an effort to help customers who are suffering through one of the worst economies in the U.S. (see Detroit's bankruptcy mess) they've been offering lower rates for gas heating and electricity for the past year, and expect that to continue into next year. Management also tightened its guidance for FY13 EPS to a range of $3.95-$4.15 from $3.90-$4.20.
Despite the current economy of Michigan weighing down on DTE right now, analysts are expecting a great recovery and project DTE's revs and earnings to grow 30% over the next 5 years, better than the industry average. They are investing heavily not only in new pipeline and gathering systems, but also clean energy - most notably solar and wind. This bodes well for their future as the U.S. is leaning towards favoring renewable energy forms with their shifts in policy lately. Going forward, the growth momentum will be maintained by beneficial regulatory policies in Michigan, higher authorized rates for its regulated business, its strong balance sheet and an industry-high dividend yield. DTE currently has a 5.5% upside to the average analyst target price.
*Pays a quarterly dividend every January, April, July, October.
*Also consider Westar Energy (NYSE:WR), PPL Corp (NYSE:PPL) and SCANA Corp (NYSE:SCG), yielding 4.3%, 5.0% and 4.4%
Company #2: Alliant Energy Corporation
Alliant Energy Corp. is a growing energy-services provider with operations both domestically and internationally. Alliant Energy provides electric, natural gas, water and steam services to customers worldwide. Alliant Energy Resources, Inc., the home of the company's non-regulated businesses, has operations and investments throughout the United States as well as in Australia, Brazil, China, Mexico and New Zealand.
LNT's most recent earnings report had many positive takeaways for investors to be excited about. Total EPS for the 3rd quarter was up 4.4% over last year, and net income was 4.6%. Revenues were down 1.1% from last year's 3Q total, but YoY was up 4.3% for the nine months ending September 30th. Book value had increased by 4.8%. The quarterly dividend had been increased 4.4%, and the Board of Directors approved a plan to increase it by as much as 8.5% in 2014. Cost control and operational efficiency measures approved last year were already being put into place, and the company expects capital expenditures to drop from $1.06 Billion in 2014 to $780 Million in 2017 - a 26.4% decrease. Management also raised its EPS guidance from the $2.95-$3.25 range to $3.15-$3.30.
Analysts are also very bullish on LNT's future, projecting EPS and Sales to grow by over 20% the next 5 years. Currently of the 8 analysts covering the stock, 6 rate it as a "strong buy" with 2 "hold" recommendations. LNT currently has a 9.5% upside to the average analyst target price.
*Pays a quarterly dividend every February, May, August, November.
*Also consider Cleco Corp. (NYSE:CNL) and TECO Energy (NYSE:TE), yielding 3.2% and 5.2%
Company #3: Northeast Utilities
Northeast Utilities is the parent company of the Northeast Utilities system. The Northeast Utilities system furnishes franchised retail electric service in Connecticut, New Hampshire and western Massachusetts through three of the company's wholly owned subsidiaries: The Connecticut Light and Power Company; Public Service Company of New Hampshire; and Western Massachusetts Electric Company. It also provides service to a limited number of customers through another wholly owned subsidiary, Holyoke Water Power Company.
NU's most recent earnings report was a mixture of good and bad, but I took away more good. While some segments such as electric transmission and natural gas distribution were down vs. last year, others were up. Earnings from electric generation and distribution were up 4.1% while earnings from "parent and other businesses" were up 42%. Total sales were up only slightly - 1.7% while expenses were up 3.4%. Net income was up 1% while EPS was flat. Cash on hand was up 26.7% and net cash flow from operations was way up vs. the first nine months of last year - 47.9%!
Management maintained its current FY guidance, but did mention that they are looking to utilize cost control measures in the near term to continue to improve their margins.
Analysts are extremely bullish on NU. Of the 12 analysts covering the stock 5 list it as a "strong buy," 5 as a "buy" and 2 as a "hold." They're projecting EPS growth of 47% over the next 5 years to go along with revenue growth of 37% - way ahead of the industry average. This is largely due to their recent merger with NSTAR (NYSE:NST) which is expected to help improve NU's scale of operations enabling them to serve more customers in the future, as well as their Greater Springfield Reliability project coming online by the end of the year. NU currently has a 13.1% upside to the average analyst target price.
*Pays a quarterly dividend every March, June, September, December.
*Also consider Entergy (NYSE:ETR), Exelon Corp. (NYSE:EXC) and Public Service Enterprise Group (NYSE:PEG), yielding 5.4%, 4.5% and 4.5%
Fundamentals/Estimates
Now, a comparative look at the fundamentals and projections for each of the companies. I've included the utility sector's average to highlight exactly why I like these three companies the best out of the many choices investors have. *Data compiled from Reuters, Yahoo! Finance, Fidelity and Zacks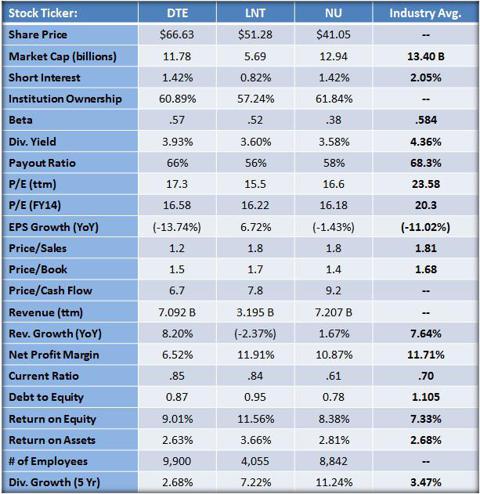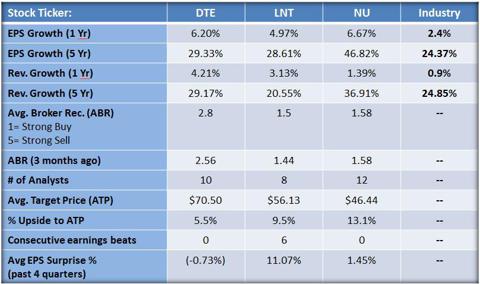 Although past performance is never indicative of future results, it is worth considering. Here's a chart showing how much better owning shares of the three companies I've selected has fared vs. a popular utilities ETF, the iShares Dow Jones US Utilities Fund (NYSEARCA:IDU), over the past 5 years:
Example Scenario
An investor with a portfolio comprised of $100,000 in assets who shifted 1/3 of their portfolio total into these three utilities ($10,000 invested in each company) would receive an average yield of 3.7% - paid on a monthly basis and still taxed at the lower capital gains rate. It breaks down like this (using share prices and yields as of 12/12/2013):
| | | | | |
| --- | --- | --- | --- | --- |
| | Investment | Shares | Yield | Annual Dividends |
| DTE | $10,000 | 152 | 3.99% | $399 |
| LNT | $10,000 | 197 | 3.70% | $370 |
| NU | $10,000 | 242 | 3.56% | $356 |
| Total | $30,000 | 591 | 3.75% | $1,125 |
That will net the investor an average monthly dividend of $94 which can then be reinvested on a monthly basis or used as extra income. Obviously if you change the portfolio to $1,000,000 and the total investment in the utilities to $300,000 the monthly dividend triples as well - to almost $300.
Compare that total yield of 3.7% paid monthly vs. owning shares of a single utility or even a popular utility ETF like IDU - which yields 3.24% paid quarterly and comes with an expense ratio of 0.46%.
Had the investor carried out this exact scenario 5 years ago, that $30k would have grown to $61,670 (including $8,461 in dividends paid and not reinvested)! That's a 105.6% return on the original investment - and that's by owning 3 safe utility stocks paying the investor a dividend every month. To compare, investing the $30,000 in a utility ETF such as IDU would have yielded a five year total of $47,342 accounting for dividends and expense fees - only a 57.8% return. Not bad, but it pales in comparison to owning the three stocks I've selected, and only paid the investor a dividend every quarter. Even comparing the broader Dow Jones Industrial index that returned a healthy 95.5% over the same 5 year period shows a pretty solid beat.
Conclusion
While investing in utilities does carry some inherent risks with it as I pointed out in my last article about interest rates, they can typically be relied upon as one of the safer forms of investment available, especially over the long term. They provide investors with a stable and reliable form of yield, and including appreciation in share price over time will reward the patient investor with a much better return than can be found in bonds or other monthly dividend payers such as REITs and trusts.
The three companies featured here today - DTE, LNT, and NU - are growing faster than their peers in the utility sector, are undervalued and priced attractively. I expect that as rates rise the prices may go down a bit further in the utility industry, creating an even better buying opportunity for the patient investor. They offer the income-investor who is looking to put a portion of his/her portfolio into utilities a great opportunity to receive a monthly dividend payment as well as a return on share price when the time comes to sell holdings due to their decent yields, growing revenues, lower debt, and room for dividend growth.
Disclosure: I have no positions in any stocks mentioned, and no plans to initiate any positions within the next 72 hours. I wrote this article myself, and it expresses my own opinions. I am not receiving compensation for it (other than from Seeking Alpha). I have no business relationship with any company whose stock is mentioned in this article.