We filtered all of the 3000+ stocks on the NYSE for those with favorable fundamental attributes and strong price chart behavior.
Looking for stocks that are going up, and that have attractive fundamental characteristics, is better that relying on charts or fundamentals alone.
Here is what we did:
Filter 1:
Quantitative Stacking Order — All NYSE stocks with a price over $10, and daily volume over 10,000 shares where the 200-day simple moving average now (February 19, 2010) is higher than it was 20 days ago, and where the price is higher than the 25-day average, which is higher than the 50-day average, which is higher than the 100-day average, which is higher than the 200-day average.
When the price is above all the averages, and each successively longer average is below the next shorter average, the stacking order is an indication of an established up trend. It makes no reference to the timing or probability of the trend weakening or reversing, but it does indicate what securities are currently doing well.
This Filter 1 identified 356 companies among the 3144 active issues on the NYSE.
Filter 2:
Quantitative Fundamental Attributes – All of the Filter 1 results companies with market-cap over $500 million, 3-month average daily dollar trading volume greater than $10 million, and each of the following parameters greater than zero: 5-year cumulative free cash flow, 3-year sales growth, 3-year continuing earnings growth, 3-year dividend growth, 12-month paid dividends and last quarter paid dividends.
This Filter 2 identified 46 of the 356 companies from Filter 1.
Filter 3:
Visual Inspection of Fundamental Charts — All of the Filter 2 results companies with generally visually upward sloping annual charts of cash flow/free cash flow, dividends and sales over 5 to 7 years.
This Filter 3 identified 29 of the companies of the 46 from Filter 2.
Filter 4:
Visual Inspection of Price Charts — Best looking 10 charts among the Filter 3 results companies with upward sloping daily price charts, with best consistency of trend.
Most of the top 10 charts have some ugly periods in terms of draw downs earlier in the year. Some may have triggered your stop losses along the way with the need to reinvest. These ten looked better than the other Filter 3 survivor: ABC, HNZ, NVO, EMR, PG, GWW, GPC, GD, HRL, CHD.
Price Charts for Filter 4 Survivors:

Note that these filters do not represent recommendations by QVM for purchase. These results are merely a list that you may find deserves further evaluation. Some of the companies could be clunkers, but beginning research with various filtered lists is a much better use of your time than attempting to analyze thousands of securities when most of them could not meet your basic criteria. If the criteria in these four filters have any appeal, then take a closer look at these ten companies to see if any have appeal and suitability for you. These aren't recommendations, just a sharing of the results of some combined fundamental and technical filtering using first quantitative methods and then gross visual inspection.
There are many other ways to construct filters. This is just one. Virtually any filter you may do will leave out some otherwise attractive companies, and allow in some otherwise unattractive companies. Using multiple different filtering schemes is usually necessary to find enough attractive and suitable securities to create a diversified and balanced portfolio. Like picking friends and mates, nobody is perfect and no stock is perfect — and even if there is a perfect stock, you don't want all your eggs in one basket. Therefore, you must select a variety of stocks for which the balance of issues is a net positive
We have not yet performed additional analysis of these 10 companies, which may or may not continue to be of interest.
S&P has taken their own look, and this is what they see in terms of Stars 1-5 (expected price behavior next 12 months), Fair Value 1-5, and Earnings and Dividend Strength: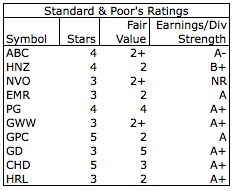 S&P's Fair Value ranking means that scores below 3 indicate over-valuation, and scores above 3 indicate under-valuation. Similarly Star ranks below 3 indicate probable below average price performance over the next 12 months, whereas ranks above 3 indicate probable above averate price performance.
Our guess is that if S&P had to pick for you, they would recommend GD and GPC as the top two. Both are financially strong. In their view, one has average price performance probability with excellent valuation; and the other has excellent price performance probability and average valuation. The others have a bit less in overall rating.
A quick comment on Hormel is that their chart is way overbought in the past few days.
We hope you find this helpful, by giving you a short list to evaluate on your own.
Good hunting!
Holdings Disclosure:
As of February 21, 2010, we do not have current positions in any other securities discussed in this document in any managed account.
Disclaimer:
Opinions expressed in this material and our disclosed positions are as of February 21, 2010. Our opinions and positions may change as subsequent conditions vary. We are a fee-only investment advisor, and are compensated only by our clients. We do not sell securities, and do not receive any form of revenue or incentive from any source other than directly from clients. We are not affiliated with any securities dealer, any fund, any fund sponsor or any company issuer of any security. All of our published material is for informational purposes only, and is not personal investment advice to any specific person for any particular purpose. We utilize information sources that we believe to be reliable, but do not warrant the accuracy of those sources or our analysis. Past performance is no guarantee of future performance, and there is no guarantee that any forecast will come to pass. Do not rely solely on this material when making an investment decision. Other factors may be important too. Investment involves risks of loss of capital. Consider seeking professional advice before implementing your portfolio ideas.