In this article, we will continue our visual guided tour of Apple's (NASDAQ:AAPL) performance, in order to gain a broader perspective of Apple's prospects in the near to mid term. Regular readers may notice a pattern to these "visual tour" articles is somewhat of a departure from my usual helter skelter musings on the market. My view is that a template narrative that relies upon hyperbole and supplier chain noise deserves a template reply, especially when earnings results tend to confirm the reply and discredit the narrative.
A Note On the Data: Apple adopted the FASVB's amended accounting principles on a retrospective basis during the first quarter of 2010. The new accounting principles significantly changes how Apple accounts for certain items, particularly sales of the iPhone. The chart values have been adjusted accordingly.
Apple Keeps A Lid On Cost Of Sales. The fact that it's cheaper for Apple to make $1 than for Google (NASDAQ:GOOG) and Amazon (NASDAQ:AMZN) is an outstanding competitive advantage that isn't eroding despite the commodization of mobile. The company's stagnant R&D spend is offset by low M&A costs.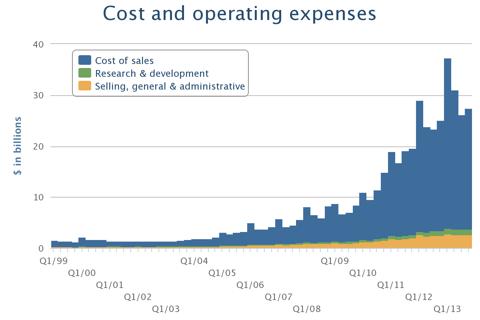 The Treasure Trove Has Leveled Off. Apple finally halted its practice of squirreling money away overseas in response to investor agitation.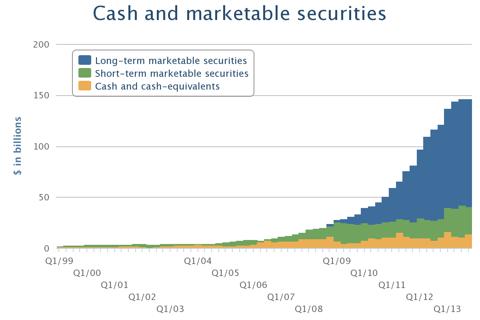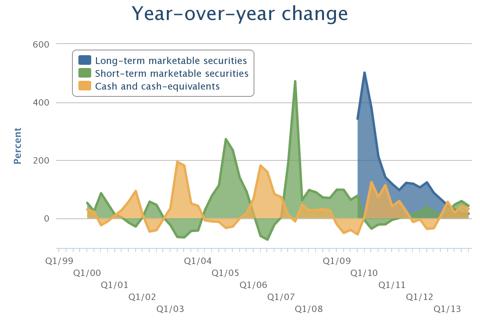 It will be interesting to see in who's pocket the additional $5-$7 billion per quarter ultimately winds up. The bulk of the company's debt repayment schedule isn't due to be rolled over until 5-15-2023. ($5.5 billion/3.65% yield)

Apple was previously on schedule to exceed Microsoft's market cap by 2015.
Damn the Torpedoes! Apple has significantly increased a huge amount of money into R&D. In the past, increased R&D spend has coincided with new product releases. Apple's recent $360 million acquisition of PrimeSense and a flurry of recent patent awards suggests that new technology featuring curved screens, enhanced biometrics, 3D gesturing, wireless charging and a major upgrade to Apple Maps are all in the works for 2014.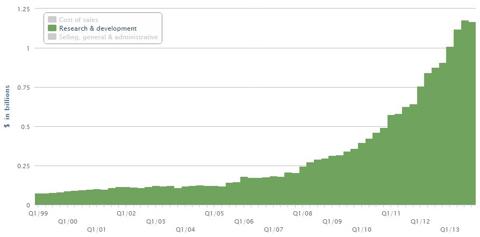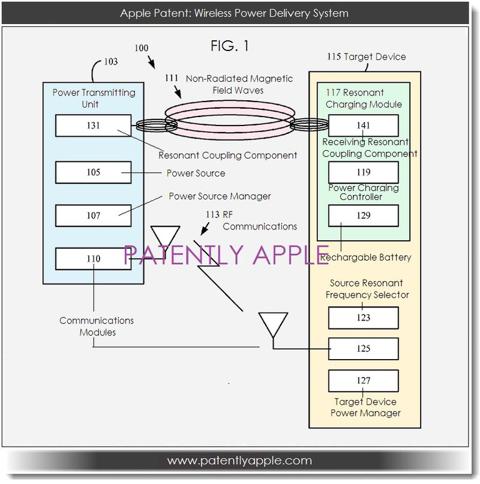 Still The Leader Of The Pack. Here we see Apple's arch of domination going into Q4. Note the consistent unit sales despite the teeth gnashing and breast-beating of the mainstream media. On a related note: Goodbye, iPod. We hardly knew ye.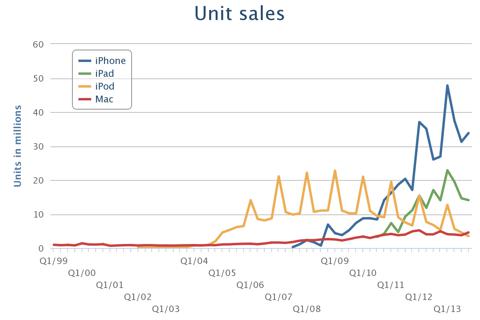 Bearish Capitulation. When the story concerns the rise and fall of the world's largest tech company, buying into a narrative can not only bankrupt you, it can lead to uncomfortable public retractions and sudden bouts of "evolution" on one's position "when the data changes." Of course, the implicit assumption is that the data actually changed.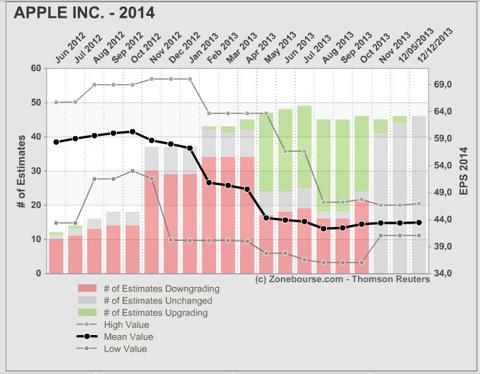 Time to Put the Commodization Bear To Bed? One thing that investors worry about is whether or not Apple is losing its ability to charge a premium for its devices. While no one knows for certain what the future holds, the data thus far appears to argue against it. The dip in iPad ASPs is almost entirely due to the iPad Mini and Apple's willingness to continue stocking older models at a discount to newer ones and has since leveled off.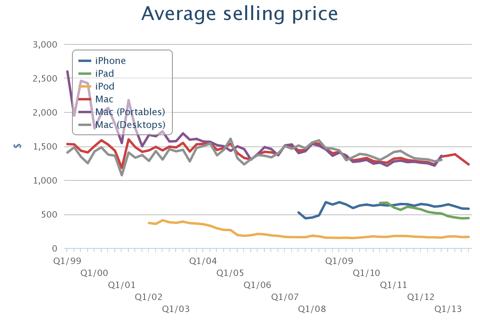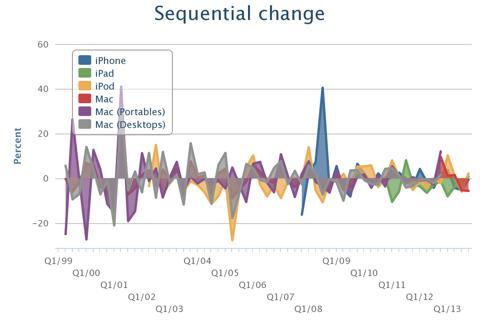 Conclusion
The coming year will be a decisive one for Cupertino. Apple is easily worth $700 a share: It has the most valuable brand in the world, a fat dividend, relatively little debt, an addictive ecosystem, a fortress patent portfolio and is currently engaged in the largest buyback in corporate history. However, these strengths will continue to be offset by fears of commodization until the company demonstrates that it retains the potential to disrupt new markets in a "post-Jobs" world. As I've explained elsewhere, it is extremely likely that these products will exit the pipeline in 2014.
However, investors should not expect all of these new product lines will be released according to the usual schedule. These events have become highly anticipated media events (emphasis on the word "anticipated"), which is precisely why I believe Cupertino will switch to stealth mode tactics this year with at least one product release.
Disclosure: I have no positions in any stocks mentioned, and no plans to initiate any positions within the next 72 hours. I wrote this article myself, and it expresses my own opinions. I am not receiving compensation for it (other than from Seeking Alpha). I have no business relationship with any company whose stock is mentioned in this article.