By Carla Fried
John Linehan, head of U.S. Equities at asset manager T. Rowe Price (NASDAQ:TROW) recently noted that we're on track for just the 10th calendar year since 1950 in which the S&P 500 did not experience at least one stretch where the index had a 5% price decline. (Though we did sure get close, as the late May-late June taper tantrum pushed the index down 4.97%. And, yes, we do have three more weeks to navigate before the calendar turns on 2013.)
Sam Stovall, chief equity strategist at S&P Capital IQ also recently sounded a similar theme. Since 1946 the median time between declines of at least 10% has been 12 months and the average 18 months. Today we're at month 26 and counting. But that doesn't make it a slam dunk that the end is nigh. From Stovall:
"Granted, there is no rule that states stocks must decline sharply every x-number of months. Indeed, six of these 31 declines in excess of 10% [since 1946] enjoyed between six and 60 months of additional bliss before slumping from exhaustion. Yet when the market did eventually decline, four of them slipped into new bear markets while two ended up as corrections. This limited sample implies that the longer the distance between declines, the deeper the subsequent sell off."
So far, investors aren't biting on that last part. The VIX index is still submerged at its lowest level since before the financial crisis.
But as T. Rowe Price's Linehan remarked at the firm's 2014 investment outlook, it's time to "proceed with caution." Since the last correction ended in early October 2011 the S&P 500's 60% gain has come on the back of PE ratio expansion, which is up 41%, while earnings growth grew just 13%. If you like your investing advice in metaphor, T. Rowe now sees the road ahead having turned from a green light to flashing yellow.
If ever there were a time to take some profits and either keep some powder dry for the next correction or rotate into the most solid growth stories, this is it.
This YCharts Stock Screener ranks the S&P 500 stocks by their year-to-date total returns, and includes trailing and forward PE ratios. You don't have to be Carl Icahn to see the value of taking at least some profits from Netflix (NASDAQ:NFLX); even a forward PE ratio that is forecast to fall nearly one third compared to its trailing level can't easily be rationalized when we're still talking about a PE above 200. Other high valuations include TripAdvisor (NASDAQ:TRIP), Gilead Sciences (NASDAQ:GILD) and Chipotle (NYSE:CMG).
Linehan mentioned two segments where valuation and the business model remain attractive: North American energy producers and U.S. manufacturing. T. Rowe called out Apache (NYSE:APA) and Pioneer Natural Resources (NYSE:PNX) as two attractive exploration and production companies.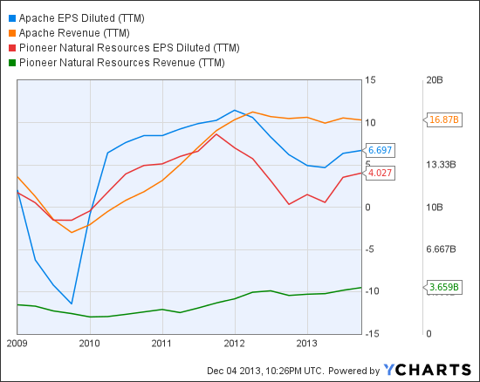 APA EPS Diluted (NYSE:TTM) data by YCharts
Based on forward PE ratio, Apache is the cheaper option.
T. Rowe also called out chemical and materials producer Celanese (NYSE:CE) and indy refiner Phillips 66 (NYSE:PSX) as two companies that will benefit from lower energy costs given the boom in North American natural gas and oil supply. Neither can be accused of looking frothy: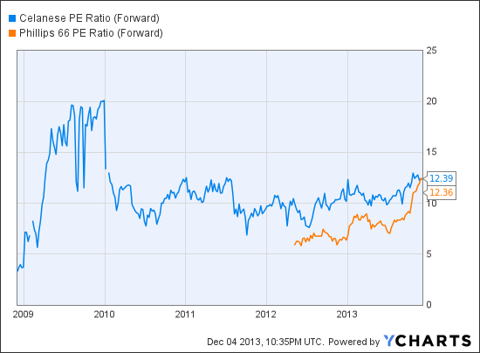 CE PE Ratio (Forward) data by YCharts
Given softening energy prices in the U.S., the expectation is that more U.S. companies will be moving manufacturing back onto U.S. soil, and international firms may also find our cost of operation compelling.
Liz Ann Sonders, chief investment strategist at Charles Schwab, sees the "reshoring" story as being in the early stages of a long roll out. Recently she suggested that industrial sector stocks -- that supply the nuts and bolts and transportation to manufacturers as one potential theme to investigate.
One broad way to invest in re-shoring is to take a look at the railroad companies that should benefit from more parts and manufactured goods needing to get from point A to points B, C and D. CSX (NYSE:CSX) and Norfolk Southern (NYSE:NSC) have in-line valuations around 15; Kansas City Southern (NYSE:KSU) is a more expensive rail proposition.
Carla Fried, a senior contributing editor at ycharts.com, has covered investing for more than 25 years. Her work appears in The New York Times, Bloomberg.com and Money Magazine.