At this time of year, it makes a lot of sense to consider buying beaten-down stocks that are likely to surge in a "January Effect Rally". This is a great way to potentially generate significant gains in a short time frame, by buying cheap stocks which are oversold and experiencing tax-loss selling pressure. Stocks that are making new 52-week lows tend to attract short sellers who pile on and help push some stocks down to levels that are way below fair value. However, this is a real opportunity since there's only about two weeks left until tax-loss selling ends by December 31. When oversold stocks suddenly get some relief from this downside pressure, it can lead to strength in the stock which can then lead to a short-covering rally in the first weeks of a New Year. It's not unusual for some stocks to move 20% to 30% or even more in the first couple weeks of January.
To employ this strategy, I look for oversold stocks trading at or near 52-weeks lows and for stocks with an above-average short interest which could add more fuel to any January Effect rally. I also find that low-priced stocks make some of the biggest percentage moves upward, when tax-loss selling ends. I have done a lot of research on stocks that fit these characteristics and recently wrote about a $5 tech stock that appears poised for a potential rally in January, but also have found an oil stock that also looks very promising:
Forest Oil Corporation (NYSE:FST) is an independent oil and natural gas company that was founded in 1916 and it is based in Denver, Colorado. It is focused on exploration, development and production with operations primarily in the Texas Panhandle Area, the Eagle Ford Shale in South Texas, and the East Texas / North Louisiana Area.
This stock is currently trading well below the 52-week highs of about $7.50 per share. That means it is probably seeing a significant amount of tax-loss selling pressure. Profits have come in on the low side for 2013 and some investors were also disappointed with an asset sale deal that Forest Oil announced. However, the asset sale greatly improves the balance sheet and allows the company to focus on high-potential projects as well as on liquids and oil. Furthermore, analysts expect earnings to jump from 19 cents per share in 2013, to 53 cents per share in 2014, and 65 cents in 2015. That is another reason why many investors are likely to take a second look at this stock as 2014 draws near.
Forest Oil is seeking to improve financial results in the future by divesting non-core assets and reducing exposure to natural gas. This can be achieved by increasing exposure and production on liquids and oil. Analysts at Zacks Equity Research appear to take a bullish view on these initiatives and it states:
"The company nonetheless is intent on divesting its non-core properties to boost financial strength and flexibility. We believe this will eventually allow Forest Oil to aggressively pursue growth opportunities in its plays and provide meaningful upside potential for investors."
Another positive factor is that Forest Oil has partnered with Schlumberger (NYSE:SLB) on some drilling projects in the Eagle Ford and that shows the possibility of strong upside potential for these projects, and it might increase the chance of positive drilling results (due to Schlumberger's technical expertise). Forest Oil is planning to increase its drilling budget in 2014 and oil production is expected to jump from about 3,465 bopd in 2013, to around 6,800 bopd in 2014. That is almost a 100% gain in oil production which is sure to lead to higher revenues and profit margins. The higher drilling budget and move to increase oil production explains why analysts expect profits to jump to 53 cents per share in 2014 . That gives this stock a forward price to earnings ratio of less than 7 times earnings and even less (only about 5 times) when looking at analyst estimates of 65 cents for 2015.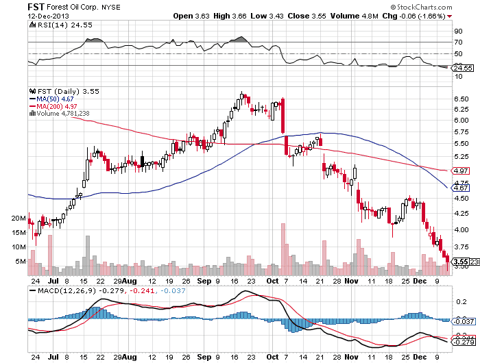 This stock looks cheap at current levels and as the chart shows, it is very oversold with a relative strength index of just 24. It could be poised for a significant rally into January due to the end of tax-loss selling as well as due to the potential for a short-covering rally. According to Shortsqueeze.com, nearly 20 million shares (which is equivalent to about 22% of the float), have been sold short. The shorts seem to be focused on the disappointing financial results in the past, which have been due to weak natural gas prices and not enough exposure to oil. However, the company is clearly shifting production to oil and that could be a game-changer for financial results and the share price. Another potential downside risk that must be considered is the debt load of about $1.6 billion. This has been more of a potential risk in the past, however, the company has proven it can manage this debt load and still remain profitable. Furthermore, the debt is likely to be even less of an issue as revenues and profits rise from the production increase and shift to oil. Finally, the debt load also appears to be a non-issue due to the fact that the company has additional non-core acreage that could be sold off (if needed), to pay off debt. That leaves potential downside risks like disappointing drilling results or the possibility of a major drop in oil, but with Schlumberger involved and with the global economy growing, these risks appear minimal at this time.
Historically, this company has regularly earned nearly $2 per share or more in about 6 of the past 10 years. However, it lost money in 2008, 2009 and 2012. Investors who bought when profits were down and the stock was cheap were rewarded with big gains when times were good. For example, in June 2008, this stock surged to over $76 per share. More recently, it traded for over $39 per share in January 2011. That gives investors an idea of the type of gains that have been possible in the past, when times are good. I am not expecting that, but when you consider that this stock was near $7.50 per share earlier this year, and around $4.50 as recently as December 3, the pullback down to $3.50 in just a few days seems ridiculous. Shorts also have to start to consider that the huge drop in December seems to be solely based on tax-loss selling pressure; once that ends by December 31, it is likely to be a lot more expensive to cover this stock.
Here are some key points for FST:
Current share price: $3.50
The 52 week range is $3.43 to $7.44
Earnings estimates for 2013: 19 cents per share
Earnings estimates for 2014: 53 cents per share
Annual dividend: none
Data is sourced from Yahoo Finance.
Disclaimer: No guarantees or representations are made. Hawkinvest is not a registered investment advisor and does not provide specific investment advice. The information is for informational purposes only. You should always consult a financial advisor.
Disclosure: I am long FST. I wrote this article myself, and it expresses my own opinions. I am not receiving compensation for it (other than from Seeking Alpha). I have no business relationship with any company whose stock is mentioned in this article.