After market hours on Friday an update from the USTPO came about denying Apple's (AAPL) IPR applications for IPRs on VirnetX's (VHC) '135 and '151 patents. An IPR or an "inter partes review" can be a game changer since if it is successful it has the potential to invalidate a patent or patents.
After losing to VirnetX in early November to the tune of $368 million dollars, the judgment against Apple has since grown to over $440 million due to post-judgment interest and other enhancements. VirnetX is currently awaiting a pending royalty rate for past infringing products against Apple that will set a benchmark as a bellwether case. VirnetX is also awaiting a colorably different ruling with regard to its case with Apple, and a retrial/JMOL with regard to its case with Cisco (NASDAQ:CSCO). A successful IPR can invalidate a patent if it is ruled upon in that manner. Apple would still have to prove the IPRs if its applications were approved although the USTPO has denied them.
The USTPO denying Apple's IPR applications demonstrates how the one-year time limit will apply to Apple's current IPRs against VirnetX that are also past the one-year limit.
The decision to deny these applications removes risk from investing in VirnetX.
The ruling to deny the joinder compounds (revealed after New Bay pulled their IPR requests) that Apple cannot get around this time limit.
Apple has been hoping that its IPR requests (which are over the one-year time limit) could be joined onto New Bay Capital LLC's IPR requests or onto RPX's IPR requests. If Apple does not have any outstanding IPRs, it will not be able to join another company's requests.
This development removes a lot of risk from investing in VirnetX as it is a potential roadblock removed. This does not address all of Apple's IPR requests as the company still has IPRs pending against VirnetX's '504 and '211 patents (below source).

If Apple's IPR applications were denied due to the one-year time limit, it is safe to assume that Apple's currently pending IPR applications will also be denied.
(Source)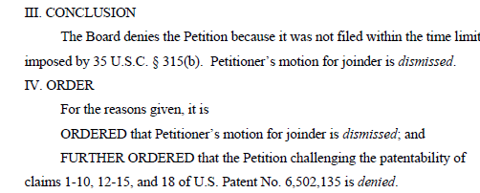 Apple requested to join New Bay Capital LLC's IPR requests to get around this time restriction and that proceeding was terminated. This results in Apple's joinder request being quashed as well.
(Source)

The full decision relating to the '151 patent can be viewed here and the full decision relating to the '135 patent can be viewed here.
Conclusion and Analysis: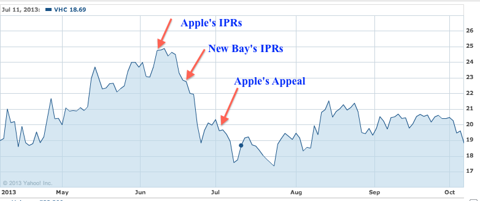 Apple's IPRs in mid June, 2013 marked a near time high for VirnetX's share price over the summer reaching almost $25. At the high of $24.89 on June 10, 2013, around the time when these IPRs were filed, until the close of business day today, marked a market capitalization loss of roughly $325 million. Although shorts used this event to over-dramatize the event to the downside, the reversal of these applications marks this specific risk removed. As such, VirnetX could reach higher levels in the short term due to this risk reversal that caused the summer downtrend.
The decision by the USTPO to deny Apple's IPR requests is a very positive event for VirnetX and removes risk from the investment. The decision to terminate the joinder was more or less known with the final decisions regarding New Bay Capital LLC. This event speaks to the USTPO's choice in terminating these requests based upon the one-year limit that also applies to Apple's current IPRs that have not been decided upon yet. If the USTPO rules the same way, that will mark the end of Apple's IPR requests. It is my personal opinion that the USTPO will deny Apple's pending IPR requests based upon the same decision used for the pending applications.
For more information regarding VirnetX, Apple and the other parties involved in this IPR process, please view my other articles relating to the matter.
I have stated in past articles that the termination of Apple's IPRs would be a catalyst for VirnetX. Whether it be through collateral estoppel (if Apple was found to be the real party of interest behind New Bay Capital's requests) or an outright denial by the USTPO. That would remove risk moving forward for VirnetX.
It is worth reiterating that these were the pending applications for IPRs. Apple's current IPRs have not been ruled upon yet. It marks the denial of these applications on the same grounds affecting Apple's IPRs.
VirnetX is awaiting several rulings from Judge Davis in the Eastern District of Texas that are covered in detail in my past articles. For more information on VirnetX please see my other articles. All investors should be aware of the complexities involved with investing in VirnetX and all of the risks involved with the investment.
Disclosure: I am long VHC. I wrote this article myself, and it expresses my own opinions. I am not receiving compensation for it (other than from Seeking Alpha). I have no business relationship with any company whose stock is mentioned in this article.
Additional disclosure: Always do your own research and contact a financial professional before executing any trades. This article is informational and in my own personal opinion.