General Electric (NYSE:GE) has been a core part of my income portfolio since two years ago when it traded at under $17 a share. The industrial giant has been a consistent performer within that portfolio.
The shares have returned just more than 55% on a capital appreciation basis and another 7% to 8% in dividends based on my entry point. Even after this American icon's impressive run, it will remain as a core part of that portfolio in 2014 for three basic reasons.
Transformation Continues:
Since the end of the financial crisis, the company has been focused on lessening its reliance on its financial businesses while growing its industrial, large medical devices and energy services businesses. This is a sound strategic move for several reasons.
It decreases the amount of capital needed on its balance sheet and mitigates its risk the next time the financial markets hiccup. It also provides more exposure for the company to faster growing emerging markets where its big ticket industrial (e.g., Jet Engines) and medical equipment product lines are selling very well. Finally, financial firms are given a lower valuation (~10x forward earnings) in general than industrial concerns (~16x forward earnings) by the market.
The company is preparing for the next major step along this strategic trajectory. General Electric plans to spin off the U.S. consumer lending business of its finance arm with an initial public offering of stock that could come early in 2014. Given current state of the market for IPOs, this offering should be well received - another positive catalyst for the stock.
Dividend Growth:
General Electric was forced to cut its dividend payout by more than two thirds in 2009 in response to the financial crisis. Since then the company has shown excellent commitment to growing its payout back to its original pre-crisis level. General Electric has boosted its dividend every year since 2009 in a consistent fashion.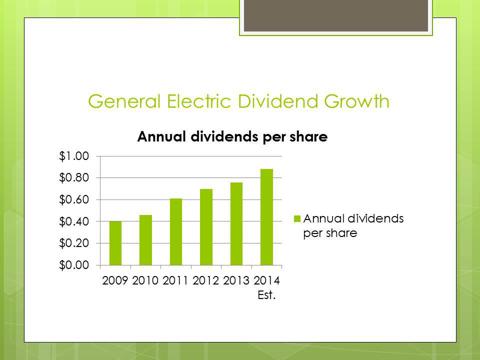 Last week it continued along that path by announcing a 16% dividend hike for 2014. I expect General Electric to continue to reward its shareholders with dividend growth in future years. The shares now yield 3.3% based on the new payout.
Valuation:
General Electric is nowhere as nearly undervalued as when I first picked up shares at ~$17 a share back in late 2011. The stock currently sells for just under 15.5x forward earnings which is just below the current multiple for the overall market (~16x forward earnings). GE sells for just less than $27 a share.
I believe the stock will reach parity with the overall market multiple in 2014 as it continues to transforms its business. This gives me a price target on GE of $30 to $32 a share. Combined with an over 3% dividend means this American manufacturer has a total return projection for 2014 of 15% to 20%. Given my outlook for equities in 2014, this should result in GE outperforming the market in 2014. BUY
Disclosure: I am long GE. I wrote this article myself, and it expresses my own opinions. I am not receiving compensation for it (other than from Seeking Alpha). I have no business relationship with any company whose stock is mentioned in this article.