I believe that Nvidia (NASDAQ:NVDA) is on the brink of a growth period. While a lot of investors might associate the Nvidia name with the dying PC market, I think that this would be a mistake that could distract them from the real cheddar. In this article, I will examine the different markets Nvidia serves, characterize the company's present offerings, and, finally, will try to give a ball-park estimation of the future opportunity offered by this company. Let's start.
Who Is Nvidia?
For those of you who are unfamiliar with the company, Nvidia is a visual computing company. Primarily, it makes graphic processing units (GPUs) and systems on a chip (SoCs). It is a fabless company, meaning that it does not manufacture any silicon products in-house. All of the company's products are manufactured by leading foundries like Taiwan Semiconductor Manufacturing Company (NYSE:TSM). The company has more than 6400 patents granted or pending. According to the company's latest 10K, it had 7974 employees, of which 5783 worked in R&D. In a recent conference, Nvidia's senior director of investor relations ("IR") claimed that the company filed 500-1000 patents a year.
Nvidia currently enjoys three sources of revenue: the GPU business, the Tegra business, and licensing.
Each of those businesses serves multiple markets.
The GPU Business
The GPU business serves a few different markets under different product lines:
GeForce: A product line for the gaming market.
Quadro: A product line for the designers' market.
Tesla: A product line for the HPC market.
According to IDC, the PC market declined 7.6% in the third quarter of 2013. In the same quarter, Nvidia's GPU revenues increased about 4% from the previous year. What explains this anomaly? Well, it is not an anomaly at all! Nvidia never did and never will serve the lower 70%-80% of the PC market. Nvidia's GPUs are meant for very specific needs, whether it is the gamers' market, for players who need to run very heavy games on their platforms, or the designer market, for designers who need to use heavy design software. The supercomputing market needs Nvidia GPUs to enable extra-fast parallel computations, which a GPU can do more efficiently than a cluster of central processing units (CPUs). This is not a product that the average Joe will be willing to pay for, because the average Joe doesn't use the applications that can take advantage of the GPU; for him, Intel (NASDAQ:INTC) processors that have integrated graphics built into them will suffice.
GeForce
This is the business that gets hurt from the declining PC market. More specifically, it is the original equipment manufacturing (OEM) business that suffers. An interesting thing is that while the OEM business is high volume and represents almost 80% of total GeForce volumes, it is responsible for about 30% of GeForce's profits. So the PC decline is easily offset by gaming and the other GPU product lines. The gamer's compound annual growth rate ("CAGR") is 9%-10%.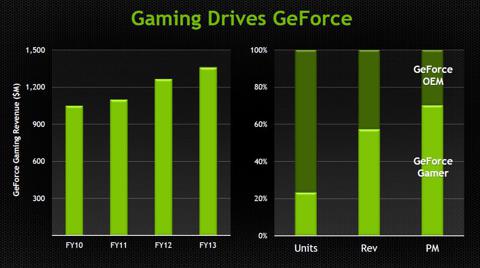 Source: Company latest investor presentation.
Quadro
The Quadro line of products is intended for all kinds of designers that use high-end design applications. According to Nvidia, there are 20M designers and artists and 100M product life cycle ("PLM") users. The CAGR for Quadro's revenues is ~15%.
Tesla
The Tesla line of products is intended for supercomputing applications used by researchers or scientists. Tesla also enables big data applications such as Shazam (the song-recognizing app).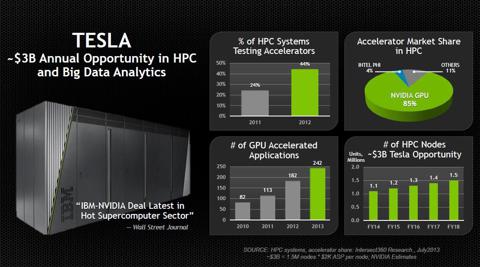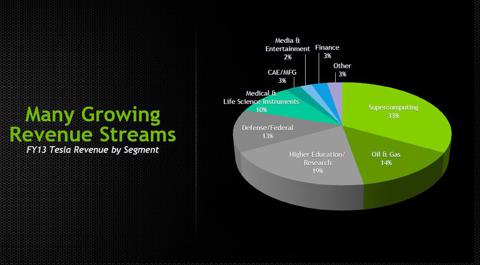 The Tegra Business
Tegra is Nvidia's SoC. It is intended for a few markets:
Mobile - smartphones and tablets. Nvidia offers two consumer electronics products, the SHIELD gaming device and the Tegra Note 7.
Automobile - more and more cars need a strong GPU. There are three key trends fueling this trend. One, rendering instrument panels instead of physical ones. Two, built-in visualized GPSs. Three, advanced driver systems such as collision avoidance. For example, the Tesla-S contains two Tegra chips.
Gaming and other devices - consoles, TVs, and so on.
In my view, the Tegra business is not about winning a substantial share of the mobile market. Tegra's business target is the high-end mobile market. I think that after the recent announcement by Intel about the $1B mobile processor giveaway, Nvidia will not appeal to the majority of the market. The beauty is, it doesn't have to. The Tegra can still be marketed toward the high-end market and supply Nvidia with plenty of growth.
The GRID Business
The GRID business is somewhat embedded in each part of Nvidia. I'll explain. GRID enables the streaming of very "heavy" software programs to various machines. That means a design house can stream "SolidWorks" to all of the designers' computing devices, which can prevent the need for the company to purchase many expensive end devices. All of the heavy computations are done in the cloud and the image is streamed over the cloud to the device. I think this is revolutionary in a couple of ways:
It will enable many industries to efficiently transform to a virtual desktop infrastructure (VDI) environment. This will allow companies to substantially reduce the costs of expensive end devices. For example, if an architecture company has 100 architects, instead of purchasing 100 expensive computers that can run the "heavy" software used by architects, the company could set up a private cloud, use Nvidia GRID, and stream the software to those 100 architects, who will sit in front of substantially cheaper computers.
It will make games more accessible. If today the high-end games require very strong computers/consoles, Nvidia GRID can be transformed to be something like a Netflix (NASDAQ:NFLX) of games, streaming high-end games to gamers who can't afford to buy expensive gaming computers, but they sure can afford something like $8 a month.
GRID has already passed qualification in Amazon (NASDAQ:AMZN). The next video can demonstrate what Amazon is aiming to do with GRID.
The Licensing Business
In Nvidia's fiscal year 2017 the Intel licensing agreement will expire. This agreement is the result of a dispute between Nvidia and Intel about the preceding agreement. To be conservative, it is safe to assume the agreement will not be renewed. In the BMO Capital Markets Conference it was said that Nvidia will look to monetize its IP by actively looking to further license its technology as well as actively seeking to find those companies that infringe some of its IP.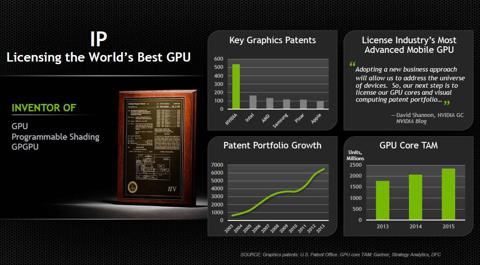 Future Growth
I suspect Nvidia's core GPU business will show slow growth as the OEM business is slowly declining along with the rest of the PC market. Gamers can offset and even enable modest growth in this segment. The real growth engines that I think will play a part in the coming quarters and years are the following:
Tesla| This business positions Nvidia to enjoy both the growing HPC market as well as the growing big data analytics market. Both are expected to grow rapidly in the coming years.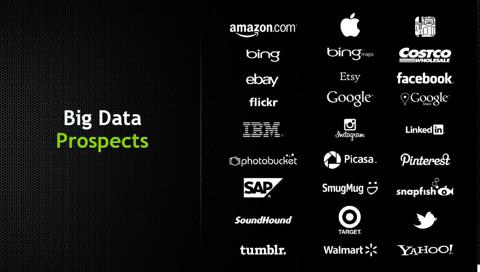 GRID| The number of GRID trials in the past year has skyrocketed. I believe this is a clear sign that we will be seeing more and more GRID deals similar to the one announced with Amazon. The GRID TAM is estimated to be worth $10B. I wouldn't be surprised if Nvidia will have captured 20% of this amount by 2015. This is especially the case if we take into account the impressive growth of GRID trials around the world.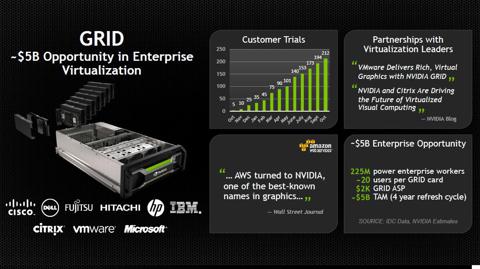 Automobile| This area is widely ignored by investors. Investors seem confused by Nvidia's association with the automobile industry. The dynamics in this business are such that it takes a lot of time to get a design win but when you do get one, you are able to ink multiple years of steady revenues. Currently, Nvidia has $2B worth of automobile business
Chris Evenden - Investor Relations

"Our automotive business is particularly strong; we see that as doubling this year and next year and the year after."

Source: BMO Capital Markets Conference.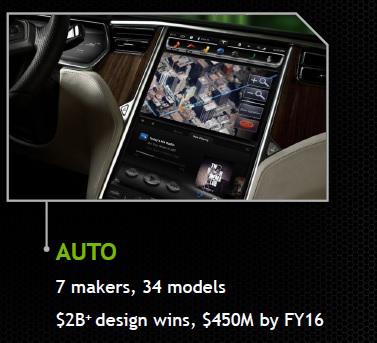 The three growth engines above could bring about $3B of incremental revenues by the 2015-2016 timeframe. This means a 75% increase of the current ~$4B annual run rate.
Conclusion
I hope this article has been able to give you the "feel" of Nvidia. Nvidia is worth considering as the company has positioned itself very well in relation to the next few years. As the market slowly realizes Nvidia and the PC market are not correlated, I believe the share will get a lot more attention in the near future. Now it is time to start crunching some numbers and come up with a model for Nvidia up to 2016-2017. I'll publish my work soon. Stay tuned.
Disclosure: I have no positions in any stocks mentioned, but may initiate a long position in NVDA over the next 72 hours. I wrote this article myself, and it expresses my own opinions. I am not receiving compensation for it (other than from Seeking Alpha). I have no business relationship with any company whose stock is mentioned in this article.