The Detroit Bear (not surprisingly) loves the automotive industry. Not that I'm the biggest "car" guy, but our family owns a variety of GM and Ford vehicles and I can at least change the oil and flat tires.
My top stock pick for 2014 is without a doubt Ford (NYSE:F), but after doing some more research, I think GM (NYSE:GM) is a great investment too. Let's take a look at why I think shares can rally 40% in 2014.
Catalyst #1 - Mary Barra
I'm not one to advocate diversity for diversity's sake; rather, I like to see the best manager in charge when I look at investment opportunities. That being said, GM's incoming-CEO, Mary Barra, looks like the best person to run the company.
There's no question that the story behind her rise at GM is awesome. Her dad was a GM lifer, working as a die maker for 39 years. She's been around cars her whole life. At age 18, she joined GM to pay for tuition at the General Motors Institute, starting at Pontiac. She's worked for GM for the past 32 years.
Great story aside, her tenure at GM has been fairly successful. When she led the HR division, Barra famously allowed employees to start wearing jeans. This was in 2009. Barra also reduced the amount of reports HR needed to create by 90%. Neither of these addressed GM's major issue, poor cars, but it did address another huge problem at GM: old school bureaucracy. By slashing reports and reducing the dress code, Barra empowered employees by providing more autonomy.
Alan Mulally has showed us how important a corporate culture can be during his tenure at Ford. Though Mulally made some wonderful maneuvers to keep the company financially viable, most seem to agree that the One Ford plan is a major driver of Ford's success. Mulally made Ford into a cohesive team. I think Barra wants to do the same.
Perhaps my favorite story about her tenure as the head of GM's global supply chain and product development is her saying, "no more crappy cars." Pensions, labor, and bureaucracy aside, poor vehicles were responsible for GM's mid-decade demise. GM's made some progress after eliminating Saturn, Pontiac, and Oldsmobile, but I think the firm has some work to do stylistically and from a product quality standpoint. Barra knows this, and she has the character to admit it.
Catalyst #2 - The US Auto Market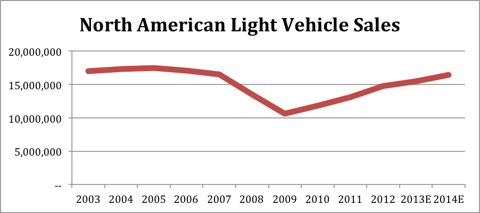 I wrote about this fairly extensively in my Ford write-up, but it (obviously) holds true for GM as well. Sales dipped in September and October, but recovered strongly in November, posting a North American light vehicle SAAR of 16.1-16.3 million units. GM actually outperformed Ford in November, with unit volumes jumping 14% and retail sales up 19%. Admittedly, GM's November of 2012 was pretty weak, so the company faced a fairly easy comp. Nevertheless, with gas prices moderating, GM's superior SUV lineup looks much more tempting to buyers than it did just a few months ago.
Catalyst #3 - Product Refresh

Before Ford unveiled its new Mustang, GM unveiled the new Corvette Stingray. Sales of the Corvette haven't been great over the past few years, especially now that many buyers prefer foreign luxury cars. Corvettes are sort of a family tradition, so you can consider me slightly biased in this respect, but I think the 2014 model looks amazing. It's also the best performance bang for your buck. The car keeps many classic styling elements, but provides a fresh, updated look should invigorate younger buyers without alienating older purchasers.
Even if the Corvette doesn't sell particularly well, GM refreshed 18 models for the 2014 model year, which should boost average selling prices and profitability. The new Silverado and Malibu saw sales increase 12% and 40%, respectively, in November. Sales of the new Cadillac ATS and XTS have surged year-to-date. The wave of new buyers who are flooding dealerships are going to be attracted to GM's fresh models.
Of course, there's no guarantee that the new models will be successful, and, in my opinion, the Fusion will continue to outshine the Malibu. I doubt GM will take share from Ford, but Hyundai, Kia, and Honda could all lose out to new and improved GM vehicles.
Catalyst #4 - Operating Margin Improvement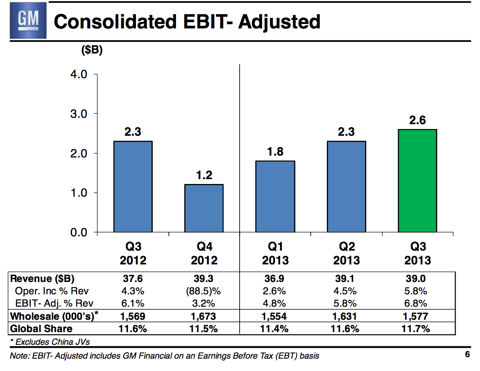 The above chart shows GM's solid EBIT margin expansion throughout 2013. North American EBIT margins also recently peaked at 9.3% of sales, up significantly from the 6.2% EBIT margin achieved during the first quarter. Due to the significant operating leverage in the automotive business model, higher sales should push EBIT margins even higher in 2014.
In fact, I think investors can expect GM to earn EBIT margins in excess of 7% in 2014, which would lead to significant earnings expansion and cash flow generation. EBIT margins on par with Ford globally should be achieved in 2014, especially now that the company plans to eliminate Australian production. Barra, head of global sourcing, probably has some other plans to help permanently increase operating margins.
Catalyst #5 - Buybacks and Dividends
This is the one investors have been wanting for several years. After exiting bankruptcy, GM has a strong balance sheet, and even earned an investment grade rating from Moody's. The US Treasury is gone, so GM now has the all clear to return capital to shareholders.
Investors are clamoring for a dividend, and CFO Dan Ammann has hinted that returns of capital are on the way. I believe GM may opt for a small dividend and a buyback program in order to prevent the company from stretching itself financially. GM, however, does have a considerable amount of automotive cash at $26.8 billion.
Todd Combs and Ted Weschler, Warren Buffett's portfolio management protégés, have bought nearly 3% of shares outstanding. Given other holdings they have bought, including DirecTV (NYSE:DTV), Dish (NASDAQ:DISH), and Visa (NYSE:V), I think the boys from Berkshire (BRKA) are expecting GM to be a cannibal rather than a dividend payer. I'm not suggesting that they have insider information, but I am suggesting that they're better investors than I am, and I suspect they are anticipating a buyback.
The Risks for GM
GM isn't a risk-free investment by any means. For one, the rivalry between US auto sellers can create an environment that encourages slashing prices to win market share. In the event that this occurs, GM's operating margin won't expand, or worse, it will decline.
GM also faces a large risk on the sales side: gas prices. Ford and Toyota have much more attractive fuel efficient small cars than GM, and when gas prices rise, consumers tend to value fuel efficient vehicles. GM has a fantastic lineup of SUVs, but sales of GM's bread-and-butter products are posed to struggle in the event of higher fuel prices.
Further, unlike Ford, which expects to be profitable in Europe by 2015, GM will probably burn several hundreds of millions of dollars in the region over the next few years. GM lost $200 million in the region during the third quarter, and the automaker depends completely on improving macroeconomic conditions to turnaround its flounder Opel brand.
While not an operational risk, GM could also "pull an Apple" and decide to kick the tires on returning capital to shareholders. Investors may get frustrated and sell shares, though ultimately, this does nothing to change the underlying value of GM.
What is GM Worth?
Assigning GM a 12 earnings multiple on fairly conservative 2014 earnings of $4.65 per share yields a price of $56. Even if GM only garners a multiple of 10, that equates to a share price of $46.50. A return between 16-40% is pretty fantastic in just 12 months, and I think 40% is fairly easily achievable.
Unfortunately, I think GM sells a fundamentally weaker product than some of its competitors, though I think Barra might be able to fix some of GM's deficiencies. My portfolio is heavily concentrated in autos, with Ford and Fiat (OTCPK:FIATY) constituted a large weighting, but I'm interested in buying some shares at this price, and I may do so.
Disclosure: I am long F, FIATY. I wrote this article myself, and it expresses my own opinions. I am not receiving compensation for it (other than from Seeking Alpha). I have no business relationship with any company whose stock is mentioned in this article.