Introduction
I have been investing in the stock market for nearly 25 years now, which has allowed me to have first-hand experiences in all facets of market experiences and cycles. There have been countless fads (the internet start-ups boom, rare minerals boom, B2B boom, Chinese stocks boom, housing stocks boom and so on), which have resulted in great gains for those who got onto the right side of the trade and dramatic losses for the many that took the other side of the trade. What's interesting is that when most of the crashes did eventually happen (many much, much later than people expected), significant portion of the stock move was missed by either being impatient or not being able to hold on to the position (over-leveraging), ending up cutting your losses only to see you being eventually right.
This brings me to today's topic: 3D printing. Stocks in this sector have had tremendous moves (mostly up and a few down) during the past year. Countless articles have already appeared here and elsewhere telling us about the greatness and the mass future implementation by both the public and the corporate sector alike. 3D printing is going to make better products cheaper and faster. There is no question that 3D printing is no longer some "future" technology. It is already here, and it's changing everyone's lives.
There is also no doubt that there are plenty of investors out there screaming that 3D printing stocks are going to end up being as another passing fad, but I personally feel that we are still in the early stages of this move upwards and some of the stocks may still double or even triple more from today's levels. Keep in mind that 3D printing is transforming just about every industry out there (production, defense, aerospace, architecture, medical, automotive, prototyping and so on). Companies not implementing this new technology will be left behind quickly.
Players in 3D Printer Manufacturing
If you want to invest in (trade) 3D printing stocks on the U.S. exchanges, these are the current major players: 3D Systems Inc. (NYSE:DDD), Stratasys Ltd., (NASDAQ:SSYS), The ExOne Company (NASDAQ:XONE), Voxeljet (NYSE:VJET). Additionally there is also a foreign 3D printing company (from Sweden), which also trades on U.S. exchange but via the OTC markets: Arcam AB (OTCPK:AMAVF).
There are a number of companies who make the 3D CAD / design software, but this article is only specifically about the 3D hardware manufacturers.
A New Player Entry: Groupe Gorge
A couple of weeks ago, I began to hear some talk about a new entrant into the foray of 3D printing. The more I researched, the more it became apparent that this was not some little new company shop trying to penetrate the buzzing 3D printing market. This was an opportunity to invest into a previously private only manufacturer of cutting edge 3D printers. This has turned out to be a very significant story that needed to be told.
The company I am talking about here is Groupe Gorge (OTCPK:GGRGF), which is a French company that was formed in 1990 and was only trading on the NYSE Euronext Paris (GOE:FP - Bloomberg Quote) market until just a few days ago (much more on this later in the article).
Please remember that price quoted on NYSE Euronext Paris is always going to be in Euros (which is about €1 Euro = $1.37 as of this writing), meaning that for example Euro €14.50 equals USD $19.91).
Before going on, I must admit that someone else beat me by a couple of days in publishing a short profile on Groupe George, but my article will add some new facts and significant information, which should allow you to make a better judgment whether to make an investment or not.
Acquisition of Prodways
On May 22, 2013, Groupe Gorge made a strategic move into the 3D printing industry with the acquisition of "Prodways", a 3D printing OEM started by a chief scientist from 3D Systems (DDD), Andre-Luc Allanic, PhD. In the above press release it is stated that "Prodways (formally called Phidias Technologies) sold 17 of their industrial 3D printers during the last 3 years, mostly to German customers." This means that Groupe Gorge acquired a company that already has proven products, customer base, continuous sales and with proprietary 3D printing technology (more on that later).
Let's talk here about Andre-Luc Allanic and his importance. Here you can find a short biography about his work with 3D printing since early 90's. He developed some of the very first 3D printers in Europe. In addition, when Prodways was sold to Groupe Gorge, they bought 88% of it, while Mr. Allanic retained a 12% control of it. This means that Mr. Allanic will be staying around for a while and still has a personal vestment in the success of this marriage. Last, but not least, I have found that he personally holds at least 12 patents worldwide in the industry.
Prodways' Advanced 3D Printing Technology
Here is a short recent video interview with Andre-Luc Allanic, where he talks about Prodways and their advanced technology. Additionally while looking at Prodways' website, I found them mentioning the following competitive advantages in their Prodways lineup of 3D printers:
• Every Prodways' 3D Producer uses MOVINGLight, Prodways proprietary technology based on MOVING DLP® and strong UVA LEDs, allowing two major competitive advantages to industrial users: Unparalleled perfection of the parts produced and Distinctly improved profitability
• Most detailed parts on the market at high throughput: hundreds of tiny parts in just a few hours at a resolution of less than 35-µm
• Unequaled resolution, more than half a billion pixels per layer
• High precision in the 3 dimensions (horizontal AND vertical), essential in many applications such as dental
• Very large sized parts while retaining the same precision required for intricate and exacting parts such as those used in biomedical
• The technology permits the use and development of premium innovative composite and hybrid materials with impressive mechanical, physical, aesthetic properties, as well as biocompatible materials for a wide variety of medical applications
• Profitability is significantly improved due to incredible speed and considerable reductions in production costs
• Up to 10 times faster than market standards
• Technology allowing for unequaled production volumes
• Superior surface quality requiring minimum finishing
• Minimum operating costs due to lack of expensive wear and tear on parts
• Replacement of LED light source cheaper than laser
Recent Company Developments
EuroMold 2013 was held in Frankfurt, Germany from December 3-6, and Prodways used that opportunity to announce 4 new printers.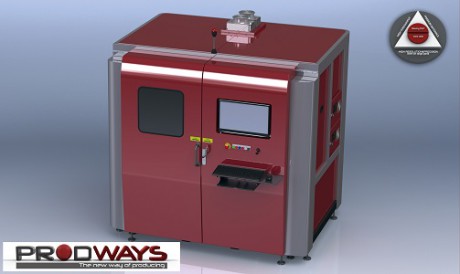 M350 / M350 Height Control - Full Specs Here
High performance regardless of size of parts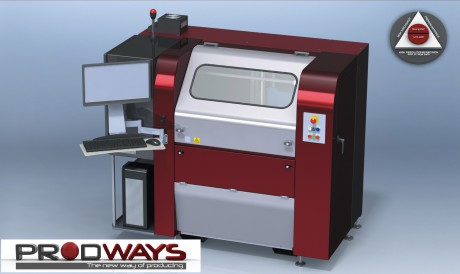 K20 Producer - Full Specs Here
Specifically designed for composite parts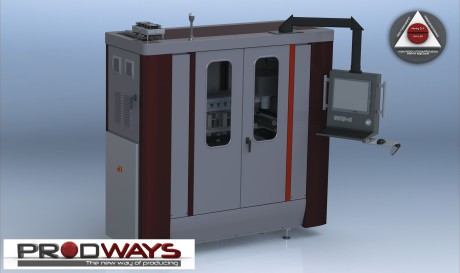 D35 Producer - Full Specs Here
Highest precision for Biomedical
Groupe Gorge also announced that "EuroMold was marked by numerous business meetings and contacts in several industries: biomedical, dental, jewelry, rapid prototyping, motorsport and technical ceramics."
Here is a short promotional Prodways video for EuroMold 2013 and another video clip of the actual Prodways Exhibition Booth at EuroMold 2013.
Press & Industry Responds
Just during the last couple of weeks, numerous publications have written positive comments about Prodways' recent developments. Here are just a few as a sample:
TCT Magazine - They are now the only communication portfolio that covers AM and Professional 3D Printing in print, online and in person - globally.
3DPrinting Industry - Global media company providing a dedicated resource for 3D printing.
Bloomberg News - Feature article on Groupe Gorge entering the 3D printing business.
3Ders - 3D printer and 3D printing news.
3DPrintingStocks - Interview with CEO of Groupe Gorge, Raphael Gorge.
Maker8 - Chinese Heavenly 3D Maker website, focusing only on 3D printing.
First Sale Order
On December 9, 2013 on the heels of the EuroMold 2013 exhibition product launch, Groupe Gorge announced their first sale order: They sold one of the D35 printers at a price of Euro €300K-€400K (~ US$412K-$550K) to a customer, which is an international group with a turnover around tens of billions Euros.
CEO Interviewed on National BFM TV Business News Channel
On December 13, 2013, Raphael Gorge, the CEO of Groupe Gorge, gave a twelve minute interview (in French) on France's National BFM TV Business News Channel. You can see it here in its entirety.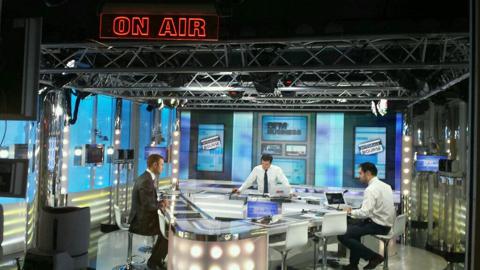 Although the interview was in French, I have been advised that some of the comments made relating to Prodways included:
"We focus on existing customers who already own 3D printers that represent 35,000 printers in activity (mainly big companies)"

"Our printers are just better in term of accuracy and productivity vs. what we saw at EuroMold 2013"

"We have doubled the price of our printers to match with the gain of productivity that we offer"
Groupe Gorge: What did they do before adding the 3D printing division?
This is - what I believe - the most exciting part of this whole article. Turns out Groupe Gorge, besides now entering the 3D printing business, was created in 1990 and is an independent firm specializing in three areas of expertise: Smart Safety Systems, Protection in Nuclear Environments and Industrial Project Services.
Smart Safety Systems
Day-to-day mission is to enable the use of technological equipment in dangerous environments. Designed by our team of engineers, our Smart Safety Systems enable work to be carried out in environments considered inaccessible or hazardous to humans, by inspecting and securing zones in hostile or constrained territory and by training humans in dangerous situations.
Defense / Aviation / Homeland Security / Nuclear Energy / Offshore
Some Examples:
• World leader in underwater robotic mine disposal (70% of the installed disposals)
• French leader in land robot systems
• Unmanned Ground Vehicles
• Systems for Imagery & Bathymetry
• Pipeline & Bore hole inspection systems
• Mobility & steering of submarines
• Energy converters & underwater engines
• Machines for handling & disposing nuclear radioactive substances
• Gateway simulators (surface vessels & submarines)
• Driving & Aviation simulators
Protection in Nuclear Environments
High on our daily agenda is the necessity to protect people and secure buildings in which radioactive substances are used: our high-performance products and solutions and the high-level expertise of our workforce which operates within an extremely strict regulatory framework, meaning we can respond to the highly specific safety requirements of the nuclear industry.
They deal with both Nuclear Energy & Medical/ Industrial Radiation Protection
Some Examples:
• Both French military and civil nuclear facilities are equipped with their safety systems
• Supply all the radiation shielding systems of the EPR in Flamanville (French Nuclear plant)
• Providing services & equipment to Chinese power stations for over 20+ years
• Creation of High-security radiation shelters
• Provide protection solutions for those working in ionizing environments
• Provision of mobile shielding for maintenance operations in nuclear power stations
• Design & development of special safety appliances to support risk management
• Protection & safety products for those working in radioactive environments
Industrial Project Services
Carry out Industrial Projects for Players in the Nuclear and Service industries and ensure their maintenance. Whether creating production tools, developing turnkey operations site or carrying out specific projects in industrial robotics, metal works, electricity, automation, or fire safety, we rely on our teams of specialists and work to strict quality, safety and environmental criteria.
Some Examples:
• Leading independent French fixed fire safety systems expert
• ISO 9001 v2000 certification by Bureau Veritas for its Quality Management System
• Creation of production tools & development of turnkey operation sites
• Engineering & design department
• Installation and industrial maintenance
• Industrial robots - Electricity
• Automation - tele-operation
• Metal works 0 Structural steelwork
• Design, installation and maintenance of:
Fixed systems for automatic safety by sprinkler
Armored firm alarm cables
Fixed & mobile safety systems for special risks (foam, gas & water extinguishers)
Fire-proof shielding systems (fire-glass)
• APSAD (APSAD certification was awarded by the French national center of prevention and
protection - CNPP) in the following areas:
Fire safety sprinklers:
Service certification for water sprinkler installation
Service certification for sprinkler system safety checks
Fire Hose:
Service certification for validation of fire hose system installation
Service certification for fire hose system maintenance
Company Financials
Please keep in mind that all of the numbers below do not include any 3D printing division numbers or revenue, as those will be only implemented starting in Q4 2013, which we are still in right now.
In 2012, Groupe Gorge had;
Total Turnover of Euro €209 million (US $287 million)
Smart Safety Systems had: Euro €99 million turnover
Industrial Project Services had: Euro €78 million turnover
Protection in Nuclear Environments had: Euro €32 million turnover
1200 Employees, 750 of which are specialists engineers & technicians
Presence in more than 10 Countries
So far in 2013, they've had global sales up 3.7% for the first 9 months.
Some important Groupe Gorge facts to consider:
• They are the world's #1 company for Nuclear Partitioning. They have so far equipped the complete French nuclear park (EDF nuclear power stations: 58 EDF pressurized water reactors, across 19 sites. In France, nuclear power stations generate 80% of the country's electricity).
• They have also equipped La Hague nuclear recycling plant
• They have also equipped EPR in Flamanville nuclear center
• There are two more EPR centers being built right now (in the United Kingdom) by Areva/EDF, which has a potential Euro €50-100 million revenue addition for Groupe Gorge and their local partner Redhall.
• Groupe Gorge on November 5, 2013 acquired the robotic activity of Air Liquide welding (turnover ~ Euro €7 million) to further diversify and be well positioned in the robotic sector for small / medium companies.
Based on December 13, 2013 closing stock price of Euro €14.50 per share, Groupe Gorge has a market cap of Euro €168 million, which trades at .88x P/S ratio.
There are a total of 11.5 million total shares outstanding.
Groupe Gorge also pays a dividend, which has been averaging at about a 2.9% yield, with the 5-year dividend growth being at 15%.
More Recent Positive News
On December 11, 2013, ECA (a subsidiary of Groupe Gorge) signed a settlement agreement with BAE Systems, which will allow them reopening of trade negotiations regarding the K-STER C, particularly with BAE Systems and several other customers which were waiting for the end of the dispute. ECA, which is a world leader in underwater drones, including mine clearance, hopes to book several orders of K-STER C in 2014. The conclusion of this case will thus have a significant positive impact on the 2013 financial statements of the Group.
Stock Listing Information
By now you are well aware that this is a French company, which is traded on the NYSE Euronext Paris. The only way you could get access to buying /selling this security would be by having a broker that offers trading on that stock market.
The good news came on December 12, 2013 in this press release. This news confirms that since December 9, 2013, Groupe Gorge started to trade on the OTC (over-the-counter) exchange here in the United States under the symbol GGRGF. This press release is very important because there have been instances when a company stock gets added to a secondary market without the permission of the company itself. In this case, the addition of trading in the United States has been done with the company permission.
Another good thing about this ability to now trade the security directly on US exchanges during regular hours is that one doesn't have to worry about currency conversion, opening foreign trading account, etc..
To be very clear: When you buy or sell a share of Groupe Gorge on either the NYSE Euronext Paris or U.S. exchange, you are holding exactly the same security that is worth exactly the same (1-to-1 ratio) on either market. Please do remember that one is being quoted in Euros, while the other is being quoted equivalent (using the current exchange rate) in USD. Furthermore, the amount of all total outstanding shares (11.5 million) of Groupe George did not increase in any way due to this double-listing. Meaning, if someone buys 100,000 of GGRGF shares here in the U.S., the total number of shares available worldwide is 11.4 million. There was no dilution in any way. I am sure that if you bought some shares on the U.S. exchange, you can ask your broker to sell them on the NYSE Euronext Paris exchange (but I am sure they will charge you an extra fee for that). I can say with certainty that as of Friday, December 13, 2013 pretty much all U.S. retail brokers were allowing online trading of GGRGF, without the need of phoning in your trade (as it was initially required for a day or so while things were being set-up by market makers).
Please do keep in mind that GGRGF is not trading on NASDAQ or NYSE. This means that it can be illiquid and getting orders to fill may take a while. And please, do use Limit Orders to protect yourself from getting a horrible fill. In one of the most recent interviews, the CEO of Groupe Gorge stated that "The potential of 3D printing is almost unknown on European stock market. If this was to last for long, we could envisage any financial strategy that enables us to reach the huge financial leverage our competitors have." This basically means that a full-time move to NYSE or NASDAQ might happen eventually.
Again a reminder: Please remember that price quoted on NYSE Euronext Paris is always going to be in Euros (which is about €1 Euro = $1.37 as of this writing), meaning that for example Euro €14.50 equals USD $19.91).
Conclusion
I did some number crunching and here are my findings. I took the total market cap values of XONE, VJET, AMAVF, SSYS and DDD (as of December 11, 2013) and then I took the average from those five and compared it to Groupe Gorge. I came up with a price-per-share value for GGRGF (drum roll please…) of US $214 (Euro €155) at the same average valuations being given for those five. Just to be a bit more fair, I then only took the average market caps of XONE, VJET and AMAVF (these are more comparable to Groupe Gorge) and the new PPS valuation came out that GGRGF should be at US $43 (Euro €31) per each share.
Another thing to consider: When you buy shares of Groupe Gorge, you are not buying a company that only does 3D printing. You are buying a mini-conglomerate that has 3 other income-driven business sides. At the same time, the impact of the 3D Printer division could be a really big and significant driver in the company's future revenues and earnings. Based on all of the research I have done, it looks like Prodways isn't just another "3D printer copy-cat" creation. It's got the very latest next generation, cutting edge proprietary technology, and please do keep in mind that its founder (André-Luc Allanic) is a former principal scientist of 3D Systems (DDD) and he holds a bunch of patents.
When you look at the current market cap value of $230 million for GGRGF with all its businesses, and compare it with Voxeljet AG's $600 million and ExOne's $760 million market caps respectfully, you have to wonder and ponder. All they do is make 3D printers, while Groupe Gorge is so much more and has been around for 23+ years. They are also profitable, pay a dividend and seem to have a very driven CEO.
In closing, although Groupe Gorge stock price has risen from about $14 to $20 during the last couple of weeks, there is no doubt in my opinion that once investors realize the full significance of what Groupe Gorge is doing, and 3D printing stocks continue to blossom, shares of GGRGF should be trading somewhere between $35 and $40, conservatively speaking. In my own humble opinion, this is one of the best investment opportunities that I have come across in a number of years.
I urge you to please do your own due diligence before putting any money into this or any other stock that you want to invest in. I have done my best to provide you with information and links that should make your job much easier. Vive la France!
Disclosure: I am long OTCPK:GGRGF. I wrote this article myself, and it expresses my own opinions. I am not receiving compensation for it. I have no business relationship with any company whose stock is mentioned in this article.