Similar to other Canadian banks that reported Q4 results last week, the Bank of Nova Scotia (NYSE:BNS), commonly known as Scotiabank, reported excellent profit for fiscal 2013, but the Q4 results were weak due to higher expenses and lower growth in core P&C banking divisions. As shown in graph 1, quarterly EPS growth has been flat lately, and ROE declined from 17.2% in Q3 to 15.8% in Q4. Comparing the annual performance (see graph 2), the bank actually experienced a small decline in EPS because of the additional shares issued in the ING Canada acquisition. However, the weak financial results are mostly attributable to weak performance in emerging markets. The bank's shares declined 7% in the last two weeks, but the share price decline is temporary.
Graph 1: Quarterly EPS vs. ROE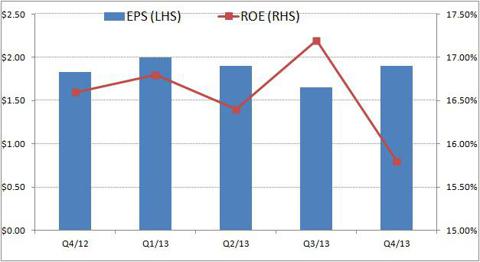 Source: Scotiabank's Financial Supplement
Graph 2: Annual EPS vs. ROE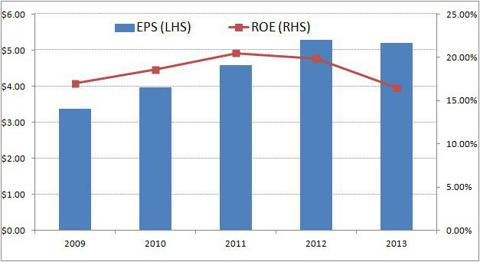 Source: Scotiabank's Financial Supplement
This article presents a comprehensive analysis of Scotiabank and also my investment thesis. I will explain to readers why the bank is an excellent long-term investment because of its well-diversified business mix and strategic positioning. Most investors are aware of the bank's broad emerging market exposure, but some may be surprised to learn that the bank has a large asset management business and a growing Canadian P&C business. These two businesses may further enhance the attractiveness of the company as an investment in addition to its emerging market exposure. Please note that all financial data are in Canadian Dollars except for the price target, which is presented in US dollars and represents the price target for Scotiabank's NYSE listed shares. The company's reporting and functional currency is the Canadian Dollar, so comparing the financial results in Canadian dollars provides a better picture of the underlying fundamentals. However, my price target is presented in US dollars for the readers' convenience.
Investment Thesis:
Conservative investors should invest in the bank because of its well-diversified business mix, attractive growth potential and strong dividend track record. First of all, Scotiabank's earnings are more diversified compared to the other big 5 banks. All divisions contribute between 20-30% to the bank's total earnings (see graph 3 below). In fiscal 2013, the Capital Markets and International P&C results were weak, but those poor results were more than offset by the strong performance in its Wealth Management and Canadian P&C divisions. Fiscal 2013's results are excellent proof of the importance of a well-diversified business mix.
The Canadian P&C only contributes 34% to the bank's total earnings, compared to 50% for the other big 5 Canadian banks. Scotiabank's decision to allocate more capital towards its International P&C provides an attractive source for long-term earnings growth and limits the impact on the bank if Canada were to face a major housing correction. Scotiabank has been paying and growing its dividend since 1833. This solid dividend track record is attractive for conservative investors that seek an attractive, yet sustainable dividend.
In the Q4 earnings release, the bank's own outlook statement mirrors my own outlook for the bank:
The bank is well‐positioned to continue to deliver growth across its businesses. Notwithstanding moderate economic growth continuing into 2014, the Bank's diversified businesses, consistent and predictable earnings, its focus on growing its customer base, and its strong capital position, should continue to support growth in 2014 and beyond.
Graph 3: Scotiabank's Earnings by Division (Fiscal 2013)
Source: Scotiabank's Financial Supplement
Dividends:
Scotiabank's dividend record goes all the way back to 1833, before Canada was even an official country. The bank has grown its dividend for the last 180 years despite various financial fiascos, such as the deep depressions in the 19th century and the Great Depression. The bank did not cut its dividend during the 2008 financial crisis, and the dividend payout ratio remained below 60%, even when earnings dropped 25% in 2008 (see graph 4 below). The 10-year dividend growth rate is 11%, which is impressive and is the highest among the big 5 Canadian banks during this period. Currently, the bank's payout ratio is at 45%, right in the middle of its targeted 40-50% payout ratio. Given the payout ratio is at the target, the dividend growth rate next year should be in-line with the earnings growth rate. The bank targets earnings growth of 5-10%. Therefore, I estimate that the dividend per share should increase to $2.56 next year from the current $2.39. Given the bank's pattern of hiking the dividend every other quarter, I expect a hike of its quarterly dividend from $0.62 to $0.64 in late February and another dividend hike from $0.64 to $0.66 in August. The current dividend yield is at 4%, which is high compared to the dividend yield on other North American banks.
Graph 4: Scotiabank's EPS, Dividend per Share and Payout Ratio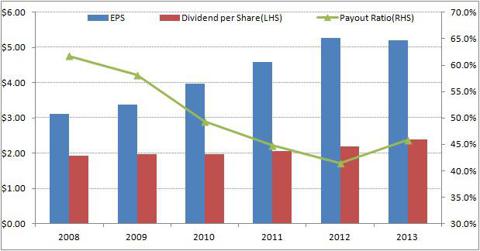 Source: Scotiabank's Financial Supplement
Canadian P&C Banking Division Overview:
Scotiabank's Canadian P&C division is the smallest among the big 5 banks, but it experienced rapid growth in fiscal 2013 due to the ING Canada acquisition. Although the Canadian market is considered saturated, Scotiabank can still grow its customer base. Its scene debit and visa cards are crucial to winning new customers, as these cards accumulate points for free movies, which is extremely popular among clients. Its ING Canada acquisition also brought on new customers to its platform. The company has enhanced its operations by lowering expenses and stabilized the Net Interest Margin [NIM].
Looking at the financials, the division earned $593 million in the latest quarter, up 23.3% year-over-year (Y/Y) and 0.5% quarter-over-quarter (Q/Q). The growth is mainly attributable to its ING Canada acquisition, but new product offerings and promotions have increased the client base as well. Loan growth was robust at 17.9% Y/Y and 1.0% Q/Q. However, excluding the ING Canada acquisition, the bank's organic loan growth was 6% Y/Y, still a very healthy number despite the challenging environment. The bank managed to reduce expenses and the efficiency ratio (calculated as non-interest expense divided by total revenue) decreased 140 bps from Q4/12 to Q4/13. The positive 3.2% operating leverage in the latest quarter demonstrates solid operational excellence. Looking ahead to fiscal 2014, I expect the Canadian P&C division to deliver modest growth, given the increased competition in the Canadian market. NIM should stabilize, while loan growth will be modest in the mid-single digits. Although earnings growth is likely slow from the 23.3% experienced in Q4/13, the bank should deliver high single digit earnings growth next year. The Canadian P&C business is still highly attractive because of its high ROE, which was near 36% in the last few quarters.
Table 1: Canadian P&C Related Data

Source: Scotiabank's Financial Supplement
Graph 5: Canadian P&C Loan Book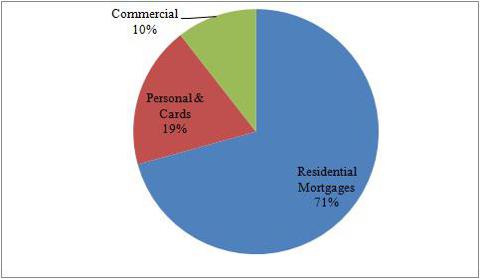 Source: Scotiabank's Financial Supplement
International P&C Banking Division Overview:
The biggest differentiating factor between Scotiabank and the other big 5 Canadian banks is Scotiabank's large international P&C business, which operates in over 55 countries. Scotiabank's international business is mainly concentrated in Mexico, Latin America and South America as shown in its factsheet. This division is attractive, because of its long-term growth potential. Nonetheless, the taper tantrum has impacted profitability of this division in the past few quarters.
Looking at the financials, Scotiabank earned $420 million in Q4/13, a 4.7% Y/Y increase. For fiscal 2013, the bank earned $1.94 billion, up from the $1.73 billion earned in fiscal 2012. Despite the earnings growth decline experienced in the latest quarter, loan growth is healthy at 13.1% Y/Y and 2.4% Q/Q. The decline in the NIM is a major contributor to the earnings decline on a Q/Q basis. However, the impact of lower NIMs is somewhat offset by the improvement in expenses and positive operating leverage. Looking forward, improvements in the NIM is still challenging in fiscal 2014, but should improve beyond fiscal 2015. The positive operating leverage and lower efficiency will facilitate earnings growth in the year ahead.
Table 2: International P&C Related Data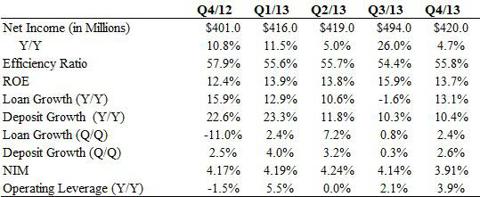 Source: Scotiabank's Financial Supplement
Graph 6: International P&C Loan Book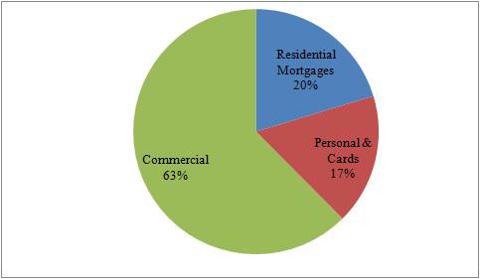 Source: Scotiabank's Financial Supplement
Wealth Management:
Not many investors realize Scotiabank has one of the largest wealth businesses among the big 5 Canadian banks. The $2.3 billion acquisition of Dundee Wealth in late 2010 helped to grow its assets under management and increased its client base. At the end of Q4/13, Scotiabank had $145 billion assets under management and $326 billion assets under administration, a 26.1% and 15.2% Y/Y increase from the prior year respectively. This division is attractive because of the stable income stream it generates. The improvement in investor sentiment is also benefiting the division. Looking ahead, Scotiabank will further expand this business by leveraging its existing 37% stake in CI Financial, Canada's largest independent mutual fund company. Although this is a tough decision, because of the large sum (approximately $7 billion) required to acquire the remaining 63% of CI, owning a minority investment under Basel III rules is not attractive because of the additional capital requirement. In my opinion, Scotiabank is likely to buy the remaining 63% in the near future.
Looking at the financials, Scotiabank earned $318 million in Q4/13, which is an 8.2% Y/Y increase. For fiscal 2013, the bank earned $1.31 billion, a 12% Y/Y increase from the $1.17 billion earned in fiscal 2013. However, expenses are creeping up, as shown by the 130 bps rise in the efficiency ratio and the negative operating leverage of 2.6%. I believe the expense increase in the latest quarter is temporary in nature and the efficiency ratio has historically gone down after reaching near 60%. The improving market sentiment and possible CI acquisition down the road is positive for long-term earnings growth.
Table 3: Wealth Management Related Data

Source: Scotiabank's Financial Supplement
Capital Markets:
Scotiabank also has a relatively large capital markets business, which has a major focus on helping its emerging market clients. This division has performed poorly in the last three quarters, because of weakness in emerging market economies this year. After Fed Chair Ben Bernanke hinted at a possible tapering of quantitative easing [QE] back in May, the capital flow out of emerging market countries led to poor performance in this division. Scotiabank has a smaller corporate and investment banking sub-division and could not offset the lower trading revenue with advisory revenue. The trading environment will remain challenging as the Fed begin to taper QE in 2014.
Looking at the financials, the division earned $336 million, a 14.9% Y/Y decrease from Q4/12. For fiscal 2013, it earned $1.49 billion, which is unchanged from what it earned in fiscal 2012. Looking ahead, the capital markets division will continue to face headwinds and may perform poorly in the next few quarters. However, the long-term outlook is still positive, and the trading environment should improve in late-2014. This division still has solid profitability, with ROE of north of 20%, despite the 4.8% decline in ROE from Q4/12 to Q4/13.
Table 4: Capital Related Data

Source: Scotiabank's Financial Supplement
Credit & Capital Analysis:
As shown in table 5 below, Scotiabank is benefiting from the improving credit environment. Provision for Credit Losses [PCL] was $329 million in the latest quarter, a 2.5% Y/Y increase. Comparing PCL to total loans, the ratio improved 4 bps from 36 bps to 32 bps in the latest quarter. The growth rate in Gross Impaired Loans [GIL] is decreasing. GIL was $3.7 billion in the latest quarter, 3.3% higher than a year ago. However, the 3.3% rate was much lower than the 6.8% in Q4/13 and the 4.2% in Q3/13. The GIL to total loans ratio improved 9 bps from Q4/12 to Q4/13. The ratio stabilized at 90 bps for the last three quarters. Finally, gross impaired loan formations decreased to $315 million in Q4/13 from $374 million in Q4/12, a 15.8% Y/Y decrease.
Table 5: Credit Related Data

Source: Scotiabank's Financial Supplement
Scotiabank remains well-capitalized. Although it had the lowest capital ratio among the big 5 banks, it strengthened its balance sheet significantly by selling its key Scotia Plaza building in Toronto last year. Similar to the other Canadian banks, Scotiabank now reports capital ratios under Basel III on an all-in basis (no phase-in allowed). The bank's capital ratio may improve further as earnings increase, albeit at a slower pace than last year.
Table 6: Capital Ratios
| | | | | |
| --- | --- | --- | --- | --- |
| (Under Basel III All-in Basis) | Q1/13 | Q2/13 | Q3/13 | Q4/13 |
| Tier 1 Common Equity Ratio | 8.2% | 8.6% | 8.9% | 9.1% |
| Tier 1 Capital Ratio | 10.3% | 10.7% | 11.0% | 11.1% |
Source: Scotiabank's Financial Supplement
Valuation:
Scotiabank is trading at 1.9 times book value and 2.5 times tangible book value. On an earnings basis, the bank is trading at 11.4 times earnings (next twelve month). Graph 7 provides readers with a look at the bank's price to book [PB] multiple vs. peers and graph 8 shows Scotiabank's historical PB ratios for the last 10 years.
Graph 7: Scotiabank's PB Multiple vs. Peers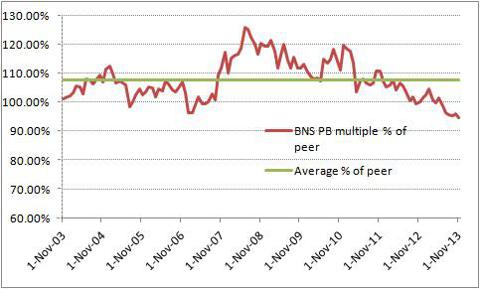 Source: Bloomberg Data and Scotiabank's Financial Supplement. Peers in this comparison consists of Royal Bank of Canada (NYSE:RY), Toronto Dominion Bank (NYSE:TD), Bank of Montreal (NYSE:BMO) and the Canadian Imperial Bank of Commerce (NYSE:CM)
Graph 8: Scotiabank's Historical PB Multiples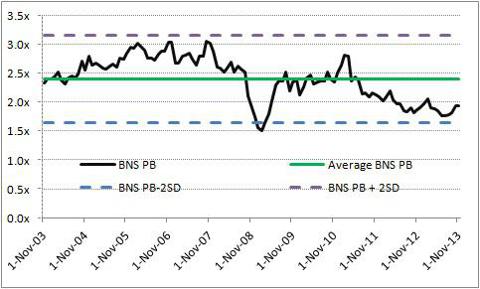 Source: Bloomberg Data and Scotiabank's Financial Supplement.
As I stated in my previous articles on Canadian banks, Scotiabank generally trades at higher price to book multiples compared to US banks, because it generates higher ROE vs. US peers. As shown in graph 9 below, there is a positive correlation between ROE and the PB multiple. A regression analysis shows that the adjusted R-squared is 86.4%, which means ROE (the explanatory variable) explains 86.4% of the variation of the PB ratio. For those who are interested in the numbers, the coefficient of the regression is 8.2144 and the intercept is 0.4225. Both are statistically significant at the 5% level. The coefficient of 8.2144 implies a 1% change in ROE should theoretically shift the PB ratio by about 0.08. Hence, this analysis shows that Canadian banks are not overvalued. Adjusting for the differences in ROE, Canadian banks look reasonably valued.
Graph 9: ROE vs. PB Multiples of Big North American Banks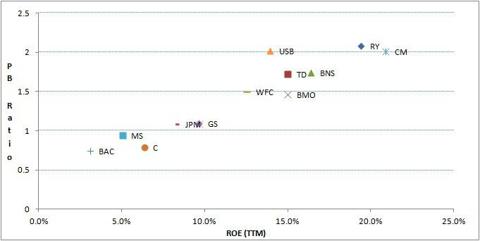 Source: Capital IQ data. All financials for Canadian banks were converted into US dollars were converted into US dollars for common comparison. 12 banks in this chart include Royal Bank of Canada,Toronto Dominion, Bank of Montreal, Canadian Imperial Bank of Commerce, Wells Fargo (NYSE:WFC), JP Morgan (NYSE:JPM), Citigroup (NYSE:C), Bank of America (NYSE:BAC), Goldman Sachs (NYSE:GS), Morgan Stanley (NYSE:MS) and US Bankcorp (NYSE:USB). ROE explains 86.4% of the variation of the PB multiple, and it is significant, at the 5% level with t-statistic of 8.8. PB multiples are calculated using the most recent quarter's book value, and ROE is the trailing 12 month ROE.
My 12 month price target for Scotiabank is US$65.50 (C$69.50) which is calculated by using an estimated fiscal 2014 year-end book value of US$34.40 (C$36.60) and a PB multiple of 1.9. The 1.9 PB ratio is very conservative as shown in graph 7 and the assumption for a 5.8% earnings growth is low relative to the 10.2% growth rate achieved in fiscal 2013. The price target is 11% higher than the current price, and investors will realize a total return of 15% if the price target is reached by the end of next year. I am slightly cautious for the next fiscal year, given the tapering of QE may have a slight negative effect on the bank's International P&C division. As shown in table 7 below, the PB multiple valuation approach is heavily sensitive to the expansion/contraction of the multiple. Readers should examine the table carefully to assess for possible multiple expansion or contraction based on their own assumptions. If emerging markets recover, Scotia will benefit, and the PB multiple may expand to 2 or even 2.1 from the current 1.9.
Table 7: Sensitivity Analysis of the Price Target

Conclusion:
Unlike the other 4 Canadian banks, Scotiabank actually experienced a Y/Y decrease in EPS in fiscal 2013. However, the weakness is short term in nature, and the long-term growth story is still intact. Although all the big 5 Canadian banks are high quality investments, I believe Scotiabank is the better bank stock to own because of its attractive emerging market exposure and growing wealth management business. I favor Scotiabank because of its lower exposure to Canada and higher growth potential due to its emerging market exposure and excellent wealth management business. Scotiabank's well-diversified business model allows the bank to provide sustainable earnings and dividend growth. In summary, ignore short-term weakness in its quarterly results and focus on the positive long-term growth story.
Disclosure: I have no positions in any stocks mentioned, and no plans to initiate any positions within the next 72 hours. I wrote this article myself, and it expresses my own opinions. I am not receiving compensation for it (other than from Seeking Alpha). I have no business relationship with any company whose stock is mentioned in this article.
Disclaimer: This article is for informational purposes only and does not constitute an offer to buy or sell any securities discussed in the article. The stock mentioned in this article does not represent financial advice. The target price presented in this article is based on current information and are subject to change without further notice. Investors are recommended to conduct further due diligence before committing capital to any investment.