by Chris McKhann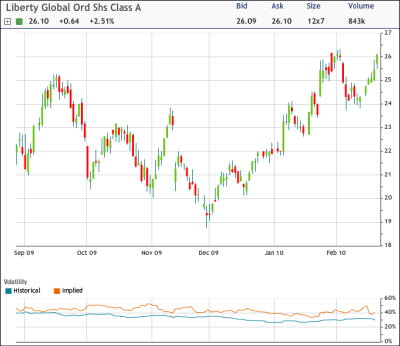 Shares of Liberty Global (NASDAQ:LBTYA) are climbing fast, and option traders are looking for further bullishness.

The broadband Internet services company is up 2 percent on the day to $25.97. LBTYA has found support at $24 since falling from a 52-week high of $26.33 on Feb. 3.

The average daily options volume is just 1,500 contracts, but we see a risk-reversal trade this morning of 20,000 contracts. A trader bought 10,000 of the July 30 calls for $0.95 and sold 10,000 of the July 22.50 puts for the exact same amount. This means that there was no capital outlay for the trade, other than commissions and fees.
This trade carries no risk between $22.50 and $30, though it could also be a no-cost collar on a short stock position.

(Chart courtesy of tradeMONSTER)