The War On Cancer
It is hard to believe that 43 years have passed since President Richard Nixon declared "War on Cancer". It was December of 1971 when President Nixon signed the National Cancer Act into law, declaring, "I hope in the years ahead we will look back on this action today as the most significant action taken during my Administration".
Unfortunately, Nixon was as wrong about the political future as he was about the war on cancer.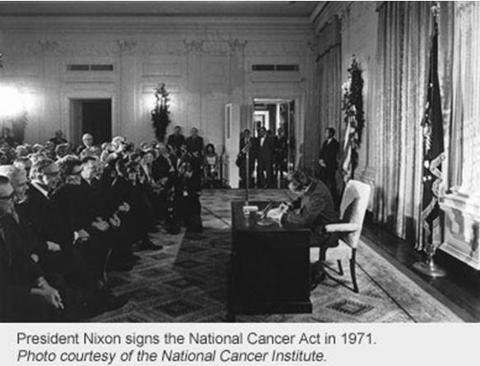 Since that ceremony, the federal government has spent over $105 billion on the fight against cancer and the biotech and pharmaceutical industries have poured in many billions more.
Thanks to this enormous effort and expenditure, our understanding of cancer has improved immensely, but until recently the overall mortality rate from cancer had changed relatively little. Fortunately, we are now seeing some truly promising results.
Who's On First
There are dozens of biotech stocks taking aim at the many forms of cancer, and I'll review some of the most exciting technologies. As you will soon see in this article, I believe that Ziopharm (NASDAQ:ZIOP) has come up with a brilliant approach that goes to the heart of the disease, its DNA.
It is true that there are now many companies that can currently boast of bigger sales and many more successes in the war on cancer than Ziopharm. They may be number one today, but this is a war on many fronts and many levels. Currently drugs that extend life by an average of several months are considered useful and valuable. Indeed they are, and we are happy to profit from investing in them even though they may not yet offer the Complete Remission (CR) which is the highest standard available in the war on cancer.
For example, Celgene (NASDAQ:CELG) is one of our favorite stocks, thanks to the many cancer-fighting drugs it is bringing to market. Its pipeline is remarkable, not just for the many drugs in development, but for those already approved by the FDA. It is fair to say that companies like Celgene are finally beginning to win the war on cancer by developing almost unbelievably ambitious and successful drug pipelines.
Celgene has drugs in trials or approved for Multiple Myeloma (MM), Myelodysplastic Syndrome (MDS), Acute Myeloid Leukemia, Lymphoma, Chronic Lymphocytic Leukemia (CLL), various anemias, and a host of solid tumors including Metastatic Breast Cancer, Non-Small Cell Lung Cancer (NSLC), Metastatic Melanoma, and Metastatic Pancreatic Cancer. Many of the drugs in this pipeline are targeted to become first-line therapies and if you're a biotech enthusiast like me, you will be very, very excited by the progress this one company is making with new drugs to fight cancer.
Amgen Joins The Battle, Others Advance
Amgen (NASDAQ:AMGN), the biggest biotech company in the world, showed this year how much it wanted to be a serious player in the cancer field when it paid $10.2 billion to buy Onyx Pharmaceuticals (NASDAQ:ONXX). The deal included full rights to Kyprolis, the new multiple myeloma drug that analysts expect to reach annual peak sales in excess of $2 billion.
Sometimes the war on cancer is simply about buying new drugs as Amgen, and Big Pharma corporations like Johnson & Johnson (NYSE:JNJ) have done. But the biotech industry is also bursting with clever new approaches to the fight against cancer.
Some new treatments seem surprisingly simple. CytRx Corporation (NASDAQ:CYTR) is having remarkable success using an established chemotherapy agent called doxorubicin in combination with a familiar protein called albumin to create a targeted cancer drug called aldoxorubicin.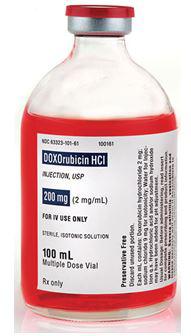 Fast-growing tumors are protein-hungry, and they devour aldoxorubicin's albumin concentrating the chemotherapy at the tumor site (when thinking of albumin think of egg whites).
Because aldoxorubicin is effectively targeted, patients can receive more of the drug with fewer toxic side-effects. And because it is much more concentrated at the tumor site, aldoxorubicin packs more punch where it is needed most. Aldoxorubicin is now showing real promise in the treatment of advanced soft tissue sarcomas and brain cancer.
In fact CYTR stock just skyrocketed on news that its lead drug worked much better than an established chemotherapy in mid-stage testing on patients with soft-tissue sarcoma.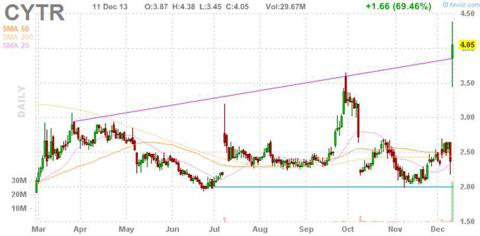 Patients taking its treatment, aldoxorubicin, experienced a median progression-free survival of 8.4 months, compared to 4.7 months for patients who took standard doxorubicin only.
We are delighted with this breakthrough, but we know that much more must be done.
Smart Bombs Guided By Antibodies
Even more precise drug targeting is being achieved by companies that use antibodies as chemical smart bombs. Antibodies are natural agents of the immune system that seek out unwanted organisms and attack them. Some biotech companies use specially designed antibodies (monocloncal antibodies or mAbs) to attack cancer.
Some even go a step further by linking toxic chemotherapy drugs to antibodies and sending them on their way to find specific cancer cells. This smart-bomb form of chemotherapy is called an antibody-drug conjugate (ADC).

Right now Seattle Genetics (NASDAQ:SGEN) is developing a vast line of ADC cancer-fighters and scored a win with the FDA approval last year of its lymphoma drug, Adcetris.
Last February ImmunoGen (NASDAQ:IMGN) won its first approval from the FDA for a breast cancer treatment that combines the already-approved drug Herceptin using ImmunoGen's ADC technology.
The drug will be marketed in the U.S. as Kadcyla by Genentech, maker of Herceptin. ImmunoGen's CEO called the ADC technology's effect on breast cancer "impressive".
There are many other companies with powerful therapies against cancer in development…too many to describe here. I would be remiss however if I didn't mention the recent Seeking Alpha article suggesting that Geron (NASDAQ:GERN) had invented a new "aspirin" for cancer. The article states, "Imetelstat in combination with radiation and temozolomide had a dramatic effect on cell survival and activated the DNA damage response pathway".
As you can see, Geron's Imetelstat does not work without assistance and may not induce complete remission, yet the important thing is that it does focus on DNA. I would now like to focus again on Ziopharm, a cancer-fighting company that is more precisely focused on managing all-important DNA to destroy cancerous cells.
First The Bad News
There is no sugar-coating what happened to Ziopharm last March. The company's lead drug, Palifosfamide, failed to show any statistically significant improvement in progression free survival in soft tissue sarcoma. The stock plunged 65% in a single day, and many investors wrote Ziopharm off completely.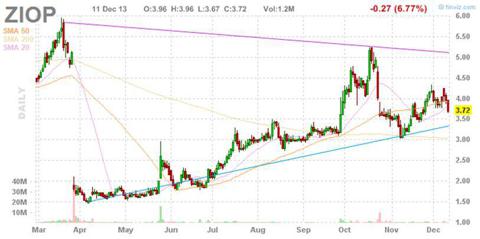 But Ziopharm didn't give up the fight. Just a month later, the company reported encouraging results from a preclinical trial of a revolutionary cancer therapy. The name of the drug it is testing is as difficult to understand as the therapy itself.
It is called Ad-RTS-IL-12, a name that looks more like a math formula than a drug. (In fact the name is a composite of the active agents in the therapy). Ever since the early success of this awkwardly-named drug, Ziopharm has been in recovery mode on the stock market.
New Cash In Hand and Insider Buying
In order to start a war you have to pay for it. That's why shares of Ziopharm fell sharply in October when the company announced a public offering of 14,300,000 shares of its common stock at a "public offering price" of $3.50 per share. The offering was priced below market, and the pricing of the new shares drove ZIOP stock down to slightly below $3.50 a share.
The good news is that reports of insider activity show one Ziopharm officer, Randal Kirk, a director of Ziopharm bought 2,857,143 shares of company stock worth $10 million in that offering. And, as well all know, there's only one reason insiders buy shares…to make money.

With $50 million in the bank Ziopharm needs to prove to the market that its stock is still worth the $5.00 a share it was valued at before the public offering. To jumpstart the stock and the company, Ziopharm announced on October 23rd a three-way partnership to attack cancer in a revolutionary way.
The companies involved aren't rookies. They include Mesoblast Limited from Australia, a world leader in the development of stem cell-based biologic products. And then there is Intrexon (NYSE:XON), a cutting-edge company that Ziopharm has a long-standing partnership with.
Intrexon calls itself a leader in synthetic biology, and it recently had a successful public offering. Shares are currently trading near their initial offering price.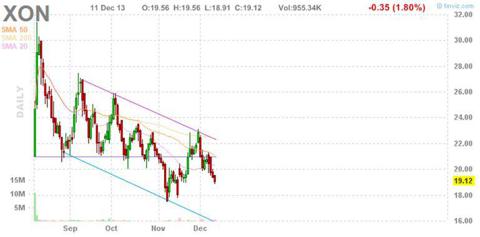 We are not investing in XON just now, but we need to know what it brings to the table in this three-way partnership.
A Disease of DNA
Cancer is frequently a disease of the DNA. And as you very likely know, DNA is the genetic code of life which lies at the heart of every human cell. If that DNA is corrupted or sends out bad instructions the result may be cancer.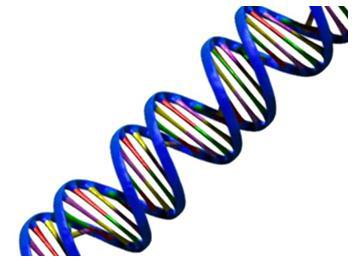 Intrexon brings an arsenal of DNA expertise to the table. The company knows how to alter DNA, how to turn genetic switches on and off, and how to manipulate genes to do remarkable things.
Mesoblast brings a very specialized line of stem cells (called mesenchymal-lineage stem cells). In the case of Ziopharm, these cells are engineered specifically to target tumors.
Ziopharm is the drug developer which brings them together to create something unique.
By combining Mesoblast cells with Intrexon's technology, something remarkable happens. First, the specialized stem cells seek out specifically targeted cancer cells. Then instructions inserted into a payload of special viral DNA by Intrexon go to work. These instructions effectively transfer orders from the virus carrier to human DNA, and command the affected cell's DNA to generate a cancer-killing compound.
Explaining The Name
Ziopharm's newly-formed cancer-fighting compound happens to be a natural and powerful element of the body's immune system called Interleukin 12 - that is the "IL-12" of the drug's name, "Ad-RTS-IL-12".
Intrexon's RheoSwitch Therapeutic System forms the "RTS" portion of the name. This switch turns on the DNA-guided production of cancerous cell-killing Interleukin-12.
The "Ad" in the name stands for an "adenoviral vector", a relatively harmless virus that has been especially engineered to carry messages which kick-start the production of IL-12 in a cancerous cell.
This three-pronged technique is the basis of Ziopharm's promising fight against breast cancer, melanoma and brain cancer as well as other cancerous conditions.
It is a bold and sophisticated approach. Ziopharm says it has observed improvement in lesion appearance in 71% of melanoma patients dosed at the two highest dose levels of Ad-RTS-IL-12.
Patients also produced high levels of IL-12 and interferon, both of which boost immune response to cancer.
Important New Potential
Recently Ziopharm got a big vote of confidence from the NIH. On December 6th the company announced "the unanimous approval of the National Institutes of Health's Recombinant DNA Advisory Committee (RAC) for the initiation of a Phase 1 study of Ad-RTS-IL-12…in subjects with recurrent or progressive glioblastoma or grade III malignant glioma (brain cancer)".
Ziopharm has plans to launch a Phase 1 study of Ad-RTS-IL-12 in malignant glioma in the first half of 2014. It is a very deadly and hard-to-treat form of cancer but Ziopharm has reported 100% survival in animal testing of mice with forms of glioma.
As one scientist explained, the central nervous system is "immune-privileged" meaning that many glioma therapies based on triggering the immune system simply don't work in the brain because they are unable to cross the blood-brain barrier. Ad-RTS-IL-12 has shown an ability to overcome this powerful protective barrier.
We have seen two other cancer-fighting companies rise impressively, even spectacularly, on the prospects of immunotherapy in the treatment of cancer, particularly brain cancer.
Chief among these is Celldex (NASDAQ:CLDX), as well as ImmunoCellular Therapeutics (NYSEMKT:IMUC).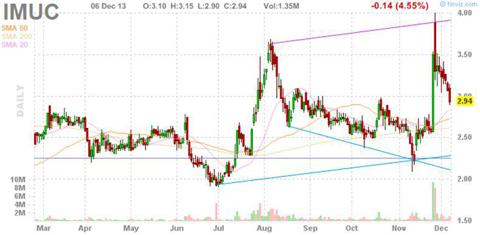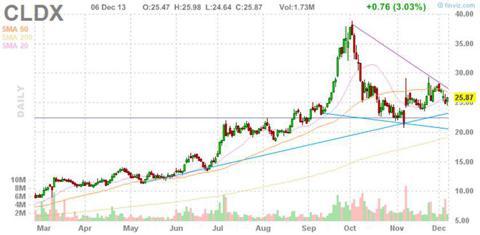 ImmunoCellular Therapeutics remains a micro-cap but Celldex has risen in market value to more than $2 billion.
Either of these companies may find that the immune-privileged status of the brain could block the effectiveness of their immune system-based therapies. But the recent decision by the NIH suggests that Ziopharm may have found the way to leap that barrier and cure brain cancer.
In the race to win this particular war it makes little sense that Ziopharm should be valued at little more than $300 million while Celldex is valued at more than six times that amount.
I look forward to strong gains in ZIOP stock as we get results from ongoing clinical trials.
Action to take: Buy ZIOP at $4.20 or less. Target: $9.00. Sell-stop: $3.00
Late breaking news: Gilead (NASDAQ:GILD) is making progress in the race to beat cancer with recent reports of success in trials against chronic lymphocytic leukemia (CLL) and non-Hodgkin's lymphoma (NHL).
Also a leukemia drug developed by Johnson & Johnson and Pharmacyclics (NASDAQ:PCYC) managed to keep the disease at bay for most patients according to a recent announcement.
Finally from recent breaking news, an experimental AbbVie (NYSE:ABBV) drug controlled or even eliminated signs of leukemia in more than 80 percent of patients.
This war against cancer is finally being won!
Disclosure: I have no positions in any stocks mentioned, and no plans to initiate any positions within the next 72 hours. I wrote this article myself, and it expresses my own opinions. I am not receiving compensation for it (other than from Seeking Alpha). I have no business relationship with any company whose stock is mentioned in this article.