To be perfectly frank, I'm not sure if the title is absolutely accurate, but I would advocate that in the realm of investing obstacles it at least makes the top three. Some might argue that inflation or fees are sneakier inhibitors of returns, but in general investor psychology is something that we all have to deal with on a certain level. For instance, according to this Dalbar study the typical equity investor earned an average of just 3.83% a year during the two decade stretch from 1991 to 2010. Meanwhile, the S&P 500 averaged an annual return of 9.14% over the same time period. Granted everyone's goal is not to beat the market, but it's reasonable to surmise that psychological folly played a role.
Personally I believe the above example provides a reasonable cue for keeping one's investing psyche in check, but for your reading pleasure I'll generate another. Let's say you have $100,000 to invest and a crystal ball that provides a glimpse - albeit murky - into an investment's intermediate future. I come to you with the following proposition: For your $100,000 outlay you can have something that brings $6,700 to the bottom line and pays you $2,500 in the first year - which is expected to grow in the future. Would you make that deal?
Well, an astute investor would likely want to know a bit more. So, you look into your crystal ball and see that in just over 5 years this particular investment will be generating $8,500 and paying you $4,700. Beyond this information you're unsure, but this is pretty solid knowledge to have at your disposal. True the amount brought to the bottom line only increases by about four and a half percent per year, but it does increase your take home pay by about 13% per annum. If someone came along and offered to buy your investment at a similar valuation to what you paid, this would represent a roughly 45% total return - or just under 8% each year.
Obviously offers for your investment at higher or lower valuations would adjust your expected return, but remember this is your investment and you're not obligated to take any of these bids. Without knowing you personally, I would suggest that many of you might take this deal - your profit claim increases and your overall income is steadily rising.
Now with this investment, I could be talking about any number of things: an apartment or farm for instance. If it was an apartment, the deal would be this: you buy an apartment for $100,000 and get net rent checks totaling $6,700 in the first year. In turn, you pay yourself $2,500 and put the rest back toward the business of owning property. (Perhaps you use it for mortgage pre-payments or a down payment on another property) If this investment was a farm, the deal would look very similar: you buy a plot of land for $100,000, harvest your crops, take them to market and net $6,700 - of which you decide to take $2,500 in income and reinvest the remaining capital for next year's harvest. In both instances, via your handy crystal ball, you know that this investment will provide you with an $8,500 earnings claim and $4,700 in take-home proceeds in half a decade.
Yet I wasn't talking about apartments or farms - although it should be clear that it's the precise same investing ideology. In my example, I was talking about a common equity business partnership with Kimberly-Clark (NYSE:KMB). Allow me to explain.
At the end of 2002, KMB was earning $3.22 per share and had a dividend of $1.20. Further, shares of Kimberly-Clark ended the year trading at $47.47 - reflecting the same math as above. That is, a $100,000 investment in KMB shares on 12/31/2002 would have translated to an earnings claim of roughly $6,700 and $2,500 in dividend income. If we fast forward to the end of 2008 - 5 years later - KMB was earning $4.04 a share and paying about $2.27 in dividends per share. Expressed differently, that original $100,000 investment would now have an earnings claim on $8,500 worth of profits and distribute $4,700 in dividend income. The deal is precisely the same as I detailed above.
Yet what I have not yet disclosed is what type of bidding or offers were being made at this time. At the end of 2002, shares of Kimberly-Clark were trading at $47.47. At the end of 2008, shares were trading around $51, with negotiations as low as $43 to come in the next few months. Here's a graphical view of what that looked like: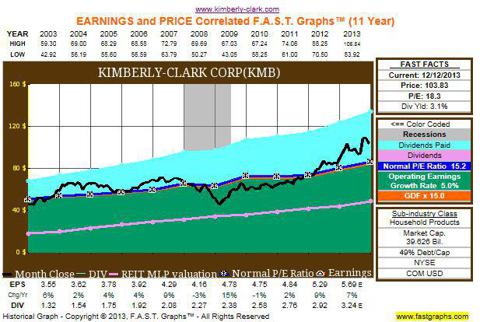 Think about what happened here. At the end of 2002, shares of Kimberly-Clark were trading at a price-to-earnings ratio of about 15 with a dividend yield of 2.5% - both of which appeared to be in line with reasonable growth prospects moving forward. Five years later the company is making 25% more money and giving you nearly 90% more in cash each year. Yet the bidding price remained effectively the same. For any logical investor - especially those that felt KMB was trading in a reasonable range during 2002 - this surely presented a favorable proposition.
But for a great deal of people that didn't happen. Instead, investor psychology took over and unfortunately many people sold their wonderful business partnerships simply because they happened to be illiquid at the time - not because they thought that the business was going bankrupt or people would be buying fewer Kleenex tissues or Huggies diapers in the next decade.
Now it is true that this timeframe was at the peak of investor worry; but that's the point. Here's a company that had not only been paying but also increasing its dividend for over 35 straight years. It was still making money - more money than it ever had actually - and paying a record dividend to boot. Today that 2002 KMB investment would have returned approximately 10% a year - roughly three times the yearly rate one would have received had they sold out near the bottom and ironically quite similar to the above study.
If you owned an apartment or farm at this time without a need for the principal and felt that your property would continue to offer solid returns in the future, you wouldn't dream of selling it. In fact, if any bidders came along offering you less than what you paid 5 years ago you would kindly tell them to get off your lawn. Yet when you own a piece of a far more formidable enterprise, you get bids every second of every trading day. Unfortunately, too many people fall victim to the stimulation and misdirection of the market. I could offer you $100k for your $200k house and you would scoff at me before I finished my offer. But for some reason when people start throwing low bids out there for common stocks you start to panic. The underlying value of a business simply doesn't change on a second by second basis.
And obviously this phenomena isn't unique to KMB. For instance, at the end of 2002:
Johnson & Johnson (NYSE:JNJ) traded at $53.61, with underlying earnings per share of $2.31 and a dividend of $0.80. By the end of 2008, JNJ earned $4.46 a share while paying out $1.79, yet shares fell to $50.
Aflac (NYSE:AFL) traded at $32.39 - earning $1.59 and paying out $0.23. In 2008 the company made $2.65 and paid out $0.96, yet just a couple of months later shares dropped to a low near $11.
3M (NYSE:MMM) traded at $62.28 - earning $2.67 and paying out $1.24. In 2008 MMM made $5.23 and paid out $2.00 in dividends, but still fell to $41 in January of 2009.
The list goes on, but you get the idea. Some might point to the absurdity of the time horizon selected, but rest assured this is precisely the moment when you need to bring rational thought into the mix. Just because someone is willing to offer you a lower price doesn't mean you have to take it. If you believe that you're making an investment within a range of reasonable valuations and the company makes quite a bit more money in the future - consequentially paying you more as well - then why on earth would you allow others to dictate how you view your successful business partnerships? Don't allow yourself to get in your own way of wealth creation.
Once you get the basics down - partnering with a group of your favorite companies, monitoring them from time-to-time and ensuring that their prospects reflect your personal goals - then all there is to this investing thing is avoiding the "sell low" crater. Even when you come up with a classic bad news investing example, it could simply be the case that your frame of thought is too short. Good things tend to happen when you make investing decisions based on long-term expectations.
Since we're talking about apartments, farms and common stock investor psychology, perhaps a Warren Buffett quote will be a nice book end to this article:
"Basically, I don't want to buy any stock where if they close the NYSE tomorrow for five years, I won't be happy owning it. I buy a farm and I don't get a quote on it for five years and I am happy if the farm does OK. I buy an apartment and don't get a quote on it for five years; I am happy if the apartment produces the returns that I expect. People buy a stock and they look at the price the next morning and they decide if they are doing well or not doing well. It's crazy. They are buying a piece of the business."
Disclosure: I am long JNJ. I wrote this article myself, and it expresses my own opinions. I am not receiving compensation for it (other than from Seeking Alpha). I have no business relationship with any company whose stock is mentioned in this article.