Everybody knows that markets around the world have generally been down over the past month or so. This article shows the varying degree of price variation in detail for 35 country or region funds.
The first table provides the price rate of change versus several prior periods. The second table provides the ratio of the price to several moving averages. The third table provides the relative position of moving averages to each other.
All data below is from Reuters through Metastock software.

Positive readings (more than +1%) are shaded green. Readings +/- 1% of even are shaded yellow. Negative readings (less than -1%) are shaded pink. All prices are as of Friday February 19, 2010.

Funds in the tables are: VT, EFA, VWO, FRN, SPY, EWC, EWG, EWU, EWQ, EWN, EWL, EWP, EWD, EWK, EWO, EWI, EWJ, EWA, EWH, EWS, FXI, IFN, EWY, EWT, EWM, THD, IF, RSX, EWZ, EWW, ECH, EZA, ISL, TUR, MES.

click images to enlarge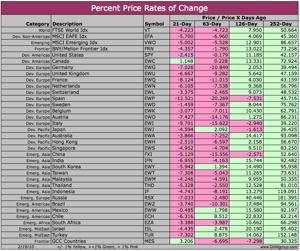 Spain has experienced the worst decline over the past month (21 trading days), having been regularly discussed as one of the PIGS (Portugal, Ireland, Greece and Spain) in relation to the Greek potential for sovereign default.
The GCC countries and Canada are up over the past month. The GCC rise is probably related to the efforts to solve the quasi-sovereign debt default in Dubai.
Spain, Italy, and China are down relative to 21 days ago, 63 days(3-months) ago and 126 days (6-months) ago.
All countries are up from 252 days (1-year) ago. Russia, Turkey and Indonesia are up the most, in that order. Japan, GCC countries and Italy are up the least over that period.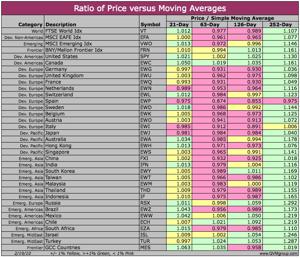 All of the countries/regions are within roughly -3% to +6% of their 21-day moving averages. GCC countries, Mexico and Australia are doing the best. Italy, Japan and Spain are doing the worst. Spain is below all of its moving averages, including its 252-day (1-year) simple moving average.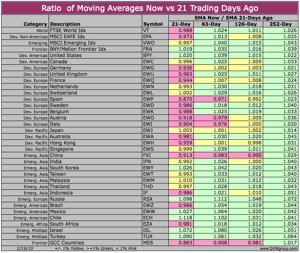 The stacking order of the moving averages (whether the shorter averages are above or below the longer averages) is most unfavorable for the GCC countries, and China, with the 21-day, 63-day and 126-day averages below the 252-day averages. The countries in the best shape are the frontier countries generally (NYSEARCA:FRN), the United States, South Korea, Russia, Mexico, Chile, Israel, and Turkey (although today's 2+ percent decline in TUR may drop it from the list).
Holdings Disclosure:
As of February 19, 2010, we do not have current positions in any securities discussed in this document in any managed account.
Disclaimer:
Opinions expressed in this material and our disclosed positions are as of February 19, 2010. Our opinions and positions may change as subsequent conditions vary. We are a fee-only investment advisor, and are compensated only by our clients. We do not sell securities, and do not receive any form of revenue or incentive from any source other than directly from clients. We are not affiliated with any securities dealer, any fund, any fund sponsor or any company issuer of any security. All of our published material is for informational purposes only, and is not personal investment advice to any specific person for any particular purpose. We utilize information sources that we believe to be reliable, but do not warrant the accuracy of those sources or our analysis. Past performance is no guarantee of future performance, and there is no guarantee that any forecast will come to pass. Do not rely solely on this material when making an investment decision. Other factors may be important too. Investment involves risks of loss of capital. Consider seeking professional advice before implementing your portfolio ideas.
Richard Shaw
QVM Group LLC