Last Thursday (December 12, 2013), U.S. initial jobless claims came in at 368,000. This number was above "expectations" and above the on-going declining trend in the 4-week moving average. It also followed a week where claims had fallen to a two-month low. We may not know what to make of all these changes until post-holidays when the extreme volatility in the number should die down.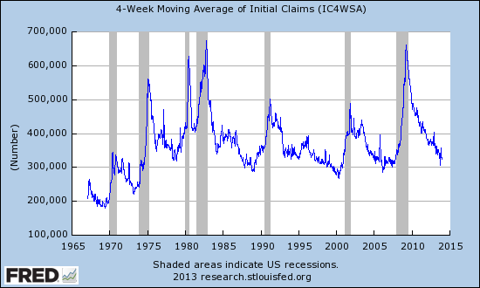 Have initial claims reached a cyclical low?
Source: St. Louis Federal Reserve
Initial claims numbers may get additional focus in coming weeks and months because, as the graph above seems to imply, this number may be reaching a cyclical low (note the graph does not include last Thursday's pop to 368,000). Since the recession in the mid-1970s, initial claims has bottomed out in every economic cycle close to or around 300,000. In some cases, initial claims started to spike higher ahead of the official determination of a recession. When we overlay this graph with the Federal funds rate, we find that, in general, rates were rising along with the move of initial claims off the bottom.
In other words, the cyclical low in initial claims is part of the signal telling the Fed that monetary accommodation is no longer needed, and, ironically enough, it becomes the beginning of the end of a post-recession recovery. The years leading into the last recession were a notable exception as initial claims continued to decline for some time after rates began to rise. Note as well that ahead of the recession of the early 1990s, the Fed funds rate had actually come down significantly just as initial claims spike higher.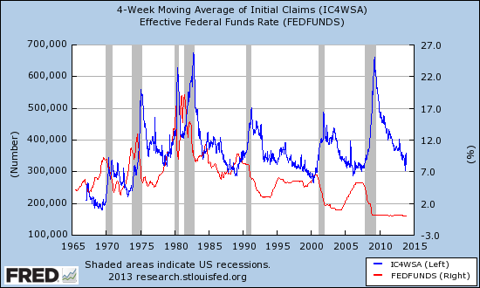 Fed funds rate tends to be rising along with initial claims going into a recession
Source: St. Louis Federal Reserve
This chart is a handy reminder of one of several reasons markets get so obsessed with the possibility of rising rates (there are many other such charts we could examine). A tightening monetary policy is not only confirmation of a strong(er) economy, but it is also an indicator that the end of the cycle is somewhere on the horizon. I think it is pointless to try to predict exactly when that end will come, but the difficulty of such a prediction will not prevent the stock market from gyrating over the possibilities.
This quick review is also a handy reminder of why the Federal Reserve is going to such lengths to reassure the market that monetary policy will remain extremely accommodative even after the start of tapering of bond purchases. On the other side of the pond, the Bank of England (through Governor Mark Carney) has also gone to great lengths to reassure its markets that the expanding economic recovery in the UK will continue to receive the low rates that it needs to sustain its momentum. In the interest of "clarity", both the BoE and the Fed have targeted the unemployment rate (not initial claims) before the potential for hiking rates.
The U.S. Fed wants to forestall the inevitable extrapolations and anticipations of the next recession once monetary policy does start to tighten. The current recovery is so fragile that I am guessing it will not take much tightening to bring recession fears to a fevered pitch. It will certainly be a time when Lakshman Achuthan, head of the Economic Cycle Research Institute (ECRI), will remind everyone that he predicted the recession well in advance.
I have not followed Achuthan's latest predictions but as late as March of this year, he was insisting the U.S. was stuck in a recession that began in July, 2012. Of course, his stubbornness comes from his insistence throughout 2011 that a recession was on its way by mid-2012, and he underlined this insistence with his track record of never being wrong before. He even skewered other economists for all the false positives they generate on the way to getting a correct prediction of a recession. Achuthan even went so far as to insist that the Federal Reserve could not do anything about the downward trajectory. The chart above suggests that at least one missing ingredient may be a Federal Reserve that is tightening monetary policy.
As we wait for another monetary decision from the Fed, all the gains from the S&P 500 (NYSEARCA:SPY) following what I thought would be a pivotal jobs report have vanished. Three of the last four days have featured relatively moderate selling, but the index has rarely suffered such a streak this year. Moreover, 9 of the last 11 trading days following Black Friday have featured down days on the S&P 500. Black Friday was also a down day. So, apparently, bears were indeed up to the challenge of extinguishing the bullish possibilities for post-Black Friday trading. Now, it is the Fed's turn to respond. Since the percentage of stocks above their 40-day moving averages (DMA) dropped as low as 30% before bouncing to 33% for the week, the stock market is actually primed for a fresh rally fueled by these "quasi-oversold" conditions.
Be careful out there!
Disclosure: I have no positions in any stocks mentioned, and no plans to initiate any positions within the next 72 hours. I wrote this article myself, and it expresses my own opinions. I am not receiving compensation for it (other than from Seeking Alpha). I have no business relationship with any company whose stock is mentioned in this article.
Additional disclosure: I am long puts and calls on SSO and long shares of SPLV and SPHB.