Whenever somebody points to Intel's (NASDAQ:INTC) immense R&D resources (~$10B/yr) as a reason why it will eventually overtake Qualcomm (NASDAQ:QCOM) in mobile processors, one of my favorite readers, David RG, is always quick to point out that while Qualcomm's R&D efforts are focused squarely on mobile devices, Intel's are actually spread across a number of divisions and projects that may have nothing to do with mobile devices. Indeed, Qualcomm lives and breathes anything and everything wireless, and its ~$5B/year in spending has certainly borne many fruits.
That being said, in this article, I'd like to dig deeper into these companies' financials to find the answer to this simple question: who's spending more in mobile: Intel or Qualcomm?
Digging Into Qualcomm's Numbers
Take a look at this financial table detailing the company's financial results for the recently-ended fiscal year 2013: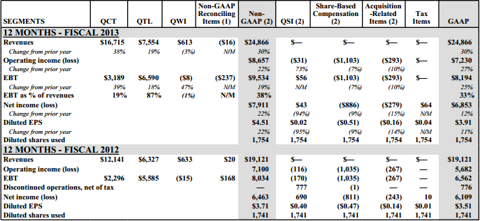 The company's chip division took in $16.75B and saw earnings before tax of $3.2B. In order to figure out the level of opex here, we need a key number: gross margins for QCT. This means digging into the recently filed 10-K:

Cost of revenue for QCT was 58% of revenue, implying a gross margin of 42%.
At a $16.72B revenue rate, $9.82B in COGS, and $3.2B in operating profit, opex (that's R&D and SG&A) for QCT is about $3.7B.
Digging Into Intel's Numbers
While Intel's fiscal year hasn't quite wound to a close, the company did hold its annual investor meeting at which it showed the following slide: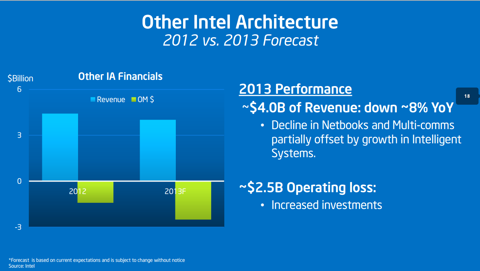 At a $4B revenue level, the company posted a $2.5B operating loss. The decline in netbooks and multi-comms (lower margin businesses) were offset partially by growth in Intelligent Systems (higher margin business). Unfortunately for us, Intel doesn't break down gross margin by its business units. This means we have to do some educated guesswork under the following hypotheses:
Other IA gross margin is lower than corporate average (brutal 3G market, large die 32nm Atoms, offset partially by high margin embedded/intelligent systems revenue)
Intel will be aggressive over the next several years on pricing, thus pressuring GMs.
Without precise numbers, I can't give an optimal estimate, but let's say that gross margins in this division are AT MOST 55% and AT LEAST 45%. This gives a range of opex possibilities:
| | | |
| --- | --- | --- |
| Gross Margin | Implied Opex @ $4B rev/($2.5B) operating profit | Revenue Breakeven Point |
| 45% | $4.3B | $9.5B |
| 50% | $4.5B | $9B |
| 55% | $4.7B | $8.55B |
In my low end scenario I have Intel spending $4.3B on "Other IA" (modems, Atom, mobile SoCs, etc.) and at the high end of the margin range I have them at $4.7B. At any rate, it appears that Intel's "Other IA" group is spending more than Qualcomm's QCT is!
This Has Serious Implications Going Forward
This has three major implications:
Intel is spending at a level at which it should, as these investments pan out, allow it to be competitive with Qualcomm once it gains initial traction
Intel is going to have to at least double sales before it can narrow this operating loss
The mobile chip business is in desperate need of consolidation as there's simply not enough profit to go around (i.e. the hordes of me-too ARM vendors will be starved to death)
So, how does Intel get to breakeven in "Other IA"? The answer is simply this: manufacturing.
Thanks to ARM (NASDAQ:ARMH), the barrier to entry to making a mobile chip is extremely low (as long as you can do a cellular radio, that is). This means that - at least during this period of high growth - there will be plenty of players eyeing the prize, but just about every one of them is going to lose a ton of money. This will naturally lead to consolidation (either M&A or companies just exiting the business) and only 2-3 major players will survive. This happens time and again in technology.
Just think - Qualcomm has over half of the smartphone apps processor market, 97% of the LTE baseband market (62% of the overall cellular baseband market), and it is eeking out $3.2B in operating profit. MediaTek is squeezing out probably the remainder of the profit to be had in this industry (a bit over $1B/year). Given the level of investment that it takes to keep up with Qualcomm, it is tough to envision too many players running the numbers and thinking to themselves that they'll ever make money. Was Texas Instruments (NYSE:TXN) just being incredibly smart when it exited its OMAP business? Sure looks like it.
Conclusion
The notion that prices/margins will continue to stink in the mobile space is misguided. Only a few players can actually survive this very aggressive environment long term becauste the R&D that is required to keep up will be extremely high. At some point, it will make no financial sense for most of the SoC vendors to keep trying to play in the smartphone/tablet market and there will be exits and consolidation happening over the next 5 years. The two "biggest" players and the ones likely to hog the majority of the profits in this space longer term are Qualcomm and Intel.
The bad news is that the consolidation will not happen overnight which means this market will continue to be an unprofitable cesspool for quite sometime. But the good news is that once the weaklings have been shaken out, the profits for the survivors will be all that much sweeter. Oh, and there will probably be some real money to be made from M&A, to boot.
Disclosure: I am long INTC. I wrote this article myself, and it expresses my own opinions. I am not receiving compensation for it (other than from Seeking Alpha). I have no business relationship with any company whose stock is mentioned in this article.