If there's a sub-segment of the PC market that AMD (NASDAQ:AMD) has enjoyed dominant market segment share in, it has been the "value" part of the PC market (think sub-$300 clamshells). While this portion of the PC market has been the most vulnerable to cannibalization by tablets, it's still a non-trivial market, particularly as many users still need a traditional clamshell as part of their computing arsenal.
Why Has AMD Succeeded Here?
One of AMD's biggest successes was its "Bobcat" low-power X86 micro-architecture. In its weight class, chips built on this core had no equal - the Atom chips that Intel (NASDAQ:INTC) was half-heartedly peddling into this space were quite inferior, particularly in graphics, to what AMD was providing at the time. In fact, to illustrate the point here's a benchmark from AnandTech's initial review of AMD's E350 ("Brazos" based on the "Bobcat" core) that is pretty representative of the CPU performance that AMD delivered at the same price point that Intel was selling its Atoms.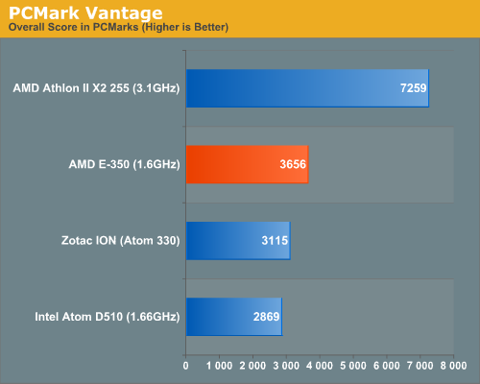 When it came to graphics performance, the integrated graphics on the Atom were, for lack of a better word, "pathetic". Indeed, here is a representative set of benchmarks that pit the AMD E350 with a bunch of its contemporaries - including the Atom D510: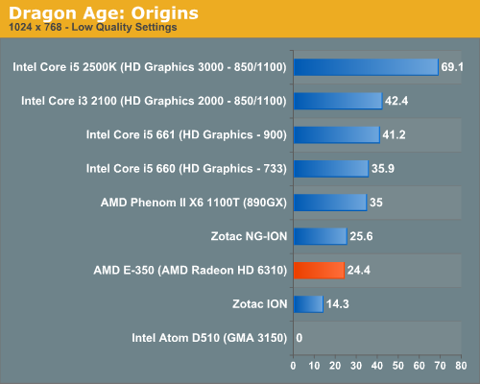 Yes, in Dragon Age: Origins, the AMD E-350 was able to wrangle 24 frames per second (nearly playable) at low quality settings while the Intel with its built in GPU...apparently wouldn't run. This isn't the only instance of the Atom of old sucking wind here - only two of the games in AnandTech's suite even ran on the Intel chip, and when they did, it was utterly unplayable.
AMD took advantage of the sleeping giant that had taken its eye off the ball and delivered a superior solution any way one wishes to cut it. These were halcyon times for AMD's processor business.
That product superiority translated into very nice profitability for AMD, with the firm raking in over $1B in TTM net income at its peak: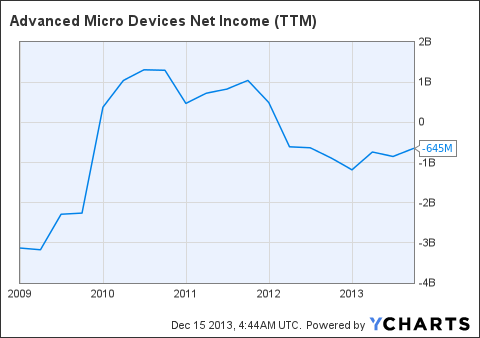 AMD Net Income (TTM) data by YCharts
Indeed, from 2010 to 2011, AMD was extremely profitable and, frankly, if it were generating the kinds of profitability today that it saw in those days, this would be an $8 (or even higher) stock - easily.
Unfortunately, Apple's (NASDAQ:AAPL) iPad launched on April 3, 2010 and - about two years later - the tablet wave of destruction hit the low end/mainstream portion of the PC industry in full force. Taking the brunt of this damage was AMD, although its larger PC cohort - Intel - was not immune to this slowdown either.
The Tablet Damage Is Nearly Done...In Developed Markets
Comments from Intel at its recent analyst day suggest that the PC market in the US and parts of Europe are actually beginning to stabilize. Unfortunately, emerging markets tend to make up a sizable chunk of PC sales and, more importantly, are where any meaningful growth could come from (lots of potential first-time buyers) and they're still seeing the tablet cannibalization effect.
The good news, though, is that if the US and other developed markets have stabilized, it is probably only a matter of time before the developing countries follow suit - although the extent of the decline until that "bottoming" remains to be seen. AMD is calling for a 10% decline in the PC TAM next year while Intel is looking for low to mid-single digit decline. At any rate, it's still declining and it probably won't be until 2015 that the emerging markets end up stabilizing.
That being said, this leads me to a very significant concern for AMD's ability to fight through 2014 profitably.
Concern #1: Market Share Loss And/Or Margin Compression
At its investor meeting, Intel presented the following slide: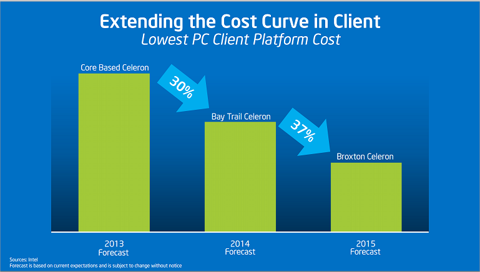 Intel is very aggressively targeting the low end/value portion of the PC market (an area in which Kirk Skaugen at the Credit Suisse Technology Conference admitted Intel had sub-50% share in). In 2014, Intel sees a 30% cost reduction from its Core-based Celeron products and then it sees yet another 37% decline in cost moving from a Bay Trail (22nm) Celeron to a Broxton Celeron (14nm). This means that Intel has now dramatically reduced its cost structure, suggesting that it can profitably (i.e. with nice high margins) begin to muscle in on AMD's space.
Now, the argument one could pose is, "well, won't AMD lower its cost structure, too?"
The simple answer is, no, probably not. On a cost per transistor level, the next generation 20 nanometer process nodes will actually be more expensive than 28nm - a "first" for the fabless semiconductor players. The phenomenon is best illustrated by Broadcom at its analyst day,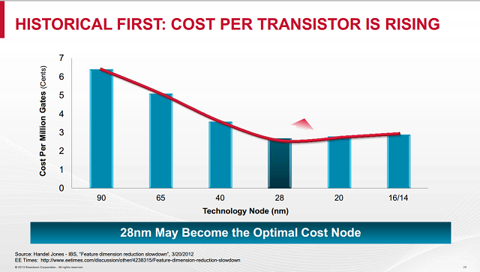 So, if AMD does manage to move to 20 nanometer during the 2015 timeframe for its low cost/low power chips, it will not see a cost reduction - it'll see a cost increase. If AMD can drive meaningfully better performance/features to get paid extra for them, then this could work, but basic semiconductor physics (and history) tells us that at 14 nanometer FinFET Intel will likely offer a better performing, cheaper-to-produce solution (for which it keeps the foundry margin) than what AMD could do at 20nm.
This could potentially lead to one (or more) of the following:
Share loss if Intel undercuts at the same performance/watt level or offers more performance/better power at the same price point as an AMD chip (Intel has a better cost structure so it can afford to do this)
Further margin erosion for AMD
Now, in a more traditional semiconductor market, "margin erosion" isn't pleasant but it isn't typically deadly. Unfortunately, when it comes to AMD, it looks as though the company is already operating at extremely low gross margin levels: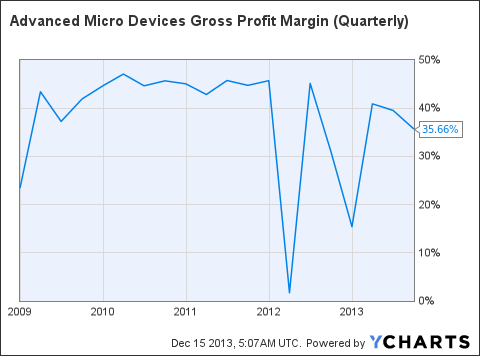 AMD Gross Profit Margin (Quarterly) data by YCharts
While the trend lower during the second half of 2013 is due to the game console deals, it's tough to ignore that a roughly 40% gross margin level doesn't give AMD a whole lot of room to work with in trying to engage in a price war. That being said, I do think AMD will probably try to fight as valiantly as possible on price at the expense of gross margins, particularly if it can move its lower cost/lower power PC chip manufacturing to Global Foundries. Whether Intel will want to hound AMD down or not remains to be seen.
Concern #2: How Can AMD Afford All Of These Projects?
Another thing that I've found particularly interesting about AMD's ventures into many different markets (micro-servers/networking with an ARM (NASDAQ:ARMH) based SoC, mainstream/high end PC with a "big" core, and then mainstream/low end/tablet with the "small" core, GPU development) is that the costs to develop a chip on increasingly sophisticated process nodes are going up at an alarming rate: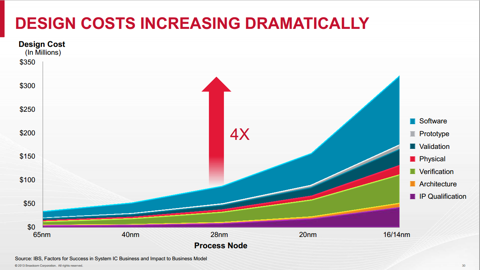 It would seem to me that AMD will need to eventually focus on a few critical segments of the market (perhaps kill "big core") if it is to profitably survive the difficulties that designing chips on new process nodes is going to cause.
While I'm sure management will do what it needs to in order to manage opex, the question is just what gets cut in order to make the segments it does focus on profitable and with competitive products? My bet is on "big core" getting the axe along with the high end server chips (since enterprise servers are dominated by Intel and aren't particularly high growth), leaving only the "Cat" family of cores as well as various ARM based SoCs (frankly, the idea of AMD doing an ARM-based tablet chip seems like the best route to take in AMD's position).
Conclusion
At this point, I find it difficult to be bullish on AMD. It's not in a great competitive position in PCs, and its foray into the scale-out server chip business will face stiff competition from a broad swath of players (including, but not limited to, Intel). My favorite part of AMD's business is the semicustom, but I'm not sure if the current $450M/quarter opex run-rate can be supported solely on semi-custom jobs.
At the same time, I do expect AMD to lose meaningful PC market share and, at the same time, expect that traction in tablets will also prove elusive for the company over the next year as the competitive landscape (Intel in Windows, Intel + ARM vendors on Android) just looks quite difficult. I also remain skeptical about AMD's ARM server efforts, particularly as Intel's offerings in this space are quite strong and there are many other ARM players. All of these players, mind you, are vying for what is likely to be maybe a $1B - $2B TAM over the next several years.
It'll be interesting to see how this plays out. While the structural short case for AMD is pretty clear, too many potential wildcards exist to make me feel comfortable with actually betting on the stock going to $0. But do I want to be long? Not at these prices, but if the stock dips back into the $2's, they could be worth a look for a swing trade.
Disclosure: I am long INTC. I wrote this article myself, and it expresses my own opinions. I am not receiving compensation for it (other than from Seeking Alpha). I have no business relationship with any company whose stock is mentioned in this article.
Additional disclosure: I may go long AAPL and/or short ARMH at any time.