Altria Group (NYSE:MO) is one of the few stocks that have been able to pay a high dividend for years in a row. At the current price of $37.10/share, it yields a respectable 5.18%. This is a lot higher than the 4.24% investors get for holding shares of British American Tobacco (NYSEMKT:BTI) or the 4.41% Phillip Morris (NYSE:PM) pays at current levels. In this article, I will be taking a closer look at Altria's recent history, in an attempt to determine if it would be a good idea to add it to my dividend growth stock portfolio. PM and BTI will be used for comparison on several occasions.
First of all, let's look at some recent news: Altria has revised its 2013 full-year EPS guidance to a range of $2.23 to $2.28, to reflect a charge of $0.34 due to an early extinguishment of debt. I think this is a very good idea, as MO's rising long-term debt has been one of my biggest concerns for some time now. The company's long-term debt has increased from $7,339 million at the end of fiscal year 2009 to $12,892 million in the most recent quarterly report.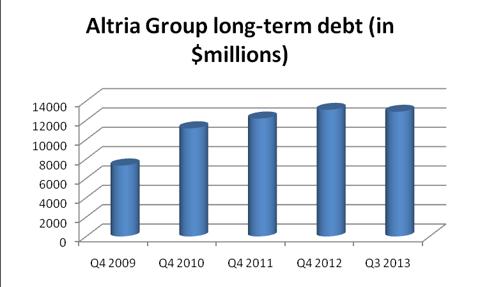 MO's price per share is now between 16.3 and 16.6 times expected earnings for the current fiscal year. Analyst expectations for next year's average $2.58, giving Altria a forward price to earnings ratio of only 14.38. This is a bit higher than BTI's forward p/e of 13.81, but lower than PM's 15.22.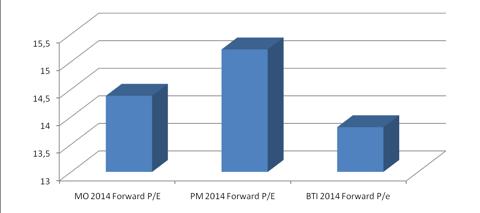 I'd also like to take a look at MO's recent performance. To do this, we will need its most recent 10-Q form, which can be found on their Investor Relations website. Net revenue for the first 3 quarters of 2013 was at $18,386 million, close to last year's $18,376 million. However, as the cost of sales has gone down from $5,860 million in the first 9 months of 2012 to only $5,210 in the same period this year, gross profit has gone up at double digits. I have made a graph to display the changes between the first 9 months of 2012 and the first 9 months of 2013: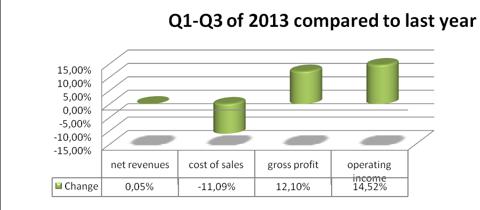 I'd also like to take a look at MO's balance sheet. Let's start with the current ratio, which is divined as current assets divided by current liabilities. In MO's most recent quarterly report, current assets were at $7,549 million, while current liabilities were at $8,337 million, giving MO a current ratio of 0.905. This is quite low, but it does appear to be restoring, as the current ratio was at a much lower 0.765 as recent as Q4 2012.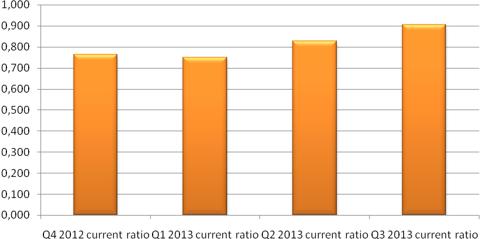 MO aims to pay its shareholders 80% of EPS in the form of dividends. Assuming MO will meet analyst expectations, a dividend of $0.51 per quarter would give MO a payout ratio of 79.1%. This would give investors getting in at the current price per share of $37.10 a yield on cost of 5.50%. The company has shown it is willing to reduce its debts, which were a major concern to me, and with earnings expected to grow even further next year, I feel Altria Group would be a fine addition to my portfolio of dividend growth stocks.
Disclosure: I have no positions in any stocks mentioned, but may initiate a long position in MO over the next 72 hours. I wrote this article myself, and it expresses my own opinions. I am not receiving compensation for it (other than from Seeking Alpha). I have no business relationship with any company whose stock is mentioned in this article.