The future value of Bitcoin and other cryptocurrencies will rely heavily upon successful penetration of retail markets. With very low transaction fees, retailers have a lot to gain by embracing this technology. However, it appears that Apple (NASDAQ:AAPL) will soon be enhancing the digital experience at brick and mortar stores, and there are clear indications that Apple's plans are bringing it into direct confrontation with Bitcoin.
The Changing Face of Retail
If you haven't heard about iBeacons yet, there is a great piece explaining their potential here on Wired. In short, Apple has already begun installing these Bluetooth-transmitting devices around retail shops and soon they'll be in MLB stadiums. Connect to them, and you'll have access to coupons, maps, interactive guides, and, as one writer here on Seeking Alpha recently theorized, you'll be able to make mobile payments.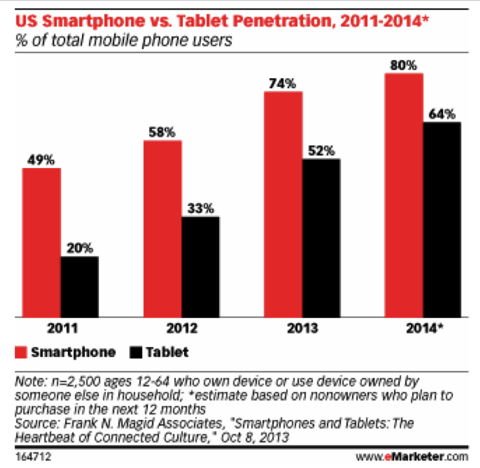 As smartphones have become ubiquitous in the American landscape, they present a wide range of opportunities, especially for retailers. My cashier at Target (NYSE:TGT) tonight convinced me to download their new Cartwheel app, and I will confess to already having the Walgreens (WAG) and Domino's (NYSE:DPZ) apps on my smartphone. Beacons in stores will offer similar functionalities, but with the benefit of working through one universal app. One way or another, I think they'll spur foot traffic and increase sales; the question is, what will the dominant platform be?
The Disruptor
Outside of China, I have yet to read a story of a retailer who started accepting Bitcoin, then decided to stop because it didn't work out for them. The combination of immediate PR and significantly lower transaction fees is appealing, and there is no current reason for retailers to do anything but support their customers' move into digital currencies.
A great example is Gyft, where you can buy and hold a wide variety of gift cards. Every dollar you spend with them using a credit card gives you 1% back in points for future gift cards; every dollar spent with PayPal is worth 2% back; and every Bitcoin transaction is worth 3% back. And yes, you can get the Gyft app on Google Play and on iTunes.
Now companies don't need to buy a beacon from Apple, and an app like Shopkick can run on more than one platform. So the first question on the table is: what will become the dominant method of mobile payment transactions? With over half a billion credit cards in their iTunes database, Passbook software already in place, and the advent of iBeacons, it seems only logical that Apple will look to dominate this market.
While PayPal seems a likely entrant as well, in this open-source information age, the real threat would be from a start-up using Bitcoin or another cryptocurrency. With a smartphone already in your customer's hand, they are already capable of transmitting digital currency. Companies like BitPay and Coinbase are already making these transactions simple and ludicrously cheaper. The opportunity for retailers to integrate all these moving parts already exists, so the second question is this: why choose a system with higher fees?
What can Apple do?
It seems that Apple has seen the Bitcoin threat coming. Bitcoin wallet apps such as BitPak, Coinbase, and Blockchain, have been removed from the App Store, and Gliph was forced to remove Bitcoin from its functionality. So far, the only reason Apple has given is that Bitcoin isn't legal in all jurisdictions in which the apps are for sale. Bitcoin has been recognized as a currency though, and it has only been banned in Thailand, so this justification doesn't seem genuine. My theory is that Apple doesn't want to tip its hand quite yet, nor does it want to say anything that would upset customers, who may see this as a totalitarian move; rather ironic, considering how Apple saw itself so many years ago.
Besides shutting out software from its App Store, there is quite a lot more Apple can do to make itself the true nemesis of Bitcoin. For starters, it has billions to invest, ensuring that its products and the customer experience in the retail market with beacons will be second-to-none. Far more evilly, Apple could threaten retailers who embrace Bitcoin, and shut them out of any future partnerships. And even more likely, Apple could use the power of lobbyists and political influence to crush the legitimate usage of cryptocurrencies once and for all in the United States.
Conclusion
While I believe that cryptocurrencies could have a bright future, they are an uncertain commodity. Even if Apple doesn't end up entering the mobile payment market, credit card companies will certainly see Bitcoin as a threat for all the same reasons. Forces like these may relegate digital currencies to the back alleys of the internet, though perhaps resourceful entrepreneurs will find great success integrating these new technologies into retail environments.
Disclosure: I am long AAPL. I wrote this article myself, and it expresses my own opinions. I am not receiving compensation for it (other than from Seeking Alpha). I have no business relationship with any company whose stock is mentioned in this article.
Additional disclosure: I have Bitcoin, Litecoin, and Quarks in my digital wallets.