Recently there was a variety of opinions, estimates, and emotions around Micron (NASDAQ:MU), some driven by analysis, some driven by feelings, which has been tough to sort out for many investors and traders. I decided to share some of my intuition based on patterns of behavior of Micron options since 2011 to help create a more realistic picture and some structure in absorbing all Micron-related, as well as inspiration for thought and possible trading strategies. Please challenge anything you see here in thoughts and in your actions, and treat as a hypothesis that can be right or wrong. I ask everyone not to follow anything here blindly, and use great degree of independent research and own thoughts in making decisions, as well as adjusting for a broad market action. I welcome all respectful comments and corrections in this public forum, as that benefits us all.
Needed Background
Let's start with the past, pre-Elpida. Micron historically had a rather narrow product portfolio, mainly centering around memory products for PCs, which traded for many years as a commodity with inherent cyclical product and stock pricing that spiked periodically during memory shortage. Over time, especially in the past few years, the company has been very successful in building a diversified portfolio of products, capturing key trends around SSD and mobile, and focusing on high margin very lucrative high end industrial server and computing applications, including supercomputers. If you deal with consumer tech even little, anything that has to do with building systems of any kind, you know that Crucial branded products are some of the best out there, built thoughtfully, glitch free and with right support (something you cannot for example say about OCZ (NASDAQ:OCZ), which not surprisingly is failing and lately coming under bankruptcy). While R&D associated with keeping PC memory products competitive was tough enough, developing new product classes and portfolios to appeal to a number of niches is capital intensive, takes several years to develop, bring to market and attain share. So, from a variety of perspectives, Micron has been in the process of transitioning to a different approach, even a new business model altogether, diversifying product lines, streams of income, and presence in more markets, where they spent a considerable effort to develop understanding and relationships with each of the niches they served or wanted to serve.
The company seemed to be naturally wired more around R&D that was needed for survival, while struggling in sales and communicating value proposition to investors and customers alike. PR, marketing, selling, branding efforts and anything viral could have been done, done more, or more aggressively (think when was the last time you came across a Micron-branded ad or viral campaign versus others). Part of that comes from tight-lipped personalities of top leadership (again, mainly historically survival-oriented). Main trouble remained around price wars, which took its toll on market participants, and Micron leadership vision and communications lacked needed oomph, strategy, scale and resources, cooperating with Intel as a largest partner and several smaller ones within lesser scope.
Elpida acquisition, what it is bringing and its effect on evolution. The first key effect was a positive improvement in DRAM price dynamics (core Elpida's business), followed by improved avenues for sales and cooperation with Apple due to Elpida supplying components for Apple products. The partnership base, knowledge base and product development took a qualitative step up. Micron communications have improved in quality, frequency, and strategic vision and has been well defined and presented to investment and analytical communities through a series of well thought through organized interactions. There has been a number of analysts and traders unhappy over limited information details of acquisition. On my side I had a number of concerns as both Micron and Elpida came across very stretched financially pre-acquisition and the first risk hurdle was in succeeding in acquisition transaction and coming out in decent financial shape, but that actually worked out very well.
Integration so far on the surface has been coming along well. Key areas to pay attention here is full integration of every aspect needed for effective functioning in the long term, such as common platform of standardized research and development data, IT, product development, marketing, branding, dissemination of knowledge and experience from all factories and subdivisions across the globe, full scale data flow in real time readily accessible from anywhere. The perception here is that things are still done as "one off," and concern is that it may stay that way. Investment of resources needed for such infrastructure is substantial and will only bring full synergy results five years out or more, but much needed for efficiency and effective long-term development, so any long-term investor should pay attention to this.
Product and valuation pricing. Combined conglomerates have evolved qualitatively in every way, and trying to measure effects on its product pricing and resulting valuation by using information on DRAM, NAND or other spot pricing could have been a decent proxy a couple of years ago. Since then, it is really not the right way, even contract pricing is not the best proxy. The current pricing that Micron does - directly - differs materially from spot pricing and noticeably from contract pricing.
Product development. This is a rather exciting area, where R&D has been very solid and progress has been very good, especially lately. I am personally somewhat disappointed that transition to 20nm production process has not been faster, allowing capturing DRAM and other product sales more aggressively, but the quality of R&D, and how partnerships have been managed around it has been outstanding.
Market share. This has been Micron's weakness, inherent from prioritizing R&D, product development and future sales over hard sales today. Along with its peers for the last past quarter and upcoming quarter, Micron has been losing market share, usually somewhere around 2%, to Samsung (OTC:SSNLF, OTC:SSNGY). For example, in DRAM, Micron's largest revenue stream, its market share in 2Q13 was 28.1%, but in 3Q13 it is already 26.2%.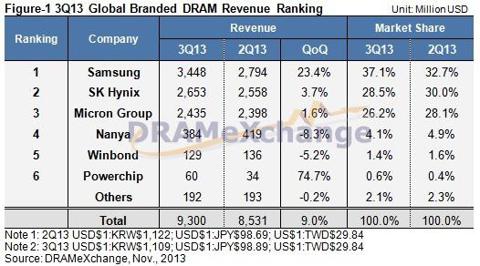 Is this bad or abnormal? For Micron - not really. From seeing first hand and participating in a number of acquisition scenarios, it is rather normal for a company integrating a new acquisition to be losing market share for 6 months or so, mainly to honing internal operational interactions. Second factor here is Samsung's better ability to crank out sales and production in 2Xnm format ahead of Micron. Key thing is to pay attention here how successful is Micron in bringing new products, technologies, partnerships to the market, monetizing developments and opportunities, as well as managing adoption and battling continued trend in losing market share. I would overlook January reporting, but would get progressively more concerned with each new quarter.
Now, let's talk more about valuation and trading / stock pricing patterns that may be fair or what we can expect in the coming year.
Coming Quarter
If you look carefully at Micron's reported and publicly disclosed information, in the August Summer Analyst Conference at NASDAQ in New York presentation they gave percentage comparison between revenue flow for Micron, Elpida, and combined company. Some financial modeling fairly quickly allows identifying that those numbers were based on the first nine months of 2013. Deriving missing figures for Micron and Elpida, estimating growth rates in each of the product lines, pricing dynamics based on inherent elasticity from supply/demand relations and pricing patterns, as well as trending for the past year with an emphasis on the last two quarters from Micron reports, we get to expect something like this for the first full Micron + Elpida revenue reporting:
| | | |
| --- | --- | --- |
| | First Quarter | Combined |
| | 2014 | |
| | $ | % of Net Sales |
| DRAM | $4,261 | 77% |
| NAND Flash | $1,033 | 19% |
| NOR Flash | $162 | 3% |
| Other | $56 | 1% |
| | 5,512 | 100% |
And assuming no further effects of dilution and expense structure consistent with latest reported information, we are looking at:
| | |
| --- | --- |
| Net income | $ 448.69 |
| Diluted Shares | 1,056.30 |
| EPS | $ 0.42 |
Interestingly enough, this is right in line with consensus.
My key concern with these numbers is that I suspect that new cost relationship to revenue is more likely skewed up than down in comparison to last reported capital structures and relationships (including what can be extrapolated for Elpida). So, I expect a decent quarter (not materially blowing things away against expectations, with likely diluted EPS between high 30s to mid-40s). I expect Micron leadership guidance to be mildly disappointing, which if delivered as usual will be again be biased to most current high-level numbers and very vague in terms of next waves of earnings. If so, this will create a picture contributing to lower valuation perception (e.g. around Micron opinions on contribution of their DRAM products and pricing in the coming year).
Coming year
This is where modeling becomes less precise for now, until we can see a few quarters. There has been a rather wide range of assumptions that I have seen, mainly around pricing increases and typically assuming increase in sold units along with it. This relationship is not accurate, as they do not move in the same direction. If we quantify an example based on 2013 quarterly numbers, for 10% overall improvement in pricing you could see an 8.2% improvement in sales, which will change (likely decreasing the last number) with inclusion of Elpida. There is also frequently an implied assumption of Micron increasing market share, which is flawed and not materializing so far. I do expect market share to drop for upcoming reporting quarter, as well as next.
Next, based on historical pricing dynamics we can arrive at upward but reversing pricing trend (for Micron products and stock) for the upcoming first third of the year, with the trend likely changing downward toward the summer - early fall, after demand for components for the spring line of PC, mobile and enterprise products is satisfied. I expect DRAM, NAND, and SSD production to come more in line with the demand, more from the side of Samsung and SK Hynix than Micron, which can start changing in the second half of 2014, and most likely in the last quarter.
Collectively quantitative and qualitative aspects of what is currently known point out to Micron's price valuation being fair in $17-23 range, with most fair around $19-21.
Now let's check that against multiples. If we look at SanDisk (SNDK) and Intel (NASDAQ:INTC), they traded roughly around 13x P/E, Micron around 9x, and industry average (which includes a whole population of companies with capital structure and operations materially different than Micron) around 6-7x.
Multiple estimates are tricky, because they tend to be more qualitative and based on individual perception. My line of thinking is that companies like Intel and SanDisk (though recently coming against upcoming revenue growth challenges as compared to prior years) from managerial standpoint work more like a clock than Micron. Micron is getting there, but not there yet. I agree with lines of reasoning that 9x for Micron is a little low, but I see that even 12x is a little too aggressive. We end up with multiple expansion toward 10-11x range, with my preference being closer to 10, mainly to Micron value propositions and key efforts and innovative product sales being a few years away from materializing, bringing inherent risks. Depending on how you slice the data, you again end up in the $17-23 range, with bias toward $19-21. If you are really aggressive and you estimate chances of success and adoption of future products to be very high (ahead of evidence in the market place), you could bet into mid and even high twenties, but realize that you are assuming risks that have not even been identified and understood yet, as well as ignoring risks and challenges of integration with scope, scale and efficiency that is needed to fully advance.
Stock trading
Last week. Earlier last week there has been a splash in pricing action on Monday that was attributed to positive release on DRAM pricing projected to be 12% in 2014. Realistically this is in line with what was expected in the analytical community, so this information has been baked into current valuations and does not nor should alter perceived value of the company or existing estimates for the coming quarter or year. Next, news of the Wuxi plant coming online ahead of what was widely seen as more realistic late spring-early summer schedule is a known risk that is also already accounted for in valuations. What we are seeing so far and through Wednesday are speculative reactions that mostly are in line with the broad market.
For Thursday and on, a number of patterns indicated a forming upward bias heading into the next week, which was softened by a broad market downward action and moderate selling. As the latter slowed down and reversed going into Friday and we saw an uptick in buying to cover option contracts late Thursday - early Friday, and saw Micron getting back into the $23 range.
December 16 - 30. As of 9/30 NASDAQ reporting top institutional investors collectively holding 50-55% of Micron shares increased their holdings by about 4.5%. Some trends, confirmed by a need to lock in profits before the calendar year end, as well as increasing profit taking bias appearing on exchanges suggest that the last two weeks will bring more selling and short bias that would bring Micron pricing into downward trend. If this materializes to full potential, the drop will be quick and less risk tolerant should exit shorts by about $20, more risk tolerant can try to ride further hoping to reach $18 or less.
2014-2015
Pre-announcement week. Expect choppy trading with an upward bias, likely in the $20-22 range earlier on and closer to $23-25 toward the end of the week.
January 7, quarterly results. I expect the earnings announcement to be mildly disappointing, less from the standpoint of last results and more of guidance. Lack of clarity about what to make of the upcoming quarters, year and development dynamics in the intermediate term will contribute to difficulties in accuracy of the projections and seeing how well things are staying on track for the investor and analytical communities.
Post reporting. If mild disappointment materializes, we can expect a small to moderate dip, which should rebound within a month - month and a half and generally we should have a mild upward bias into next quarter reporting. I am curious if around that time a number of factors that could contribute to more cyclical behavior would materialize - e.g. SK Hynix's (OTC:HXSCL) factory in Wuxi being fully up and running, SK Hynix outpacing Micron in sales, Micron further losing market share, DRAM pricing leveling off to start mildly declining, cyclical demand in the markets that Micron serves softening up in spring, etc. If they do materialize, we may see progressively softening Micron stock price action from spring onwards with possible consequent pricing trend reversal around September-October and upward trend into late 2014 - early 2015.
Hopefully, this review will help organize thinking around Micron, and let's see if what is thought of as likely and realistic here will materialize. Happy investment and trading to everyone!
Disclosure: I have no positions in any stocks mentioned, but may initiate a short position in MU over the next 72 hours. I wrote this article myself, and it expresses my own opinions. I am not receiving compensation for it (other than from Seeking Alpha). I have no business relationship with any company whose stock is mentioned in this article.