By David Russell
Patterson hasn't stopped rallying since March, and one big investor expects the trend to continue higher well into the future.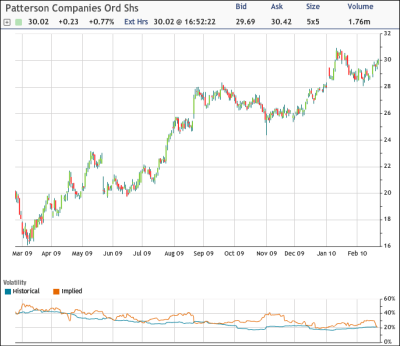 optionMONSTER's Heat Seeker tracking program detected the purchase of 2,775 January 2012 35 calls for $2.30 and the sale of 2,830 January 2012 25 puts for $2. The transaction pushed options volume in the dental- and veterinary-supply company to about 10 times greater than average.
PDCO rose 0.77 percent yesterday and is up 50 percent in the last year. The shares have been steadily pushing higher and are now consolidating above the $28 level that had presented resistance in September, suggesting that further gains are possible.
The company's earnings matched analysts' forecasts when it issued results last week despite revenue missing expectations.
Yesterday's options strategy, known as a bullish risk-reversal or "synthetic stock" trade, is designed to leverage further gains in PDCO over the next 22 months. By selling more puts than were sold, the investor reduced the net cost of the calls to $0.26 per contract.
The trade will emulate a long position in the stock, leveraging gains if PDCO closes above $35 on expiration and generating losses below $25.
(Chart courtesy of tradeMONSTER)