(Editors' Note: This article covers a stock trading at less than $1 per share and/or with less than a $100 million market cap. Please be aware of the risks associated with these stocks.)
Tiger Oil and Energy, Inc. (OTCPK:TGRO) is a name that I believe is currently the target of a penny-stock promotion scheme. It is my view that the stock's intrinsic value is somewhere near $0, and it is with conviction that I recommend that any investors currently in the name sell the entirety of their stakes immediately. Friday's drop could just be the beginning. I also believe that Tiger Oil and Energy, Inc. is a stock definitely worth shorting. My track record of identifying and publicly exposing such highly overvalued equities is excellent:
| | | | | |
| --- | --- | --- | --- | --- |
| Ticker | Date of Publication | Price at Publication | Following Low | Percent Drop |
| | | $1.00 | .90 (Got Halted by SEC a day after my report) | 10% (will reopen from halt down 60%+) |
| | | $2.60 | $1.52 | 42% (early in pump, will end up lower) |
| | | $1.43 | .05 (Got Halted by SEC a day after my report) | 96.5% |
| | | $1.17 | .43 | 63% (early in pump, will end up lower) |
| | | $1.31 | .60 | 54% |
| | | $1.84 | $0.21 | 89% |
| | | $0.27 | $0.0027 | 99% |
| | | $1.42 | $0.15 (did hit $25 in an incredible short squeeze) | 89% |
| | | .33 | .01 | 97% |
Company Background
Tiger Oil and Energy is a diversified oil exploration company expanding its portfolio of projects with value added acquisitions and participations. TGRO previously closed an exchange agreement with Jett Rink Oil, LLC, wherein the Company acquired 100% of Jett Rink Oil, LLC. With this purchase, the Company acquired interests in two oil and gas leases located in Creek County, Oklahoma, together with all equipment located thereon.
Little Revenue. Debts. No Business. Bright Future?
As is usually the case with these types of hyped up scams, it takes only one quick glance at the balance sheet to realize that the $75M market capitalization that this equity commands is beyond ludicrous. With $1727 in total current assets and $117,422 in current liabilities in recent quarter is clear they are not going in the right direction. I find it difficult to believe that the company can make any moves in the right direction to eventually drill in any of their properties. They really can't and its my suspicion that the purpose of this company is not to succeed but to sell stock. The recent volume is due to overly bullish promotional mailers.
Interesting Findings in Tiger Oil and Energy Filings
Going through the SEC filings I came across some very familiar names. Tiger Oil and Energy Inc has the very same exact insiders as Northumberland Resources Inc, and National Graphite Corp. These two stocks ending up getting a stock promotion campaign and are both down huge since their promotional high. You can read more about these connections in this great research report here.
Insiders TGRO

Most companies that end up being promoted usually tend to have little to no trading history. Tiger Oil and Energy, Inc.is the same. Those insiders cannot turn their shares into cash unless there are buyers. This is where they turn to stock promoters. Stock promoters get paid to send out overly bullish professional type mailers/emails to retail investors to lure them in. Let me show you what I mean:
Picture of TGRO chart
You can see that trading in Tiger Oil and Energy, Inc. started seeing really big volume on December 9, 2013. I first received an email from Stocktips.com on December 8, 2013 at night. The emails linked to a landing page with a bullish video of Tiger Oil and Energy, Inc. Email campaign had a disclosed budget of 2,500,000? Coincidence with the time of email campaign and volume in Tiger Oil and Energy? Absolutely not.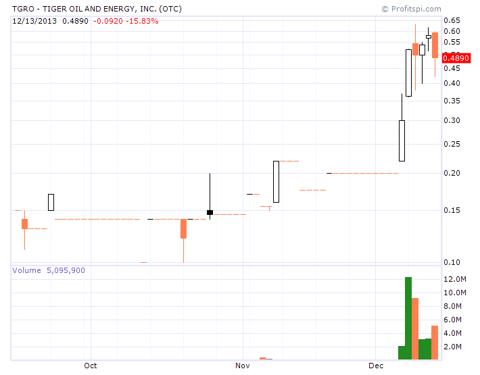 Email Campaign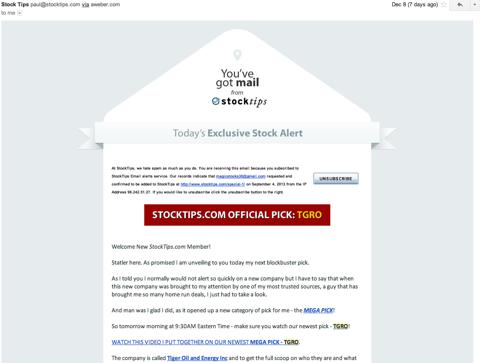 Disclaimer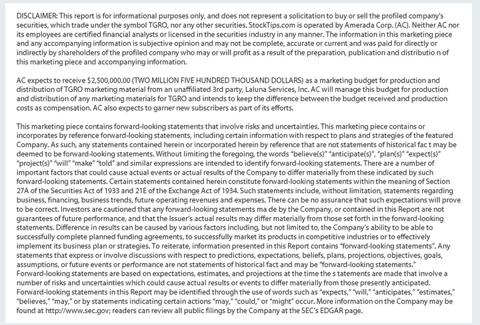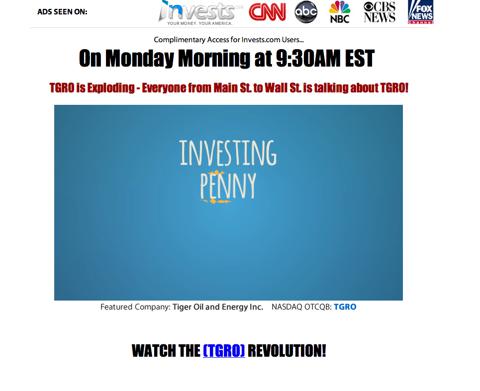 Landing Page to Promotional Page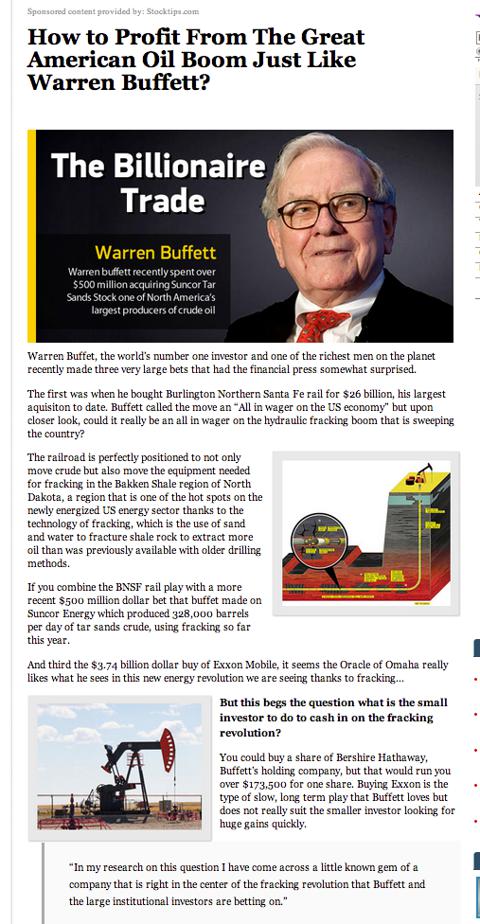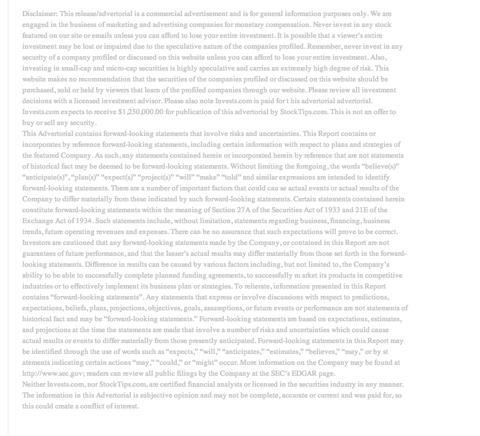 "Please also note Invests.com is paid for this advertorial. Invests.com expects to receive $1,250,000.00 for publication of this advertorial by StockTips.com. This is not an offer to buy or sell any security."
You can see obviously someone is interested in increasing public awareness for Tiger Oil and Energy, Inc. Most like those insiders who have cashed in on multiple promotions in the past. Why else would someone spend $2,500,000 to increase public awareness? It is worth it to them because if they can bring in buyers and liquidate their shares around these prices that can mean millions in profits! Running pump and dump schemes is a lucrative business and that is why we see it way to often. My job is to wake you up.
StockTip Promotion History
Websites
This stock promotion group tend to couple their email promotion with a nicely done promotional video.
Amarium Technologies Inc. (OTCPK:AMMG)
Disclosed Budget: 20,000
Shares Outstanding: 31,173,661
Promotion High: $.59
Market Capitalization at High: $18,392,459
Percent Drop: 77%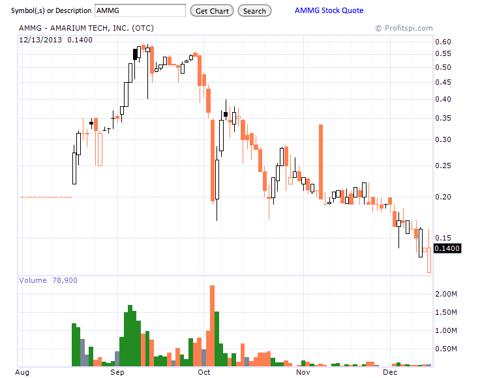 Disclosed Budget: $1,100,000
Shares Outstanding: 155,550,000
Promotion High: $.96
Market Capitalization at High: $149,328,000
Percent Drop: 75%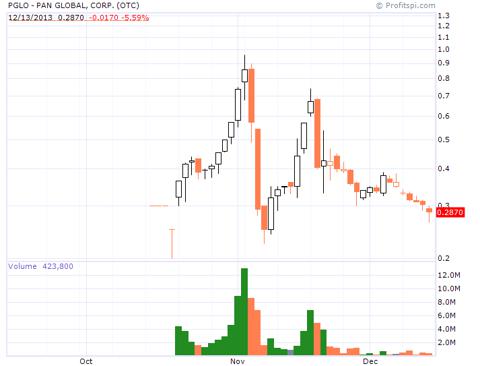 Recent SEC Halts
The SEC is finally cracking down on pump and dumps lately. Here is a list of big stock promotions that have been halted recently. I believe Tiger Oil and Energy, Inc. has a chance to be next. Stocks that get halted tend to reopen 2 weeks later down 70%+. My latest report on Makism 3D Corp was halted the next day after my report was published. The same thing happened with my Life Stem Genetics Inc report.
Makism 3D Corp. (OTCQB:)halted December 6, 2013.
Guar Global Ltd.(GM:OTC:GGBL) halted December 6, 2013.
Neveda Gold Corp (GM:OTC:NVGC) halted November 27, 2013
Life Stem Genetics Inc (GM:) halted November 25, 2013
Sovereign Lithium (GM:OTC:SLCO) halted November 15, 2013
My Recommendation
If you own shares of this company, get out now. Do not hope that you can hang on to sell them to a greater fool. These shares are worthless. I have showed you that the reason for the promotional mailers indicates that the individuals behind this stock scam are trying desperately to unload their worthless shares onto the unsuspecting public and book a huge profit before the inevitable collapse. If you are a more sophisticated investor and can get a borrow on these shares, then I believe that shorting this name will be highly lucrative for you. In this stage of the promotion with the stock halt risk it is not worth staying long overnight to make .05-.10 more in gains when there is a risk of 70% in losses.
I contacted the company with my concerns, and I am waiting to hear back.
Disclosure: I am short OTCPK:TGRO. I wrote this article myself, and it expresses my own opinions. I am not receiving compensation for it (other than from Seeking Alpha). I have no business relationship with any company whose stock is mentioned in this article.