Oil and gas company stocks, usually S&P favorites, Exxon Mobil (NYSE:XOM) and Chevron (NYSE:CVX), are found in most highly rated mutual funds, university endowments, and state retirement plans. The perception about the oil and gas industry has been stability, exceptionally high earnings and dependable performance. This is partly due to the fact that oil and gas literally powers the world. This Halloween, when Exxon Mobil announced an 18% drop in profit due partly to unimpressive refining margins, the stock price actually went up because earnings were slightly higher than analyst forecasts. Curiously share price has increased over 7% in the weeks since the announced earnings. In what other industry can you earn less revenue and have your stock price increase?
The oil and gas industry is a study in contrasts: highly volatile yet highly stable, deeply regulated yet deeply guarded, phenomenal revenues and falling margins. It is an industry that encapsulates risk and reward perfectly. Not only are finding, extracting, and refining oil dangerous endeavors: the price of a barrel of oil is tipped one direction or another by geography, politics, and infrastructure. A December 2012 presentation by Norway-based Statoil ASA (STO) on trends in the oil and gas industry ends with the words: "Prepare for turbulence!"
It is precisely because of this complexity that the investorMetrix team decided to analyze the oil and gas industry using FiRM (Financial, Resources, Market) analysis. Ranking companies using FiRM analysis connects resource management with financial performance, which then results in better market performance.
Do future prospects look as stable and profitable for the oil and gas industry? How well are oil and gas companies managing their resources in a dynamic and turbulent environment? Which companies are innovating strategies that will ensure they stay competitive in the face of growing competition, regulation and shareholder pressure? Our analysis revealed that the oil and gas industry may not continue to benefit solely from analysts who forecast lower earnings.
Industry Overview
The oil and gas industry has over 250 companies and within this universe there is a lot of crossover in terms of actual business lines. Instead of trying to force a comparable analysis across all companies we split the analysis into three distinct areas, which we will explore over three articles. This three-part series will focus on the largest 50 vertically integrated global oil and gas companies with revenues over $1B. The series will be divided into the following three parts:
PART I: Top 10 oil and gas companies ranked using FiRM analysis
PARI II: Top 10 oil and gas companies successfully addressing issues discussed in Part I
PART III: Top 10 oil and gas industry Service Providers ranked using FiRM analysis
For Part I of the series, we analyzed 50 oil and gas companies with revenues over $1B and a minimum of 10 years of operation. These companies explore, extract, refine and produce oil and gas globally. A snapshot of performance from 2011 to 2012 was not enough to illustrate the movement of the industry, so we expanded our research to include data from 2009. The chart below shows that even though revenue for these 50 companies has increased 60% since 2009, net income has only increased by 42%, due mostly to a 72% increase in the Cost of Goods Sold (COGS). Net margins have dropped from 6.13% to 5.45% and capital expenditures have grown over 40% since 2009. Capital spending included investments in acquisitions, exploration and infrastructure.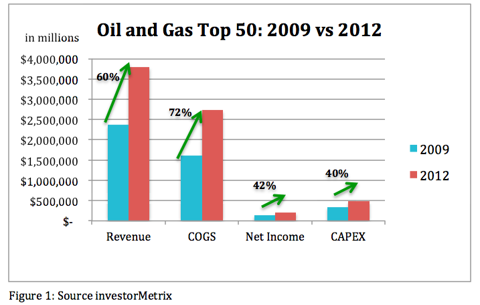 Ranking the 50 companies using the FiRM (Financial, Resources, Market) analysis revealed some major separations between companies. The average scores for each ranking category were pushed up or dragged down by exceptional performance by some companies in a category and dismal performance by other companies in that same category. When financial, resource and market performance were totaled for each company, 7 companies barely earned above average scores and 43 companies earned average or below average scores. The investorMetrix team was surprised by this outcome and actually repeated the analysis to ensure the results were accurate.
There was a sharp increase in capital expenditures from 2009 to 2012, but these totals were usually quite low in proportion to earned revenues for the largest companies. In fact, some of the larger companies are currently being pressured to increase share buybacks and raise dividends, resulting in 2014 capital dollars being diverted away from innovation and exploration and into the pockets of shareholders.
We anticipate that five key trends will shape the oil and gas industry over the next decade. Each of these issues is cause for concern; however, the overlap of these issues is causing ripples of concern by industry professionals and government bodies alike. We will delve deeper into each of these five trends in Part II and highlight the companies that are successfully navigating these trends.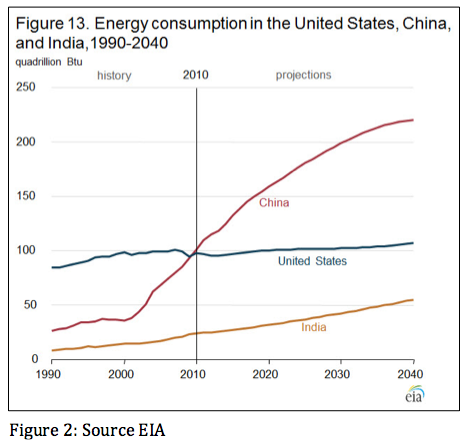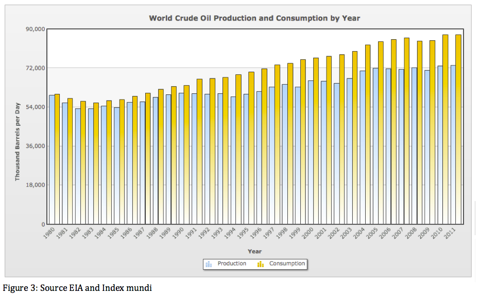 The ability of the oil and gas companies to get their product to market in a cost effective way is becoming highly challenging. According to a 2013 report published by Russian oil and gas giant, Lukoil (OTCPK:LUKOY), the cost for exploration, development and production has more than tripled since the early 2000s. This is causing companies to seek out unconventional reserves and explore areas once deemed too risky or costly.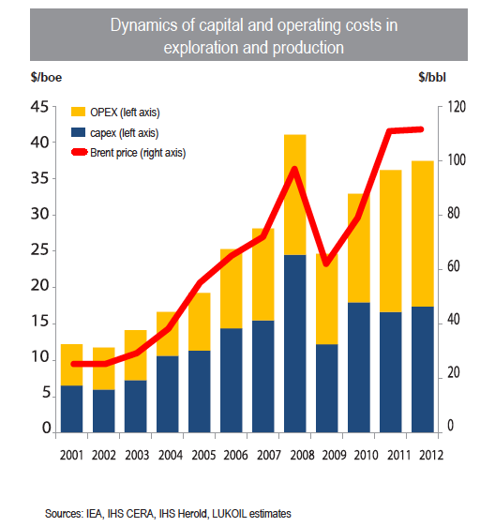 Financial performance of individual companies is intertwined with their resource management practices. In coming years, industry performance will be crimped by stricter environmental regulation and higher extraction costs. In their 2013 report, "U.S. Energy Sector Vulnerabilities to Climate Change and Extreme Weather", the Department of Energy detailed the vulnerabilities of the U.S. energy sector to issues resulting from extreme weather, increasing temperatures and water shortages.
The ten companies with the best performance (in order of ranking) across all three criteria are: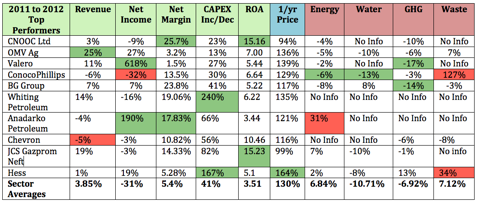 The average or below average scores of the majority of the 50 companies analyzed can be correlated to the fact that each of the companies excelled in some areas and did poorly in others, leveling out both the highs and lows. Beijing-based CNOOC (NYSE:CEO) came in at the top due to solid financial, operational and resource efficiencies, but less than stellar market performance. Austrian company, OMV Ag (OTCPK:OMVKY), grew revenue by 25% from 2011 and realized excellent resource management, but had lower margins than the sector average. ConocoPhillips (NYSE:COP) has solid financial ratios and increased resource efficiency, but revenue fell by 6% from 2011. Making buying decisions using only one of the ranking criteria; financial, resource, or market performance, gives too little information to determine the actual health, stability and future prospects for any company in the oil and gas industry.
Financial Performance:
Fully 38 of the 50 companies analyzed reported decreased net income from 2011 to 2012, dropping an average of 31% for the group as a whole. The company with the top overall financial performance on the top 10 list was OMV Ag, whose revenue increased 25% in 2012 from 2011 and 138% from 2009. Russian oil giant, JSC Gazprom Neft (OTCQX:GZPFY) also had strong growth, with 19% revenue increase from 2011, but only 53% increase from 2009. Revenue fell for three of the top ten companies, but was generally accompanied by strong margins. Valero (NYSE:VLO) realized a whopping 618% net income increase over 2011, following by Anadarko Petroleum (NYSE:APC), whose net income grew by a stellar 190%. Chevron was the only company on the top ten list that saw both revenue and net income fall from 2011 to 2012.
As previously noted, capital expenditures (MUTF:CAPEX) are another area worth noting in the oil and gas industry, not only for the staggering increase in spending to find and extract new sources of oil and gas, but for the efficiency of that capital expenditure deployment. Much has been written about the increased cost of sourcing and extracting oil and gas, in spite of the renaissance of both of these industries in the United States. The increased use of technology for extraction and production and the aging out of industry personnel will also require deeper investments by oil and gas companies. As a whole, the 50 companies analyzed averaged a 41% increase in capital expenditures from 2009 to 2012.
As expected, the biggest oil and gas companies dedicated the most actual dollars to exploration and development and acquisition, yet these totals represent a very small percentage of their actual revenue. On the top ten list, Whiting Petroleum (NYSE:WLL), showed the greatest increase in CAPEX in proportion to revenue, at just under $1.8B. While this pales in comparison to the CAPEX spending of industry giant Chevron, who spent nearly $31B, Whiting Petroleum's investment equals 82% of their annual revenue compared to Chevron's 13% revenue comparison. With exploration and extraction costs on a steady upward trajectory, capital funding is more important than ever and should be a high priority for companies in the industry.
Resource Performance:
In our analysis of the resource efficiency of the 50 oil and gas companies we focused on what we call the Big Four: energy use, water use, carbon emissions, and waste creation. Resource efficiency in the industry is a complex, yet vital topic area as the extraction of fossil fuels is highly polluting, requires vast amounts of water and results in large volumes of hazardous waste, generally in the form of water. Oil and gas companies serve a very significant contribution to economic growth and high standards of living, making their continued stability a necessity. Unfortunately, growing issues resulting from climate change, water scarcity and oil spills have created yet another wave of turbulence for the oil and gas industry. Tightening regulations for greenhouse gas emissions are causing many oil and gas companies to include carbon cost planning as a strategic requirement.
Curiously, for all of the press on these environmental issues, 15 of the 50 companies did not report any of their resource use and another 14 companies offered reporting in only one or two of the four areas analyzed, usually greenhouse gas emissions and water use. Only 11 companies reported resource use across all four categories. For the companies that did report, water use fell an average of 11% and carbon emissions dropped an average of 7%. Only two companies reported resource reductions across multiple categories. London based BG Group (OTCQX:BRGYY) reduced energy use, carbon emissions, and waste, and OMV Ag reduced energy and water use and lowered carbon emissions.
Resource issues, such as greenhouse gas emissions and water use, will become more commonplace as global economies continue to expand. Only 3% of the water on the planet is available for all of the uses humanity requires. When oil and gas companies begin competing for water with municipalities and agricultural entities, the price could skyrocket.
Market Performance:
Stock prices for companies in the oil and gas industry are up, but on the whole, are on a downward trend. From the 130% average stock price increase from 2009, the industry averaged only a 117% increase from 2011 to 2012. Six-month price trends show this average dropping even further to 109%. Much of the market performance of the global oil and gas industry has been due to its sheer size and power. Market performance is directly connected to financial performance, which is linked to resource and operational performance. With financial indicators landing all over the map and resource issues becoming more pronounced, the stability investors have come to expect in the oil and gas industry could be replaced by ever increasing volatility.
Solid market performance was seen with Whiting Petroleum, whose stock price increased 195% from 2009 and 135% from 2012 and Valero, whose value increased 277% from 2009 and 139% from 2012. Hess (NYSE:HES) also showed strong market performance, rising 145% from 2009 and 164% from 2012.
Buy, Sell or Hold?
It is tempting to assume that because the oil and gas industry has been a steady financial and market performer that it will always be a steady financial and market performer. Investors should monitor five key trends that are changing the fortunes of this mighty industry. The companies that made the top 10 list represent the highest ranking companies, but industry volatility may not guarantee an increased stock price from lower earnings.
First, recall that globally demand is outpacing supply. Pay attention to how the oil and gas companies in your portfolio discuss their levels of refinement and production as well as preservation and extraction of their reserves.
Second, keep an eye on how oil and gas companies are integrating technology and cyber security into their operational systems. Protecting themselves against growing security threats will mean fewer disruptions or loss of product. Pay attention to disclosures related to security and plans to circumvent attacks.
Third, the attraction of younger, highly skilled talent to the oil and gas industry is essential, especially workers who excel at newer technology based extraction and refining methods. Companies should be talking about recruitment, professional development and succession planning for engineers and technical staff that are due to retire in a few years.
Fourth, understand how companies are preparing issues related to climate change including water availability and extreme weather events in the global regions where they operate. As global demand for oil and gas increases, these issues will become even more pressing.
Finally, many of the reserves on an oil and gas company's balance sheet will be very challenging and costly to extract and will be subject to increasingly tighter carbon regulations, making some of them too costly to pursue. Pay attention to CAPEX and reserves discussions in reporting.
In Part II, we will analyze these five trends in more detail. We will also discuss the companies in the top 50 list that are successfully addressing these trends through strategic initiatives and operational improvements.
Disclosure: I have no positions in any stocks mentioned, and no plans to initiate any positions within the next 72 hours. I wrote this article myself, and it expresses my own opinions. I am not receiving compensation for it. I have no business relationship with any company whose stock is mentioned in this article.