Tim Steinle is co-manager of the U.S. Global Investors Eastern European Fund (EUROX), a mutual fund focused on dynamic companies in Russia, the Czech Republic, Hungary, Poland and other countries of the Eastern European region. The fund has $465 million in assets under management.
We recently had the opportunity to ask Steinle about his single highest conviction holding that is listed in the U.S. and therefore broadly accessible to U.S. investors.
Seeking Alpha: Tim, what is your highest conviction stock position?
We continue to have a long position in Mechel (NYSE:MTL), a Russian metals and mining company. It is our highest conviction among U.S.-listed stocks from Eastern Europe; others are locally listed or trade in London.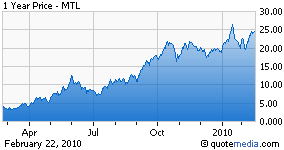 Mechel is the largest miner of coking coal in Russia and one of the top-five largest coal miners worldwide. Mechel's steel segment is one of two leading manufacturers of long steel products in Russia.
Can you talk a bit about the industry and how Mechel is positioned within the industry?
Global supply of coking coal has become increasingly tight. Producers have lowered their capital expenditures due to the credit crisis and that's preventing them from meaningfully ramping up production to meet rising Chinese demand due to the incredible construction and infrastructure expansion that's going on there. ThyssenKrupp (OTCPK:TYEKF) is an example of this - they have been unable to restart steel production in Germany due to lack of coking coal supply.
Mechel is one of the lowest cost coking coal producers in the world and is positioned well strategically to expand coal exports to fast-growing Asian markets. The company is vertically integrated, which makes it self sufficient in some key raw materials.
How does Mechel's valuation compare to competitors?
Mechel is currently trading at 5.6 times 2011 EV/EBITDA (the ratio of enterprise value to earnings before tax, depreciation and amortization) compared to the multiple of 7 it traded at before the crisis came about. The 2010 price-to-earnings ratio is about 14.4 times, which is in line with most emerging markets.
More importantly, that represents a 50 percent discount to the company's developed market peers.
What is the current sentiment on the stock - and how does your view differ from the consensus?
Investor sentiment on the stock was soured after a fallout with Prime Minister Putin over pricing in the summer of 2008. Since then, the company's been able to build a better rapport with the government and secured state-backed financing—a sign management has been able to mend some fences with the government.
Anyone who believes the China growth story will have to appreciate the huge potential Mechel and other Russian metals and mining companies have because of demand from China.
How important is Mechel's management in your position?
After a brief period of low visibility by Mechel's management, the company is engaging investors again. I recently met with the company's CFO, Stanislav Ploshenko, in Moscow and we had a very open discussion.
In addition, being listed on the NYSE means that the company is subject to a higher standard of financial disclosure than some of the companies listed locally only. That's also important to us.
What catalysts do you see that could move Mechel stock?
We've seen coking coal prices strengthen and a continuation of that could really be a near-term catalyst for the company. Looking further out, development of the Elga deposit in the Far East will add additional high-quality coking coal production with relatively easy access to key export markets. Domestically in Russia, a huge need for infrastructure development and reconstruction would boost long term demand.
What could go wrong with this stock pick?
There are a couple of key concerns that could arise. Mechel is one of the most volatile Russian ADRs because of the stock's sensitivity to coking coal prices. It's also highly leveraged with a net debt-to-equity ratio in excess of 100 percent. The company's Elga operations are based on a "use or lose" license and they must spend over $1 billion to build a railroad to move coal from the mine.
Thank you very much, Tim.
My pleasure.
Disclosure: The Eastern European Fund owned shares of Mechel as of 12/31/2009.
Read more High Conviction Picks »
If you are a fund manager and interested in doing an interview with us on your highest conviction stock holding, please email Rebecca Barnett.