KFRC - Bridges Still To Cross
This morning saw a pop up in Kforc (NASDAQ:KFRC) due to a positive research report from Credit Suisse. The investment bank had dropped coverage in April due to a departing analyst, but re-initiated coverage with an outperform and price target of $25.
Among other notable events, the Directors had approved a $0.10 cash dividend in December. This article will focus on the financial attractiveness of KFRC using financial and non-financial indicators.
Industry
Credit Suisse has released a research report from the analysts, presumably the new analysts who have reinstated coverage on KFRC, stating that the industry is facing the good fortune of a positive staffing super-cycle, suggesting growth prospects from a structurally changed labor force (a "secular shift" towards temporary labor) and room to grow above estimates ("cyclical juice remains").
As an investor and former IT services executive, I am inclined to support this relatively rosy view, and have seen first-hand that the market for temporary labor continues to show good promise and to have strong baseline demand. And while the company may show growth prospects in the near future, there are a few hurdles yet to cross before this investment will be attractive to a long-term investor.
Company Price Performance
KForce shares can exhibit a fair amount of volatility and they are currently trading near 5-year highs: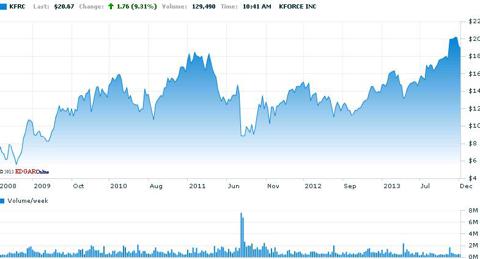 Source - NASDAQ
The Company has approved a share buy-back program, and has implemented about $26 million of repurchases up until its quarterly report, with the funding for these repurchases provided by increasing the debt load of the company. The combination of repurchases and a dividend are indicators of the board's positive confidence in the company's prospects. However, the following hurdles require additional support.
Moderate EBITDA %
The company recognized 4.8% EBITDA % of Sales, which is in the expected range for a staffing services company. If we use a simplistic ratio of 8X EBITDA for valuation check, the 2012 reported values suggest a valuation of +/- $413 million, whereas the market capitalization was about $690 million. Under this simplistic yard-stick, the company seems overvalued at current prices, but it is still within the range of reasonableness, subject to the company's ability to continue to grow and deliver EBITDA over the medium term.
Goodwill Overhang
Last year, the company wrote off $69 million in goodwill, leaving the balance sheet with an additional $63 million. In an IT services company, the goodwill usually represents over-payments for companies that were purchased in the past, and I personally discount them completely in my investment analysis. As a result, I believe that 17% of the balance sheet is non-productive and represents little or no tangible value for shareholders. The expense associated with this write-down will generate a tax benefit and will not impact free cash flow from operations, but it will diminish the reported EPS.
In the company's December 4 press release, there was an indication (in my opinion) that further write-downs can be expected in this year.
"As a result of an extensive review of our Kforce Government Solutions (KGS) business, we have decided to more specifically focus our investment on the solutions aspects of this business. We believe that this area offers the greatest opportunity to capitalize on our core competencies. As a result, we will be evaluating the carrying values of this unit's assets and goodwill during the fourth quarter of 2013. Further refining KGS is a logical step for us as we continue to narrow our focus, streamline our business mix and concentrate our resources on our best opportunities for growth."
Given the key words of streamlining and evaluating the carrying values, one could reasonably forecast that the FY 2013 net income will have another hit to goodwill.
Accounts Receivable Management
The company has demonstrated only modest cash flow generation in the first three quarters, presumably due to the growth in Accounts Receivable. A/R increased from $152 to $182 million (year-over-year), a 20% increase, whereas sales only increased 4%. Increasing A/R in a services business can be considered inefficient management of working capital, and in some cases, can indicate that client satisfaction levels are decreasing. In my opinion, firms that show such dramatic shifts in the A/R balance have moved their attention elsewhere in the business, and have stopped staying close to the client and client collections. The MDMA was opaque on the underlying reasons for this change in collections history. Future reports should be scrutinized for explanations and trends.
We're All Vested and the Rabbi Trust
The most recent 10-K reports that due to the sale of a business unit - KForce Clinical Research or "KCR" - the company's compensation plan was altered:
In connection with the disposition of … the Board exercised its discretion, as permitted within the Kforce Inc. 2006 Stock Incentive Plan, to accelerate the vesting for tax planning purposes of substantially all of the outstanding and unvested RS, PARS and alternative long-term incentive awards ("ALTI") effective March 31, 2012. Kforce recognized a tax benefit from the acceleration of the vesting of RS, PARS and ALTI. The acceleration resulted in the recognition of previously unrecognized compensation expense during the quarter ended March 31, 2012 of $31,297, which includes $784 of payroll taxes. This expense has been classified in selling, general and administrative expenses in the accompanying unaudited condensed consolidated statements of operations and comprehensive income (loss).
The acceleration of Long Term incentives for a services company can have an impact on employee morale, and may result in increased departures of valuable senior staff who feel they have reaped all of their non-salary value. The threat of departure of these employees may be stemmed with promises of additional compensation or long-term incentives, which can serve to reduce gross margins. While details of the above personnel risk have not been provided, the immediate acceleration of the plans should cause the investor to pause and investigate the underlying trend further, especially when coupled with the unexplained increase in Accounts Receivable.
The company maintains about $20 million of assets in a Rabbi Trust, which presumably is a form of deferred compensation for the executives, and these assets become payable in the year that the executives depart. Accordingly, approximately 5.5% of the Assets are not available to be considered as shareholder assets, and the long-term liability has been appropriately recorded.
"In March 2012, Kforce surrendered certain of its Company-owned life insurance policies within its deferred compensation plan having a cash surrender value of approximately $8,037. The proceeds associated with the surrendered policies were kept within the trust and reinvested in bond mutual funds within the Rabbi Trust along with the cash surrender value of the Company-owned life insurance policies."
Given the dismal performance of bond funds since the above transaction took place, one should evaluate the implications of market value losses on the assets and liabilities discussed above. Specifically, one should investigate who is on the hook for the losses - is it the executives that benefit from the trust, or the company?
Capital Expenditures
The company reported $6 million of capital expenditures, up from $4.5 million in the prior period. There is scant mention of the use of these proceeds, other than to identify that the amounts exclude "equipment acquired under capital leases." It should be noted that the fixed assets balance increased from $34.9 million to $36.5 million, and depreciation expense for the period was $7.4 million. With a simple calculation, one should expect the fixed assets balance to have decreased to $33.5 million. The discrepancy should be monitored in the future.
In a services business, one should be on the alert for capitalization of internal projects, as these can be sources of future write-downs in the event that the forecast ROI does not materialize. In the case of KForce, the balance sheet at 12-31-2012 contained $6.7 million of capitalized software. Investors should review this balance periodically.
Non-Financial Matters
It is commonly understood that a services business is a people business, and there should be a focus on the leadership team and their performance over time. In the case of KForce, and as described in their website, the CEO has "been associated with Kforce for most of his professional career and has been at the helm of the Firm for more than 30 years". Mr. Dunkel is turning 60 years of age soon, and the company has not announced a CEO succession plan, although a new president was appointed in October 2012. In addition to a poorly defined succession plan, a red-flag for a company that has been run by a single CEO for such a long period of time, it has been reported in the local Tampa press that Mr. Dunkel is currently undergoing a nasty divorce, marred by nasty allegations from his former spouse:
Estranged wife of Kforce CEO David Dunkel, alleges he used Holland & Knight and five of its lawyers in a conspiracy to fraudulently transfer thousands of Kforce stock shares to diminish her portion of the marital estate. It also alleges David Dunkel subjected her to spiritual abuse directed by his "discipler" to gain financial control.
This analyst does not claim to have any view on the veracity of the above allegations, but only wishes to point out that such events can result in the distraction of the employee from company matters, which can have a damaging effect on the share price performance.
Conclusions
KForce has a long track record as a moderately successful staffing company, with an EBITDA % of sales that isn't demonstrative of high-value add, but which should be able to sustain dividend returns and interest payments. The recently released analyst coverage should support the share price in the short term, as will the debt-financed share buy-backs.
While the company seems to be positioned to participate in the ongoing growth in the services sector, there are other companies in the segment that show greater diversification with lower systemic risk, including Manpower (NYSE:MAN) and Kelly Services (NASDAQ:KELYA).
Nonetheless, the short-term outlook for KFRC is positive. In addition, one should not rule out the chance that the company could be purchased by a firm such as Manpower, as this would provide a net benefit for both the KForce and the Manpower shareholders and a succession plan for an entrenched KForce CEO who is approaching retirement age.
Disclosure: I have no positions in any stocks mentioned, and no plans to initiate any positions within the next 72 hours. I wrote this article myself, and it expresses my own opinions. I am not receiving compensation for it (other than from Seeking Alpha). I have no business relationship with any company whose stock is mentioned in this article.