By Bryan McCormick
US stock index futures are down moderately after a mostly negative session in Asia and a weak showing in the eurozone and UK markets. One cause for the weakness in Europe is a key business sentiment survey, The Ifo, which came in lower than expected.
Results were also skewed by the coldest winter in Europe in more than 14 years, hurting construction and retail markets. Additional trouble spots emerged in consumer data, as spending in France fell by the most in two years, and Italian consumer confidence fell to its lowest level since July 2009.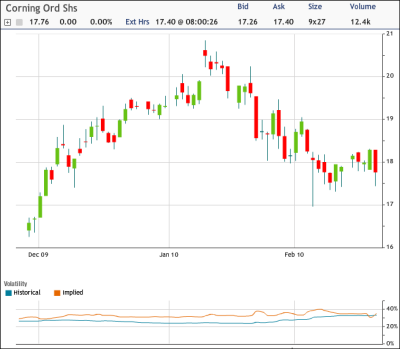 (Click to enlarge)
In aggregate, these factors appear to suggest that the nascent recovery in the eurozone is stalling. The euro, which was strong against the dollar early in the day, subsequently dropped.
Also, with the US Dollar Index higher, commodity prices have come down from their recent sharp highs. This in turn has put pressure on commodity-dependent stocks, such as metals and miners.
Sell-side research analysts have, so far, been relatively quiet today. Once again, the number of downgrades have tended to outweigh the reported upgrades.
Upgrades: Barclays lowered their Discovery Communications' (NASDAQ:DISCA) rating to "equal weight." UBS downgraded Mirant (MIR) to "sell." Jefferies cut Brocade Communications (NASDAQ:BRCD) to "hold." Oppenheimer downgraded Corning (NYSE:GLW) to "perform." Deutsche Bank downgraded Campbell Soup (NYSE:CPB) to "hold." Macquarie lowered H&R Block (NYSE:HRB) to "neutral."
In S&P 500 (NYSEARCA:SPY) earnings, the following companies will report tomorrow: TJX (NYSE:TJX), J.M. Smucker (NYSE:SJM), American Tower (NYSE:AMT), Salesforce.com (NYSE:CRM), Limited Brands (LTD), Express Scripts (NASDAQ:ESRX), Flowserve (NYSE:FLS), Nicor (NYSE:GAS), R.R. Donnelley (NASDAQ:RRD), Health Care REIT (NYSE:HCN), Northeast Utilities System (NU), Frontier Communications (NYSE:FTR), and the Washington Post (WPO).

Disclosure: No positions