On Sept. 5, I wrote an article on Brigus Gold (BRD) which attempted to make the case that shares of Brigus were undervalued compared to peers and presented a strong buying opportunity. I argued that the difference between Brigus and its junior mining peers is the profitability of the Black Fox mine at current gold prices and the potential which the deposit holds, plus the very exciting Grey Fox developmental project.
Also in the article, I suggested that Brigus could be a prime takeover candidate for a more established gold producer. Later on, more outstanding drill results were reported at both Black Fox and Grey Fox. For these reasons, I listed Brigus as one of my top picks in the junior mining sector.
I also happen to be a former shareholder of a Mexico-based gold miner, Primero Mining (NYSE:PPP) and had intentions of buying back into the company in 2014. I had mentioned in the comment sections on Seeking Alpha a few times that I thought Primero should buy out Brigus with the Primero CEO's desire to grow the company into a 400,000+ ounce gold producer.
Primero Mining to Acquire Brigus Gold
On Monday, Dec. 16, Primero announced that they have entered into an agreement where Primero will acquire Brigus to "create a diversified, Americas based mid-tier gold producer."
The details of the proposed transaction are as follows:
- Primero will acquire Brigus for .175 per Primero common share, valuing Brigus at $.91 a share. This value implies a 43 percent premium to the current share price of Brigus.
- Brigus will now be a wholly-owned subsidiary of Primero and existing Primero shareholders and Brigus shareholders will own 73.4 percent and 26.6 percent, respectively, of the Primero common shares on a fully-diluted basis.
- The value of the transaction is $220 million.
- In addition, Brigus shareholders will receive .10 of a common share for each Brigus common share, in a newly incorporated company which will contain Brigus' Goldfields project in Canada and the Ixhuatan and Huizopa projects in Mexico. The "SpinCo" will be capitalized with approx. $10 million cash.
- The transaction requires approval of at least 66 2/3 percent of the votes cast by Brigus shareholders at a special meeting. The issuance of Primero common shares in connection with the proposed transaction will require the approval of a majority of the shareholders of Primero voting at a special meetingGoldcorp Inc., which holds approximately 27% of the outstanding Primero common shares, has agreed to vote in favour of the proposed transaction.
Is This a Good Deal for Brigus and/or Primero?
In my opinion, this is an outstanding deal for Brigus shareholders but also a good deal for Primero shareholders.
- For Brigus, shares are getting bought at a significant premium to the current share price.
- Primero is run by a first-rate management team with extensive experience in the mining industry, led by CEO Joe Conway. Conway is the former President and CEO of IAMGOLD, growing it from a $50 million joint venture company into a $6 billion gold producer.
- This allows Primero to come in and explore/further develop the Black Fox Grey Fox deposit. While Brigus has been actively exploring, I feel it is very beneficial to have a partner with deeper pockets come in and speed things up. Primero also has experience with underground mines (San Dimas), so it is great to have their experience.
- This also allows Primero to diversify its operations into Canada. Keep in mind the significant mining tax reforms in Mexico - a new 7.5 percent mining royalty tax was recently approved by Mexico's lower house of congress. The royalty is on EBITDA.
- The resulting company will make a very compelling investment in my view. The company will have two producing gold mines with 250,000 to 270,000 gold equivalent ounces of production projected for 2014 - at below industry cash costs.
- Production could grow to as high as 400,000 ounces by 2017, with potential production from Cerro Del Gallo and a further expansion at San Dimas. However, I also feel that Grey Fox holds the potential to add another 80,000 - 100,000 ounces a year in production down the line. I feel it is very possible that this company can grow much more than the projected growth outlined here.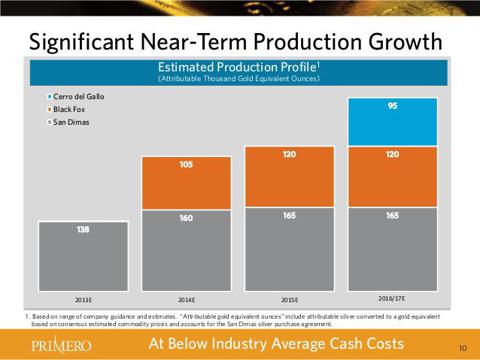 - You can see from the above chart that Primero expects production at Black Fox to be in the range of 105-120K ounces by 2015. However this doesn't take into account the Grey Fox deposit, which Brigus had estimated could be in production by early 2016. It also doesn't take into account any other potential acquisitions that the new company might make during this time.
- Brigus had a significant amount of debt on its balance sheet, as I had mentioned in previous articles. This transaction allows Primero to repay all debt "and invest in organic growth." The company also projects $760 million in operating cash flow over the next five years (at $1,350 gold).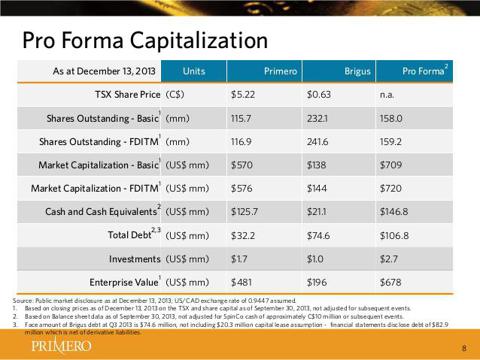 - The resulting company will have a market cap of $709 million with 158 million shares outstanding.
- The company will have $146.8 million in cash and equivalents and total debt of $106.8 million.
- The deal is expected to close in late February. I expect shareholders of Brigus to vote in favor of this transaction.
What Does this Mean for Sandstorm Gold?
Shareholders of Brigus know that the streaming company Sandstorm Gold (NYSEMKT:SAND) holds an 8 percent gold stream on the Black Fox project.
Sandstorm shareholders should not be worried as the gold stream remains intact. If anything, this is good news for Sandstorm shareholders as the Black Fox project will be in hands of a bigger, more established mining company.
While I feel Brigus did a great job at Black Fox, there is no denying that having the Primero team on board will be a great thing for the mine.
Bottom Line - A Great Deal
Brigus shareholders get the best deal here - exposure to some very attractive assets in San Dimas and the Cerro Del Gallo development project, a significant premium to the current share price, a partner with deep pockets to speed up exploration and development at Black Fox and Grey Fox, the addition of a spin-off company, plus the addition of an experienced management team led by Joe Conway, a CEO who has 30 years of experience in the industry including a previous position with IAMGOLD.
I believe the new company make for quite an intriguing investment. For one, I feel that Black Fox and Grey Fox hold great exploration upside. I also admire CEO Joe Conway and the job he has done at Primero. I intend to vote in favor of this proposed transaction and will be holding my shares tightly, with the intention of buying more shares in early 2014.
I also believe that there are still plenty of opportunities out there in the junior gold mining industry, especially in Canada. Please comment below and I will share some of my top candidates for a takeover.
Disclosure: I am long BRD. I wrote this article myself, and it expresses my own opinions. I am not receiving compensation for it (other than from Seeking Alpha). I have no business relationship with any company whose stock is mentioned in this article.