In the energy industry of today, plenty of opportunities arise, since technology is evolving and new discoveries are uncovered. Production of natural gas from shale gas fields increased more than ten times over the last decade in the U.S.
Exporting LNG
As of 2012, the U.S. Geological Survey estimated that recoverable reserves in the country totaled about 32 billion barrels of crude oil, 291 trillion cubic feet of natural gas, and over 10 billion barrels of natural gas liquids.
No wonder why the number of shale gas fields has grew exponentially, to over five thousand gas fields in the U.S., including the Gulf Coast. The proliferation of production activities in the country led to an abundance of natural gas, which obliged the industry to lower down the commodity's price.
Producers had to find a way to get more money and exporting the commodity to emerging countries started to take shape, countries where the commodity's price can reach between four to five times the price in the U.S. However, granting regulatory approvals were mandatory in order to ship the converted gas into LNG to non-free trade agreement countries.
Cheniere Energy (NYSEMKT:LNG) was the first company to see one of its regasification terminal, Sabine Pass, receiving the green light to export LNG to these non-FTA countries. For recent information on Cheniere, see my recent article here.
Since then, a few other companies received the authorization to convert the terminals' infrastructure into exporting LNG such as Freeport LNG, from which ConocoPhillips owns interests or Dominion Cove Point, a terminal being developed by Dominion Resources.
Stepping Into The Dance
Investing in a company that is spending billions of dollars to build the necessary infrastructure to transform natural gas into LNG is not for the faint of heart. Taking Cheniere for example, its Sabine Pass liquefaction project is estimated to cost more than $7.8 billion to get four liquefaction trains of 4.5 Mtpa each. Return on investment won't be there until at least three years before the first two trains are commissioned. That is a lot of money and three years could be a long wait for the average investor.
To mitigate the risks, some alternatives could be interesting because you can still be involved in the shale gas revolution, but without huge outgoings in infrastructure and long waits.
Ships Needed To Reach New Markets
My alternative to costly terminals is to play by investing in shipping companies. Since LNG needs to reach foreign markets, LNG carriers are needed to do the task. Some renowned shipping companies are well positioned to get a fair part of profit and fill its backlog through the roof.
My first pick is one of the world's largest independent owners and operators of LNG carriers, in the business for more than 30 years. Golar LNG (NASDAQ:GLNG) owns a fleet of more than 13 ships dedicated to the shipping and regasification of LNG. Golar's backlog accounts for about $2.5 billion in committed contracts over an average term of seven years.
Notably, Golar, to keep its fleet in order and its capital afloat, sells from time to time, ships and other infrastructure to its limited partner, Golar LNG Partners LP (NASDAQ:GMLP). The partnership allows to Golar the flexibility and access the necessary capital to renew its fleet or to meet the customers' specific needs.
On the downside, for Q3 of 2013, Golar sustained a net loss of $13.1 million compared to a net income of almost $59 million for Q2 of 2013. The drop is partly explained by non-realized income due to vessels divestitures to its limited partner. Notably, about 85% of the aggregate net time charter revenue is sourced from ships that are operating within Golar Partners' corporate structure. Therefore, the company should get back to profitability for the next quarter.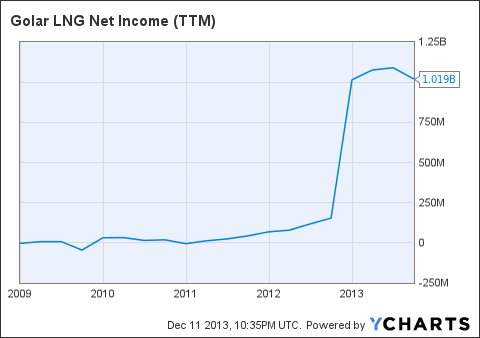 Golar has a long-term debt of about $402.4 million, which represents a long-term debt to equity ratio of 20.9%. That compares favorably to its industry's average of 91.3%. Notably, with a 5-year average ROE ratio of 32.3%, the company is very profitable. Furthermore, Golar's TTM P/E ratio is low at 2.97 compared to its industry's average of 91.8, which adds to its overall value. Golar's dividend yields about 5.3%.
Although Golar remains an interesting company to invest, Golar LNG Partners LP could be more attractive for investors, with a dividend yield of about 7.4%. However, it comes at a price. Its long-term to equity ratio is very high at 323% because the MLP is using its capital extensively in order to acquire new vessels. Its TTM P/E ratio level is good at 10.36.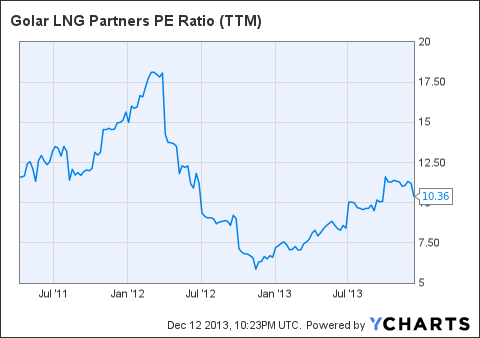 Golar's MLP owns four LNG tankers, of which three are chartered until 2017 and one until 2024 by BP. Moreover, the company also owns four floating storage and regasification units, from which two are chartered by Petrobras until 2018 and 2019.
My third pick is none other than Teekay Corporation (NYSE:TK). The company is the world's third largest independent owner and operator of LNG vessels, with a fleet of more than 170 ships. The company owns an MLP in which it has interest in LNG carriers as well. Like Golar, Teekay sells ships from time to time to its MLP, which gives the opportunity for Teekay to acquire new vessels. Teekay currently counts 63 liquefied gas carriers.
Notably, Teekay is also the largest operator of floating production, storage and offloading vessels in the North Sea, supplying and operating these infrastructures under long-term contract. Moreover, the company also owns floating liquefaction vessels that allow offshore conversion of natural gas, acting like true liquefaction terminals. It gives the company an edge over the competition because the company can shorten the time to market and lower the production costs.
With current forward fixed-rate revenues of over $15 billion and a weighted average fixed term contract length of almost eight years, the shipping company has a loaded backlog. On the downside, Teekay's total debt is amazingly high at about $6.85 billion, but declared TTM gross profit of $1.09 billion, with TTM operating cash flow of $121.42 million. Teekay's dividend is more conservative with a yield of about 3%. The chart below shows Teekay's quarterly non-current portion of its long-term debt.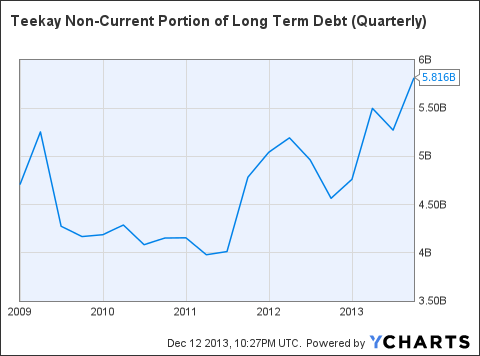 My last pick is Teekay LNG Partners LP (NYSE:TGP), briefly discussed above. The MLP represents the second largest independent operator of LNG carriers in the world. The company currently has about $6.9 billion of forward fee, based revenues over a weighted average contract duration of almost 13 years. The MLP owns 32 LNG carriers committed to renowned customers such as ConocoPhillips, RasGas, Cheniere, Total and Woodside.
Notably, in last June, the MLP signed a 5-year contract with Cheniere Marketing LLC for the service of two LNG carriers, charters that are scheduled to start by the first half of 2016.
The MLP has a good TTM P/E ratio at 16.54, which compares favorably well to 92.15 of its industry's average. On the flip side, its long-term debt to equity ratio is relatively high at 157.66% compared with its industry with an average of 90.18%. Its 5-year average ROE ratio is less appealing than Golar at 6.59%, but still indicates profitability. Teekay's MLP yields an attractive dividend of about 6.9%.
Conclusion
To fully benefit from the LNG frenzy surrounding the worldwide energy industry, investing in shipping companies makes a lot of sense. Global demand for cheap sources of energy does not appear to decelerate for the near future and North American exports, after 2016, will increase substantially as emerging countries will be more served than ever to sustain its rapid growth.
Australia is also developing its abundant shale gas resource and several projects are under way such as Gorgon LNG, Gladstone LNG and Prelude LNG. These projects, once completed, will need ships as well to move LNG to emerging markets and companies like Golar and Teekay are getting prepared in order to make the most of the opportunities at hand.
As a matter of fact, according to Teekay's Corporate presentation, LNG imports are expected to double in China, reaching between 25-30 million tonnes by 2015 while India quietly, is increasing its regasification capacity, which could double its importing volume for the same period. Therefore, investors looking to play the LNG frenzy should act quickly. As the old saying goes, nothing ventured, nothing gained.
Disclosure: I have no positions in any stocks mentioned, and no plans to initiate any positions within the next 72 hours. I wrote this article myself, and it expresses my own opinions. I am not receiving compensation for it (other than from Seeking Alpha). I have no business relationship with any company whose stock is mentioned in this article.