Last Friday, General Electric (NYSE:GE) announced they would raise their dividend by 16% to $0.22 per quarter, giving it a yield of 3.3%. However, it should be noted that GE's stock has risen by 27.9% year to date, which means its current yield is actually lower than it was at the beginning of this year.
At $0.22 per quarter, GE's expected payout ratio for next year is at 50.6%, based on analyst expectations of $1.74 in earnings per share. This is nothing unusual for General Electric; its payout ratio has been around 50% for the past ten years, with 2008-2010 being the only exception.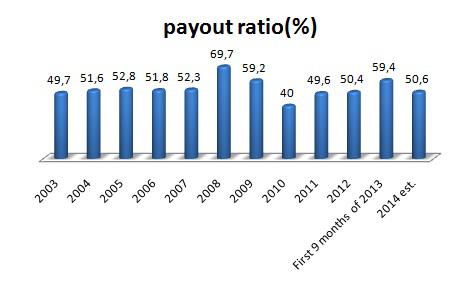 A low payout ratio means General Electric won't be forced to lower its dividend if earnings are lower than expected. The dividend is also protected by the huge amount of cash GE has on its balance sheet. At the end of 2012, GE had $125.86 billion in cash and short-term investments. By the end of the last quarter (Q3 2013), this had risen to $130.40 billion, thanks to total net earnings of $9.99 billion in the first 9 months of the current fiscal year.
I'm not just looking for a dividend that's safe and sustainable, I'd also like to see the underlying business grow, as this will allow more dividend increases. I'll start by comparing the first 3 quarters of the current fiscal year to the same period last year. The results can be seen in the table below:
Q1-Q3 2012

Q1-Q3 2013

Change

Total revenue

(in $billions)

107.73

105.86

-1.7%

Costs and expenses

(in $ billions)

95.59

94.40

-1.2%

Net earnings

(in $billions)

9.72

9.99

+2.8%

Earnings per share ($)

0.91

0.96

+5.5%
As we can see, GE's revenue dropped slightly, but lowering costs has allowed GE to reach higher net earnings. Revenue is expected to reach $146.0 billion this year, which is 1.0% lower than last year's $147.36 billion. Analysts expect GE's revenue to grow to $149.73 in 2014.
A large part a GE's revenue comes from its Power & Water segment. In the first 3 quarters of 2013, GE's revenues in this segment were at $17.04 billion, 17.5% lower than in the same period last year. Profit in its P&W segment also went down from $3.68 billion to only $3.10 billion, a decline of 15.8%.
Fortunately other parts of the company, like GE's Oil & Gas segments are on the rise, with revenue up 7.9% in the first 9 months of this year. Aviation, Healthcare, Transportation and Home & Business solutions were all up as well.
At a market cap of $271.55 billion, General Electric is now valued at 1.86 times this year's expected revenue and 1.81 times that of next year. GE hasn't been at this price to sales level since 2007, as can be seen in the next graph: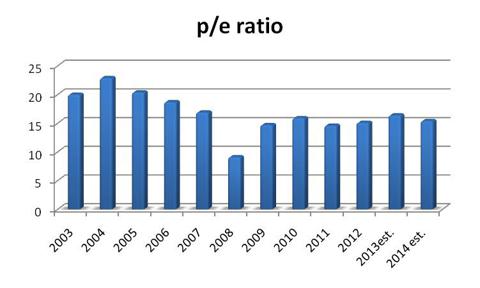 A price to sales ratio doesn't say everything; there are situations in which an elevated p/s ratio can be explained by, for example, higher profit margins. This is why I will also look at the price to earnings ratio. At the current price per share of $26.84, GE is valued at 16.4 times this year's expected earnings, and 15.4 times expected earnings for next year. This is slightly above the average of 15.1 for the year 2009 to 2012, but a lot lower than the valuation GE had at the beginning of this century. All things considered, I think General Electric should be able to continue to increase its dividends, giving investors an ever growing source of income. I feel it is somewhat expensive, but its strong expected growth justifies GE's current price. The recent dividend increase means investors buying now will get a very respectable 3.3% dividend yield.
Disclosure: I have no positions in any stocks mentioned, but may initiate a long position in GE over the next 72 hours. I wrote this article myself, and it expresses my own opinions. I am not receiving compensation for it (other than from Seeking Alpha). I have no business relationship with any company whose stock is mentioned in this article.