What is unsettling at J.C. Penney?
Since the numerous merchandising and operational changes that have occurred in the past few years J.C. Penney (NYSE:JCP) hasn't yet developed an identifying image.
From 2011 until the present time J.C. Penney has gone through four

cycles of logos usage:The logo used from 1971 until 2011, a new logo developed in 2011, a logo introduced by recent CEO, Ron Johnson, in 2012 and reversion to the original logo. A logo is key to store identity. Also, 44% of J.C. Penney customers couldn't recognize the logo in the year 2011. What does this say about customers' understanding of who they are?
In the year 2007 J.C. Penney began a store within a store concept that again changed its stores' appearance after recently applying many other changes such as widening aisles. Some customers must wonder if they are shopping at J.C. Penney or shopping at one of the branded boutique shops as they pass through the J.C. Penney boundaries. If the plan continued at full force J.C. Penney might have changed its image to that of a group of specialty shops placed together in order to present branded merchandise.
Unless the small shops are completed and very carefully executed this concept causes shopping difficulties such as requiring customers to run back and forth through its stores so they may compare like items of different branding and for J.C. Penney to become dependent upon suppliers whose merchandise lines may grow cold.
Under the management of Ron Johnson, in the year 2012, J.C. Penney reduced the gross margin represented on its price tags and began a policy of one low price, along with the removal of the traditional 99 cent pricing that completed offered prices. J.C. Penney has now reverted to its past policy of higher prices periodically lowered by sales and price tags that include the traditional 99 cents. Customers must be confused with all the changes. Should they now wait for a sale to obtain the best price or should they pay whatever J.C. Penney is asking? Many have gone onward to shop at other retailers.
It takes years for a customer to learn how best to shop a store. Until this learning process is complete a customer may feel unease in shopping there. J.C. Penney may not have time to wait for its patrons to regain comfort levels that were built up over many years.
Reaching the Bridge
Whether J.C. Penney may reach the bridge that will lead them to safe shore is in doubt. The bridge is just too far away. The J.C. Penney organization hasn't yet begun to bring stabilization to its operations.
I clicked on the J.C. Penney website and was led to a page that displayed the "Just in time" sale logo. A few clicks on following pages brought me to various repeats of the initial page. The website led me to coupons and offers of free shipping and general discounts. I wasn't directed to merchandise. That is what retail is all about, selling merchandise.
Both Macy's (NYSE:M) and J.C. Penney offered a 20% saving on an extensive array of merchandise if one uses their credit card, and a 15% saving if they pay by other means. Application of these discounts is associated with printing a coupon and obtaining a code word. This type of policy is created by personnel who don't understand that causing complicated procedures for the customer to apply harm retailing. These discounts should be widely advertised as being available just by walking through the store. It should be supported by in-the-store signs. No special codes, no tricks, no complications should be involved. If either of these retailers simplified their discounts during this holiday season they would have obtained enormous advantage over the other.
What I found remarkable was that J.C. Penney's 20%/15% store wide discount ended before the final Holiday weekend would begin. I wondered why J.C. Penney would turn away last minute shoppers on the second busiest weekend of the year when they need the exposure and sales so much.
Comparison of J.C. Penney to Macy's
I then decided to visit the Macy's website as a comparison to J.C. Penney because both organizations carry the same categories of merchandise and serve the same markets. How would Macy's treat me?
Incredibly Macy's announced Sunday, December 15th, was the last day that one could receive a discount similar to the J.C. Penney 20%/15% discount. This gave J.C. Penney a 4 day advantage.
Macy's disregard of customer needs with the cessation of extra discounts during the second busiest week of the year is destructive to good will and making sales. The possible gain in gross margin will not be offset by the cost of customer dissatisfaction and lost sales. I did not expect that Macy's would ignore this basic principle of retailing, which is never to disregard a customer's needs.
The J.C. Penney website was more difficult to navigate in order to find merchandise than was Macy's. I didn't have the patience to navigate it. Neither organization seemed as if they were in top form for this year's holiday season
I did not evaluate Internet direct sales from either retailer because it is too close to the cut off days that guarantee Holiday delivery.
I then looked at one of my favorite retailers, Bed Bath & Beyond. Bed, Bath & Beyond does not offer the large selection of apparel that is available at J.C. Penney and Macy's, but the comparison in operations is valid.
They offer many items with special discounts. Bed, Bath & Beyond offers much merchandise that could be obtained everywhere. It is generally offered at one low competitive price that makes the competition look foolish with their higher original price claims. I believe that Bed, Bath & Beyond did best in leading me to their stores because of the clarity of their presentation and the apparent honesty of their offerings.
Most importantly Bed Bath & Beyond offers a discount coupon that allows a 20% discount on any single item. These coupons are liberally distributed. I receive one in the mail at least every two weeks.
Who has best price?
I wanted to know who was more competitive, and decided to test the system, and chose four items to price at J.C. Penney, Macy's and at Bed, Bath & Beyond. The pricing results of all four items were similar to the pricing example of the Keurig K10 coffee maker that follows.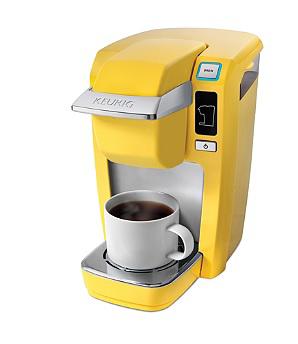 The K10 is offered at J.C. Penney for $99.95 with an original price claim of $150. They are possibly offering an extra $20 rebate that is difficult to discern because of lack of clarity.
It is offered at Macy's for a net of $104.95, a 30% discount from its original price of $150.
Neither store allowed use of their 20%/15% coupon.
Bed, Bath & Beyond offered it for $99.95 with no original price claim. Unbelievably, they allowed their 20% discount to be applied resulting in a final price of $79.95, a clear easily purchased value.
I additionally viewed Amazon (NASDAQ:AMZN), the internet retailer, where the presented price was $90. + $8.99 shipping though they seemed to offer many other sources with varied prices.
Where would I purchase?
If I were to purchase a K10, I would go to Bed Bath & Beyond for two reasons. They were least expensive and also seemed more customer friendly. I could find no cause to purchase it on the internet.
Customers' choice Bed, Bath & Beyond over Macy's and J.C. Penney as preferred store is more harmful than it seems to either of them.
If these stores lose sales on the small portion of their wares that cross over with Bed, Bath & Beyond their customers might be alerted to the possibility that Macy's and J.C. Penny charge too much for other lines such as apparel, which are not easily comparison shopped, and represent great amounts of markup for them.
I don't think that J.C. Penney appeared to me as a real store after browsing their website. Their concentration on displaying logos and terms of sale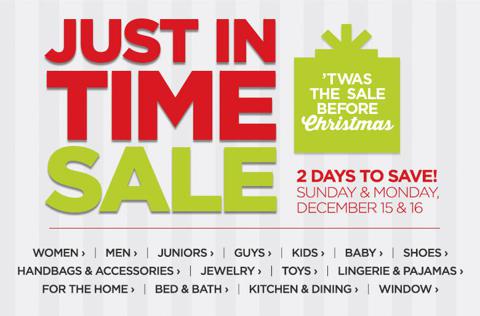 over showing merchandise has turned me away. I would prefer to shop Macy's even after perceiving that they may charge small amount more in price.
J.C. Penney cannot afford any missteps. Macy's may disregard a customer's needs a small bit, after all its customers are family. J.C. Penney cannot afford this luxury. Their customers are strangers to them. This troubled store urgently needs this Holiday season's business to be perfectly executed in order to begin to reclaim their prior position within retailing. They haven't shown that they have done so.
Below is a guide to J.C. Penney's recent quarterly losses vs, stock price.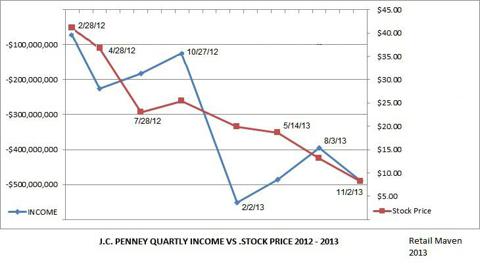 Look for continuing problems at J.C. Penney.
Disclosure: I have no positions in any stocks mentioned, and no plans to initiate any positions within the next 72 hours. I wrote this article myself, and it expresses my own opinions. I am not receiving compensation for it (other than from Seeking Alpha). I have no business relationship with any company whose stock is mentioned in this article.