Smartphone Sales Up 24% in 2009, iPhone Share Nearly Doubles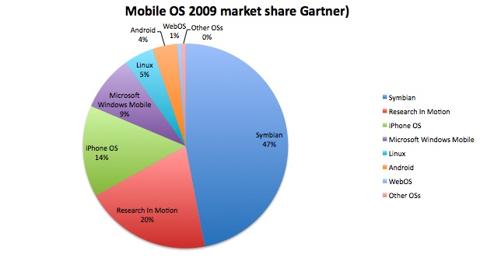 Last year, Apple's iPhone nearly doubled its worldwide market share of smartphone sales to 14.4 percent, up 6.2 points from the year before, according to the latest market share figures put out by Gartner. The iPhone still trails behind Nokia's Symbian-powered smartphones (No. 1), which saw their share decline 5.5 points to 46.9 percent, and RIM Blackberries (No. 2), which gained 3.3 points to end the year with a 19.9 percent share.
Remember, these are worldwide estimates. In the U.S., both Blackberry and Apple (AAPL) are much larger than Symbian. And when it comes to mobile Web traffic, Apple and Android dominate with 81 percent share. According to Gartner, Android phone sales jumped 3.4 points (to 3.9 percent), but Android is still smaller than WIndows Mobile or Linux. Those mobile OSes, however, saw their market share drop 3.1 and 2.9 percent, respectively. Palm's WebOS barely made a mark with 0.7 percent share.
So when you tally everything up, Symbian lost the most share (5.5 percent), followed by Windows Mobile and Linux. The iPhone saw the biggest gain (6.2 percent), compared to smaller but roughly equal jumps by Blackberry and Android (up 3.3 and 3.4 percent, respectively).
All together, Gartner estimates 172 million smartphones were sold last year, up 24 percent. In contrast, total mobile phone sales were flat at 1.2 billion. Smartphones represented 14 percent of total mobile handset sales last year, up from 11 percent in 2008. The iPhone, for all of its growth, made up only 2 percent of all mobile phone sales last year. Below are the market share tables from Gartner:
Table 2
Worldwide Smartphone Sales to End Users by Operating System in 2009 (Thousands of Units)
Company
2009 Units
2009
Market
Share (%)
2008 Units
2008
Market
Share (%)
Symbian
80,878.6
46.9
72,933.5
52.4
Research In Motion
34,346.6
19.9
23,149.0
16.6
iPhone OS
24,889.8
14.4
11,417.5
8.2
Microsoft Windows Mobile
15,027.6
8.7
16,498.1
11.8
Linux
8,126.5
4.7
10,622.4
7.6
Android
6,798.4
3.9
640.5
0.5
WebOS
1,193.2
0.7
NA
NA
Other OSs
1,112.4
0.6
4,026.9
2.9
Total
172,373.1
100.0
139,287.9
100.0
Source: Gartner (February 2010)
Table 1
Worldwide Mobile Terminal Sales to End Users in 2009 (Thousands of Units)
Company
2009 Sales
2009
Market
Share (%)
2008 Sales
2008
Market
Share (%)
Nokia
440,881.6
36.4
472,314.9
38.6
Samsung
235,772.0
19.5
199,324.3
16.3
LG
122,055.3
10.1
102,789.1
8.4
Motorola
58,475.2
4.8
106,522.4
8.7
Sony Ericsson
54,873.4
4.5
93,106.1
7.6
Others
299,179.2
24.7
248,196.1
20.3
Total
1,211,236.6
100.0
1,222,252.9
100.0
Note* This table includes iDEN shipments, but excludes ODM to OEM shipments.
Source: Gartner (February 2010)
This article was written by
Erick, Co-Editor of TechCrunch (www.techcrunch.com), has been covering startups and technology news for 14 years. At Business 2.0 he wrote feature stories and ran their main blog, Next Net, which has nearly 50,000 RSS subscribers. He also does a lot of video work and hosts regular panels of industry luminaries called Disruptor Round Tables. Prior to Business 2.0, Erick was an editor-at-large for eCompany and a contributing editor for Fortune. In 1999, Schonfeld won the prize for best information technology submission at London's Business Journalist of the Year Awards, and in 2001 he won the prize for best space submission at the Aerospace Journalist of the Year Awards in Paris. In 1996 and 1997, Schonfeld was recognized in the TJFR Business News Reporter's list of the "best and brightest financial journalists under the age of 30." He appears regularly on CNBC, CNN, and NY1, and is a frequent speaker at industry conferences. Schonfeld graduated magna cum laude from Cornell University in 1993.