It happens every December. Like a storm coming in from the north, selling in CEFs tends to pick up this time of year as discounts just get wider and wider. For some CEFs, its tax loss selling season and after the run the equity markets have had this year, some CEF sectors that have seen absolute losses in their market prices (i.e. not including distributions) are just being pummeled as tax-loss selling just adds to the pain and aggravation.
Brendan Conway, a Barron's columnist who focuses on ETFs, mutual funds and hedge funds, chipped in on the state-of-despair over the weekend in his article titled "CEF Prices Getting Their Holiday Discount, and Then Some"...
For Closed-End fund investors, it's the most wonderful time of the year - or the most painful one if you don't get this market's quirks.

Tax-loss selling is a perennial feature of CEFs. But this year the trend looks especially pronounced thanks to an unusual confluence of events which are driving the market's discounts to the widest in more than two years.
The following chart is included in the article...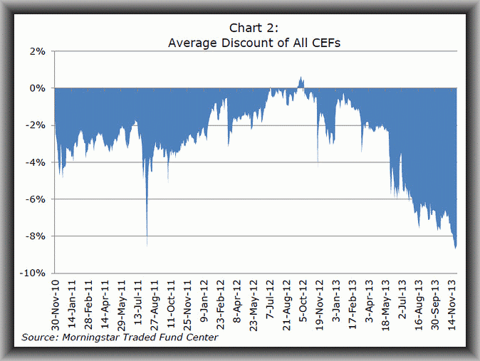 If you don't include Barron's as part of your weekly "must read" list for financial and market news, I think you miss out on very timely and insightful perspectives of the markets. I would recommend keeping tabs on several columnists - Brendan Conway mentioned above as well as Michael Aneiro and Steven Sears - if you're going to invest in CEFs. I don't always agree with them, but the fact is Barron's articles and opinions can move markets.
The Implosion In Municipal Bond CEFs
No CEF sector has contributed more to the fallout in CEF valuations this year than the municipal bond sector. If you want to be reminded of what it's like to live 2008 all over again, just look at what has happened to municipal bond CEFs in 2013. Though it's been a tough year for most all fixed-income investments, it gets magnified in CEFs because of their use of leverage as well as the panicky nature of individual investors in these funds.
So whereas a municipal bond ETF, such as the popular iShares National AMT-Free Municipal Bond fund (NYSEARCA:MUB), might be down -7.3% over the past year (and only -4.5% with dividends added back), most muni bond CEFs are well into a bear market, down -20% to -25% or more on an absolute share price loss basis over the past year (see table at bottom for 1-year market price losses including dividends). Many of these funds were at premium valuations this time last year, while today, they are mostly at sharp discounts of up to -13% or more.
Then consider that many investors in these funds probably thought they were only moderately more risky than, say, muni bond ETFs or mutual funds, and you realize what a disaster this has been. In 2008, you could take whatever solace in knowing that all funds got hammered and there was no place to hide. In 2013, the great rotation from fixed-income to equities has certainly made income investors envious of the returns they could have gotten in stocks or pure stock based funds. But for investors in fixed-income CEFs, envy is too kind a word as disgust would probably more accurately describe the mood.
I don't think I have ever seen a year in which equity ETFs have outperformed fixed-income CEFs by such a huge margin. We're looking at 50% or more differences in performance figures this year and for an investment advisor like myself who owns nothing but diversified funds like ETFs and CEFs, those are eye-popping numbers. Though you may think the two asset classes are not comparable, the fact is that the risk/reward in fixed-income CEFs can be as much if not more than stock ETFs or CEFs and so you've got to consider the opportunities these funds offer when looking for appreciation potential as well as income.
I count myself fortunate that I was not invested in any fixed-income CEFs up until more recently when I started to dabble in muni bond CEFs and some senior loan CEFs. I first took a more positive view of the municipal bond CEF sector this summer when I wrote two articles addressing the impact of higher interest rates as well as the headline risk affecting muni bond CEFs.
Prior to those two articles, which I have provided links to below, I had tried to warn investors that fixed-income CEFs were much more volatile and dangerous than what most investors realized. Yes, their uber sized yields were very attractive in a near zero interest rate environment but their heavy use of leverage made the funds much more volatile at the NAV and market price level than their ETF and mutual fund counterparts.
Muni bond CEFs started coming down in price from premium valuations beginning in late 2012. By the spring of 2013, the rout was on, but I wrote in this article on March 15th, Muni Bond CEFs Take A Beating, that I felt it was still too soon to step in front of the freight train. By summer time, I felt muni bond CEFs were worth taking a look at though my first article, Time To Buy Muni Bond CEFs?, turned out to be a bit pre-mature. However, my second article, Will Detroit Save Muni Bond CEFs?, I felt was very appropriate and recent events have reinforced that position. In fact, the sector bounced nicely after my second article in August, but that only lasted until November as a rise back up in interest rates and then tax-loss selling in December has put muni bond CEFs back on the defensive and back to their 52-week, and in many cases, multi-year lows.
The Case For Municipal Bond CEFs Now
Tax-loss selling will probably keep most muni bond CEFs in check until year end, but I would like to point out some positive features of these funds in the meantime. First of all, most muni bond CEFs own the same securities as muni bond ETFs and mutual funds, so if you're worried that there may be something hidden in CEF portfolios that makes them more risky than muni bond ETFs or mutual funds, that shouldn't be the case. There's really no esoteric investments in muni bond CEFs that you won't find in muni bond ETFs or mutual funds. It's just that muni bond CEFs leverage up to 40% of their portfolio of individual bonds, thus adding to the income/yield as well as the risk/reward aspect of the funds.
Second, CEFs don't have to sell securities to meet investor redemptions. This can be a major problem for municipal bond mutual funds since portfolio managers may have to be selling securities to meet redemption demands just when they'd like to be buying them. It's been now 29 straight weeks of outflows from municipal bond mutual funds and ETFs and the weekly net outflow more than doubled to $1.9 billion this past week from $875 million the week before. That helped bring the 4-week moving average up to $1.1 billion in outflows.
Clearly, redemptions are dramatically affecting the muni market and these redemptions are also hurting muni bond CEF portfolios too. But it's not forcing CEF portfolio managers to have to sell securities unlike their mutual fund counterparts. This can be good news when (and IF, it seems), the sector turns around. And maybe, just maybe, we're starting to get some clarity on a couple issues which have been hanging over the municipal bond sector for some time.
Two Recent Events Which Could Help Muni Bond CEFs
Besides the back up in rates this year, uncertainty has probably been the biggest factor negatively impacting the municipal bond sector. Uncertainty regarding state and municipal employee pension plans and pension liabilities. Uncertainty regarding the financial situation in Detroit and Puerto Rico, both of which have seen their economies shrink dramatically and their debt lowered to junk status. And finally, uncertainty regarding any tax reform which may or may not affect the deductibility of municipal bond payments for wealthy investors. Some of these will be ongoing questions but some have recently become clearer.
On December 3rd, a federal judge ruled that the City of Detroit could proceed with its bankruptcy filing, the largest of any city to date. Though no municipality wants to go the extreme of bankruptcy since the stigma of such a negative credit rating will last far longer than any recovery and make it more difficult and costly for the municipality to issue new bonds in the future, it does put the municipality in a better negotiating position with creditors, particularly employee unions and pensions.
Also on December 3rd, the State of Illinois legislature approved reforms in the state's public pensions, the largest unfunded liability in the nation. Both of these recent news events have helped provide some clarity for municipal bonds since any steps taken to get city and state finances on better footing will be good for municipal bonds and credit ratings.
Even Barron's has weighed in more positively on the municipal bond quagmire over the last couple weeks with such headlines as "Muni Market Smiling On Illinois Pension Reform" and "Mitigating Pension Apprehension - Landmark decisions stemming from Detroit's bankruptcy and the dramatically underfunded Illinois pension plan spell good news for investors."
In one more Barron's article titled "The End of the Beginning of Mending Muni Finances" dated December 7th, there is a quote from Greg Valliere, the chief political strategist at Potomac Research Group, who said, "Experts will look back on the fall of 2013 as a turning point for state and local governments."
Mr. Valliere goes on to say in the article,
The issue of under-funded pension liabilities won't go away any time soon, but the pendulum is shifting, with unions backpedaling and politicians agreeing to benefit curbs - all while state receipts are growing and outlays essentially are frozen. This is a sea-change - and we'd gladly buy mythical "calls" on Detroit.
Which Municipal Bond CEFs To Buy?
So could this be the opportune time here at the end of the year and if so, which funds present the best opportunities? It's actually much more difficult to decide when to buy muni bond CEFs rather than which ones to buy. That's because the funds tend to move together so it probably won't matter that much which ones you buy if your timing is correct. Of course, each fund has its own unique portfolio as well as other variables such as credit quality, duration, state and sector allocations, etc. which may impact each fund's individual performance, but the bottom line is that most all of the funds will have the same trendlines, either up or down.
That being said, here are some of the largest and most popular national (not state specific) municipal bond CEFs sorted by their 1-year total return market price performances (far right column in red). Total return means all distributions are added back though not on a re-invested basis. I have also included in the table each fund's total return NAV performance, as well as other variables such as market yield, premium/discount, etc. This is by no means, a complete list and there are also quite a number of state specific muni bond CEFs as well.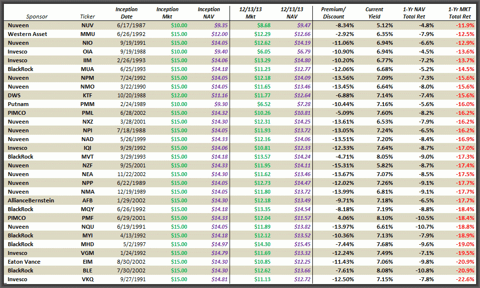 One fund which could be a play on the Illinois pension reform is the Nuveen Dividend Advantage Municipal fund (NYSE:NAD), a national muni bond CEF that has one of the highest exposures to municipal bonds from the state of Illinois, about 17.6%.
NAD, with a $12.16 market price and a $14.06 NAV (as of 12/13/13), has a lot of bad news built into it, already trading at a huge -13.5% discount as shown in this YTD Premium/Discount graph.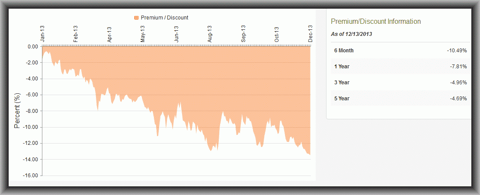 So far, the recent positive news from Illinois has done little to help NAD's market price, currently sitting at a multi-year low despite a 7.2% Federal tax-free market price yield (11.1% tax-equivalent yield for investors in the 35% Federal tax bracket). I'm not sure how much more bad news is out there but the risk/reward at this stage, I believe, points strongly in favor of owning the fund despite the uncertainties.
Conclusion
In my article linked near the top, I wondered if Detroit's dire situation might ultimately help the municipal bond market and muni bond CEFs, sort of like what a General Motors (NYSE:GM) bankruptcy in 2009 did for the auto industry by bringing added focus and financial assistance to the sector.
Certainly, questions about the municipal bond markets will remain but at some point, you have to try and get ahead of the curve. The impact of higher interest rates will always be in the back of everyone's mind when analyzing these funds but that doesn't mean that muni bond CEFs can't still be good investments even in the face of higher interest rates.
Much of the depressed valuation of these funds is represented by a lack of confidence in the financial ability of states and municipalities to get their fiscal houses in order. Any improvement in that regard, and arguably that is already occurring in most cities and states, should bring back confidence and as we know in CEFs, a little confidence can go a long way.
Disclosure: I am long NAD. I wrote this article myself, and it expresses my own opinions. I am not receiving compensation for it (other than from Seeking Alpha). I have no business relationship with any company whose stock is mentioned in this article.