A Core and Satellite Strategy
In a recent article with the title, "Blue Chip Stocks Yielding Over 4% Today," I discussed my 20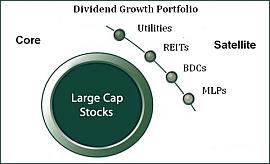 Core holdings, and specifically the seven stocks within that Core which were yielding over 4%. This article is Part II of a series and describes the REITs I hold for 2014. Part III will cover high yielding Utilities, Business Development Companies and midstream MLPs that round out my dividend growth portfolio to enhance average yield and increase my income.
The decision to designate a stock as a Core or Satellite holding is somewhat arbitrary and follows guidelines, not strict rules. Generally, the Core stocks are long-term major holdings in stable but growing large cap firms. Usually, I hold full positions in Core stocks, and Satellite holdings may be smaller. Core holdings are primarily Blue Chip C type corporations with significant dividend growth. I select Satellite holdings for high but relatively safe yield, and those stocks may have lower dividend growth rates. The primary task of the Satellites is to provide current income. Besides this dividend growth portfolio, I hold small positions in growth stocks, ETFs, ETNs, bonds and precious metals in a separate portfolio; an emergency cash fund is completely separate from investments. At this date I'm fully invested and my brokerage accounts hold an allocation of 94% Stocks, 4% bonds and 2% cash.
Goals: High Current Income, Modest Income Growth, Preservation of Capital
I am in the distribution stage of the investment cycle. The primary goal of my portfolio is to provide steady high current income with enough dividend growth to offset the ravages of inflation. Capital appreciation is not a primary goal but over time, modest appreciation must exceed inflation in order to preserve the real value of principal.
Holding ETFs would be a lot less time consuming than holding individual stocks and much easier for a successor to manage. Vanguard's VYM is an excellent portfolio of dividend paying stocks and is a likely alternative to at least part of my Core holdings. Bond ladders may also be in my future.
Avoiding Yield Traps
High yield does not blind us, but provides us with the impetus to delve into all aspects of the companies to make prudent investment choices. Approaching all investments with a healthy skepticism, and doing extensive due diligence, decreases risks and raises the probability of success.
The World of REITs
Real Estate Investment Trusts serve many sectors of the economy. There are REITs that own shopping centers, stand-alone retail REITs, REITs that own self-storage facilities, healthcare REITs of several types, office REITs, industrial REITs, apartment REITs, hotel REITs, diversified REITs and special purpose REITs.
The REITs below that I own and recommend operate mostly in two segments, Triple-Net Retail and Healthcare. These two kinds of REITs produce among the highest yields and have the most consistent dividend records. Healthcare, especially, has the potential for great growth due to America's aging population. REITs exist under special tax laws, which allow them to pay no income taxes but pass through 90% of income directly to the investors from their cash flow from operations.
Triple-net leases are usually of stand-alone buildings where the tenant is responsible for maintenance, operating expenses as well as taxes and insurance. The term is often from 10 to 30 years.
Healthcare leases may be the leases of special buildings to operators of hospitals, skilled nursing homes, medical offices, senior living and assisted living communities and can include laboratories and medical research companies. Often a firm will specialize in one or two segments of the above.
Investopedia has a great Introduction to REITs. REITs are a popular topic on Seeking Alpha, and I have included a number of links to articles by others that you may find helpful in your selection of REITs.
Triple Net REITs
Realty Income (NYSE:O)
Brad Thomas is Seeking Alpha's No. 1 author on REITs. Coincidently he recently authored a recent article on his 5 Top Picks for 2014. He agrees with me that this is such an opportune time to buy this stock:
"Reality Income has increasingly become a favorite REIT holding for many investors and given the more recent price decline, the shares have become attractively valued. Since mid-May Realty Income shares have slid by over 31% while the S&P 500 advanced by over 8.5% (during the same time). Conversely, Realty Income's valuation (Price to Funds from Operations) has fallen from 25.5 P/FFO in May to 15.8. The dividend yield has increased from 3.97% (in May) to 5.85%. Realty Income has been a stalwart performer of dividend safety. Notably the "blue chip" REIT has increased its annual dividend every year since going public (in 1994)."
Realty Income, known as the Monthly Dividend Company, owns over 3,800 properties, diversified across 47 industries and 200 companies, located throughout 49 states in the US and Puerto Rico. Generally, the properties are freestanding buildings having prime locations with good access and visibility. The majority of the firm's tenants operate retail stores providing non-discretionary goods and services. In terms of the highest percentage of lease revenue generated from the company's properties, distribution centers are number one, followed by health and fitness, drug store and dollar store locations.
Investment grade-rated tenants account for approximately 38% of the total rental revenue. The leases with the tenants are usually net leases, which mean that besides paying rent every month, the tenant is responsible for the majority of the property's operating expenses including taxes, maintenance and insurance. This reduces Reality Income's risk from rising property operating expenses.

W. P. Carey Inc. (NYSE:WPC)
This is another of Brad Thomas' top 5 picks for 2014, and is covered in the above linked article. In addition, he wrote an article with the title, "W.P. Carey's Dividend Policy Is Nothing But A Big Hunk O' Love."
Celebrating its 40th anniversary, W. P. Carey Inc. is a publicly traded REIT that provides long-term sale-leaseback and build-to-suit financing for companies worldwide, owns and manages an investment portfolio totaling over $15 billion. The largest owner/manager of net lease assets, WPC's corporate finance-focused credit and real estate underwriting process is a constant that is successfully leveraged across a wide variety of industries and property types. Its portfolio of long-term leases with creditworthy tenants has an established history of generating stable cash flows that have enabled WPC to deliver consistent and rising dividend income to investors for nearly four decades. The below press release tells of its latest dividend increase and a special dividend.
"NEW YORK, Dec. 12, 2013 /PRNewswire/ -- W. P. Carey Inc. that its Board of Directors has increased its quarterly cash dividend to $0.87 per share, which equates to an annualized rate of $3.48 and marks the Company's 51st consecutive dividend increase.

In addition, W. P. Carey announced that the Board declared a special dividend of $0.11 per share in order to distribute its 2013 taxable income to stockholders. Both dividends are payable on January 15, 2014 to stockholders of record as of December 31, 2013."
WPC is up 32% for the last 52 weeks and after peaking higher at over 70, the firm has settled back into fair value territory with a price of 62. Analysts rate this stock at buy with a strong 1.70 rating.

National Retail Properties (NYSE:NNN)
Like the above firms, NNN is in the triple net leasing business, in this case to retailers. The firm acquires, owns, manages, and develops retail properties in the United States. It provides complete turnkey and built-to-suit development services including market analysis, site selection and acquisition, entitlements, permitting and construction management. They own 1850 properties in 47 states leased to 38 diverse industries. The largest segments are convenience stores 19.8%,
Thomas Sobon writes in a September SA article:
"NNN is one of the best managed companies within the REIT universe. Its corporate development program has three stated goals: (1) to achieve consistent and recurring FFO growth, (2) to pay a secure and increased annual dividend to the shareholders, and (3) to achieve those results while taking below-average lease portfolio and balance sheet risks."
Blessed with a rapidly growing portfolio of properties that are 98% leased under long term contracts, most of NNN's earning power is recurrent and locked in at the beginning of each new year.
This firm is a dividend Aristocrat, and with 24 years of consecutive dividend increases, will move from Dividend Contender to Dividend Champion on David Fish's CCC list next year. With a yield of 5.4%, a dividend growth rate of 19.3 and a 3-year beta of 0.31, this is the epitome of a high yielding Sleep Well at Night holding.
The company is now selling at a fair valuation. It has been overpriced since June of 2011, except for a very brief period last September. The 52-week range for the firm is a low of 30.01 and a High of 41.98. On last Friday it closed at 30.48, just up from its low for the year, a buy at this good valuation..
Analysts rate this stock at buy with a rating of 1.90.


Healthcare REITs
Omega Healthcare Investors (NYSE:OHI)
Omega Healthcare is a Real Estate Investment Trust providing financing and capital to the long-term healthcare industry with a particular focus on skilled nursing facilities located in the United States. At September 30, 2013, the Company owned or held mortgages on 477 skilled nursing facilities, assisted living facilities and other specialty hospitals with approximately 55,066 licensed beds (52,881 available beds) located in 33 states and operated by 48 third-party healthcare operating companies.
Achilles Research recently posted a SA article on the firm and said:
Omega Healthcare Investors is, like Realty Income, a core holding of my income portfolio. I think Omega Healthcare Investors makes an outstanding addition to portfolios that accentuate both income and a long-term investment horizon: Omega Healthcare Investors owns nursing care facilities for senior citizens. The senior healthcare market exhibits very attractive long-term supply and demand conditions. Higher living standards, less risky jobs and better healthcare have substantially increased live expectancy.
As a forward-looking company, Omega Healthcare evaluates the opportunities, trends and challenges affecting the industry. The goal is to identify long-term investments in quality healthcare properties with outstanding operators that provide the most favorable risk/reward ratio to investors.
This stock is also a Brad Thomas pick for 2014. Omega Healthcare is up 32% for the last 52 weeks. The stock did not miss a beat during the economic downturn, and it is currently fairly valued as is indicated by the below F.A.S.T. Graphs Chart.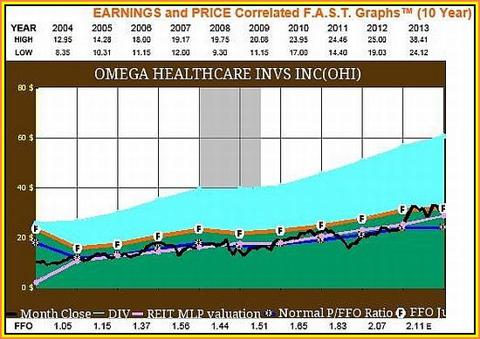 The black price line is not above the orange intrinsic value line, but the stock is selling at a Price to Funds from Operations (P/FFO) ratio of 14.3, which is above its longer-term average of 11.5% (blue line). It is still a little pricey but I would take the opportunity to buy now if I did not already have a full position. A tactical alternative might be to watch the stock for a further dip in price - this firm has a relatively high beta (1.24) for an established REIT, so an opportunity is likely.

Health Care REIT (NYSE:HCN)
If Omega Healthcare is the "best of breed," is Health Care REIT a close second? Many think so, but others might choose one of the other firms in the space. Candidates include Ventas (NYSE:VTR) and HCP Inc. (NYSE:HCP). Both are reasonable choices in my opinion and Ventas has been receiving some good press of late. Along with Healthcare REIT, they have also market caps of about $16 billion and yields in the 5% to 6% range. However, there is an important factor, which draws me to Health Care REIT.
Unlike its peer group, Health Care REIT gets 82% of its revenue from private payers. Others rely heavily on Medicare and Medicaid payments made by the government. To accomplish this, HCR has 80% of its facilities in affluent communities. In addition, the firm's buildings are newer, with an average age of 11 years, and offer more amenities than those of the competition.
Health Care REIT, Inc is at the forefront of senior living and healthcare real estate since it was founded in 1970. The company's over $22 billion portfolio spans the full spectrum of healthcare real estate, including high quality senior living communities, medical office buildings, inpatient and outpatient medical centers and life science facilities.
The company has a reputation as a trusted capital partner with unique and sophisticated structures that meet the operators' capital and operational needs. HCN has had a tumultuous year, and is currently near its 52-week low of 53.31 after a run up to 80.07. It has gone from overbought to oversold and for the past 12 months, it is down 7.9%. I expect improvement in the results of the firm going forward. Morningstar gives the firm a 4 Star Rating, and set the fair value at 71.


Factoids offers a very informative article which surveys the healthcare REIT industry and provides data, perspectives and valuation on the top dozen firms.
Summary
Pick one or pick five of these outstanding REITs and go forward to earn more income in 2014.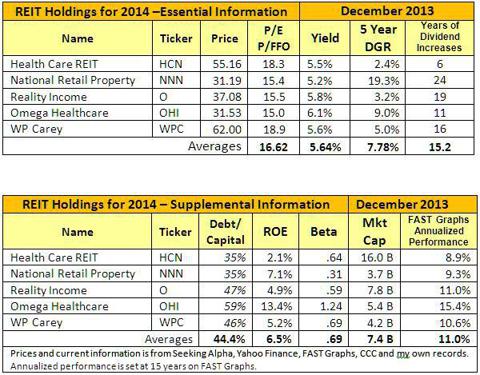 Disclosure: I am long O, NNN, WPC, OHI, HCN. I wrote this article myself, and it expresses my own opinions. I am not receiving compensation for it (other than from Seeking Alpha). I have no business relationship with any company whose stock is mentioned in this article.