This year is shaping up to be a challenging year for retailers. Specialty apparel retailers have taken the brunt of an intensely competitive environment. American Eagle Outfitters (NYSE:AEO) hasn't been spared. Other retailers such as Abercrombie & Fitch (NYSE:ANF) and Aeropostale (NYSE:ARO) have suffered similarly in 2013.
However, AEO seems to have an easier turnaround ahead and, perhaps, more upside potential. What makes AEO different? Why have I initiated a position? More on that shortly.
Company Overview
American Eagle Outfitters, founded in 1977, is a leading global specialty retailer offering quality clothing, accessories, and personal care products at affordable prices. The company currently operates 932 AE Brand stores and 132 Aerie stores. Aerie focuses on selling underwear and intimates for females within the AE target demographic (15-25 year olds). The combined brands make up 1064 stores primarily in the United States. This represents 20 more stores than the end of fiscal 2012.
American Eagle also operates ae.com and aerie.com, which ship to 81 countries around the globe. The company also has 61 licensed stores in eastern Europe, Middle East, and Asia.
American Eagle has a market cap of $2.7 billion, making it the largest of the "three A's", which include Abercrombie and Fitch and Aeropostale.
Past Performance 2012 and 2013
Many investors were encouraged by American Eagle's fiscal 2012 performance. The company appeared to have ended the year on solid footing. The company paid a special dividend of $1.50 per share in the third quarter and earnings were strong compared to fiscal 2011. In fiscal 2012 American Eagle earned an adjusted $1.39 per share versus an adjusted $0.97 per share a year earlier. The stock traded as high as $23.94 in the third quarter of last year.
Unfortunately, that enthusiasm was short-lived. The company has failed to meet expectations in what has been a very challenging environment for retailers in 2013. In the third quarter of 2013, American Eagle reported adjusted earnings of $0.19 per share. This compares to earnings of $0.41 per share in the third quarter of 2012.
CEO Robert Hanson stated "Our financial performance is clearly unsatisfactory and not consistent with our objectives." "We are continuing to invest in important areas of growth including omni-channel, global expansion and factory stores - all high return segments, which will diversify our business and will be key drivers of our future growth and success."
Year to date results have been dismal as well. Below is a comparison of the 39 weeks ended November 2, 2013 and the 39 weeks ended October 27, 2012.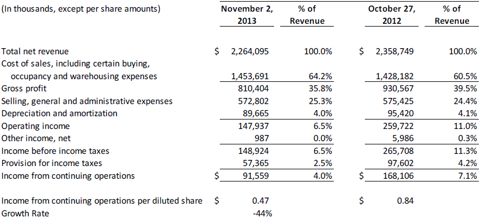 Source: Third Quarter 2013 Earnings Presentation
Comparing year over year, American Eagle's revenue is down 4%. Comparable store sales are down 6% and 1% for AE brand and Aerie brand, respectively. One bright spot is the company's direct, or online business. AEO direct is up 17% year over year. Also, American Eagle's small but growing factory segment is showing positive signs. Below is a sales comparison of the 39 weeks ended November 2, 2013 and the 39 weeks ended October 27, 2012.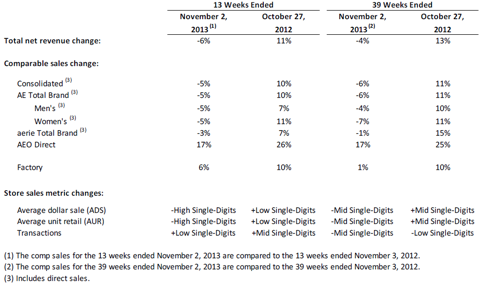 Source: Third Quarter 2013 Earnings Presentation
The company also reported that gross profit decreased 21% to $299 million in the third quarter partially due to higher promotional activity.
American Eagle appears to be having a harder time moving inventory this year. Evidence shows that the company has become even more promotional over the holiday season in order to boost traffic and clear out inventory. Below is a comparison of the company's year over year inventory levels.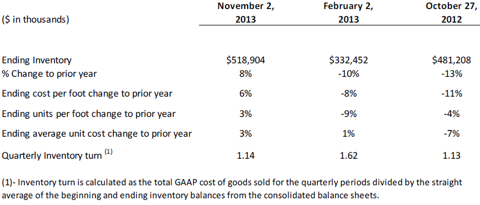 Source: Third Quarter 2013 Earnings Presentation
Management has guided fourth quarter earnings to be in a range of $0.26 to $0.30 a diluted share. This compares to last year's fourth quarter earnings of $0.55 excluding certain items. This represents full year earnings of $0.73 per share if fourth quarter earnings come in at the high end of the range.
American Eagle isn't alone in its difficulty maintaining earnings momentum. Aeropostale has been on a much more severe five year slide with earnings sliding at an annualized 17.9% rate. American Eagle remains in a much better position and may be seeing the light at the end of the tunnel.
Balance Sheet and Financial Strength
The good news for American Eagle is that it has a strong balance sheet and virtually no debt. The company has $2.10 per share in cash. Its cash as a percent of assets stands at more than 37%. Its tangible book value is $5.94. The company's trailing twelve month Return on Invested Capital (ROIC) is 13.5%. This is below the company's stated target of 14%-17%.
Below is a comparison of balance sheet and financial strength measures with American Eagle's closest competitors.

Source: Charles Schwab & Co.
Valuation and Competitive Comparison
American Eagle trades at less than 13 times trailing twelve month earnings. However, based on earnings forecasts the stock trades at more than 19 times full year earnings. I expect American Eagle to earn more than $1.00 per share next year. This would put the stock around 13-14 times earnings at current prices. The historical 10-year valuation has been 16.4 times earnings. Analysts expect the company to earn $1.12 next year.
As a long-term investor, I like to look at price to forecasted earnings for more than just a year. Although it is more difficult to predict future earnings years out, I find this to be a good guide for potential returns.
Below is what analysts expect American Eagle to earn over the next five years. I have also included a price to earnings ratio at the current price as well as the stock price if American Eagle returns to its 10-year average P/E of 16.4

American Eagle boasts a solid Return on Equity (ROE) of 16.76%. This compares favorably to its two closest competitors. The company also has a higher Return on Assets (ROA) and Return on Investment (ROI).

American Eagle appears to be one of the strongest of the specialty retailers. Abercrombie and Fitch compares favorably in some metrics. However, I am concerned about management at the company. The board recently extended a contract for CEO Michael Jeffries to remain at the company. Aside from a dismal stock performance over the last three years, Mr. Jeffries has been a controversial figure and instills little confidence going forward.
Aeropostale appears to be in a far more precarious position. The company has lost earnings momentum and has now started losing money at a rapid clip. Though the company has no long-term debt, something must be done to stop the bleeding.
The Opportunity
American Eagle's stock price reflects the pessimism of management for the current year. This holiday season is likely to be one marked by intense discounting and inventory clearing.
The opportunity for American Eagle likely lies in 2014. The good news is the company has a great balance sheet and can weather even the roughest holiday season.
The company has laid out its strategic plan based on four pillars:
Fortify brands, processes and capabilities
Grow North America through under-penetrated U.S. markets, factory stores, Mexico and e-commerce
Transform the company into an omni-channel retailer with both domestic and international presence
Return value to shareholders through profitable growth and distribution of cash
Source: Company 2012 Annual Report
Let's be clear. The American Eagle brand isn't really suffering. The product is not a miss. However, the competitive landscape is causing intense pressure on margins this year. My recent store visits have revealed excited shoppers making purchases. The teenage demographic seems to be excited about the product that American Eagle offers.
American Eagle has a very limited international presence. The company has identified Mexico and other Latin American countries as a key focus for expansion. International growth provides significant upside potential for earnings in the coming years.
American Eagle is becoming the omni-channel retailer that it has set out to be. The company is already implementing seamless integration between stores and AEO direct. In addition, a growing online presence will fuel traffic to stores providing potential opportunities for up-selling.
American Eagle already pays an above average dividend yielding 3.5%. With a payout ratio of less than 30% and management's intention of returning cash to shareholders, the dividend appears safe and likely to grow. In addition, the board has approved a share buyback program through 2017 that includes 20 million shares. That represents more than 10% of the shares outstanding.
Conclusion
I have initiated a small position (<1% of my portfolio) in American Eagle Outfitters. This is primarily based on the company's valuation. However, I do not like to invest in a company based on its valuation alone. I have to believe that there are catalysts to move the company forward. American Eagle has such opportunities.
I am most excited about American Eagle's international expansion. The company has long been a staple in North American malls. If the company can replicate even some of its success in other markets the potential impact to earnings could be significant. AEO Factory stores are also an interesting concept and could provide some additional upside potential.
I am also excited about the growth that is occurring in AEO direct. We all know that consumers are turning more to online shopping. I believe that American Eagle has the opportunity to leverage its store footprint to drive traffic online as well as drive online traffic into stores creating a virtuous cycle.
With that said, there are certainly challenges and risks. The company recently named a new chief merchandising and design officer. I will be interested to see what, if any changes are made in this area.
This holiday season will likely be disappointing for many specialty retailers. It is possible that this could result in less competition in the sector going forward. If companies such as Aeropostale shutter more stores, American Eagle may benefit.
Investors may want to consider initiating a position in American Eagle prior to the company reporting full year results in early March. This is a riskier proposition than waiting until earnings are reported. However, I believe that much of the disappointing holiday season is already reflected in the stock price. If the stock comes down farther after Q4 earnings I will likely add to my position.
American Eagle should earn somewhere close to analysts' expectations next year. However, there is potential for American Eagle to outperform estimates 2-5 years out if the company can ramp up international expansion. Although I don't like to assign specific price targets to stocks, I believe that American Eagle shares have the potential to double over the next 4-5 years. Downside risk is relatively limited based on the company's strong balance sheet and high dividend yield.
Investors may want to fly with this Eagle again.
Disclosure: I am long AEO. I wrote this article myself, and it expresses my own opinions. I am not receiving compensation for it (other than from Seeking Alpha). I have no business relationship with any company whose stock is mentioned in this article.
Disclaimer: Mr. Constantino is a proprietary investor and does not provide individual financial advice. The stocks mentioned in this article do not represent individual buy or sell recommendations and should not be viewed as such. Individual investors should consider speaking with a professional investment adviser before making any investment decisions.