Many are fearing the formation of bubbles in asset prices from excess liquidity and challenging the rosy outlooks of the economy without government involvement. Growth is slowing around the globe, and an increase in exports may be the only way this large economy can buck the trend. While this may be a good reference to the current state of the US, China is sharing similar concerns among analysts with very different results in the markets.
This article is the second part of a series that focuses on the headwinds that will test the lofty assumptions of many analysts and how you can profit from already underperforming sectors that may drop to more attractive prices when these assumptions are debunked.
The Communist Party leaders recently set forth their reform blueprint to open up parts of the financial sector and steer the economy towards domestic growth and rely less on exports. This is going to put the strain on the 7.5% growth rate as costs increase and the ability for local governments to borrow dries up. Should the downward pressure on the housing market start to depress prices, it will cut off the lucrative land sales local governments have been accustomed to for financing their infrastructure debt loads. This combination of a service-led focus and a slowdown in infrastructure spending will no doubt put pressure on commodities and mining companies, which is already being seen if you look at the performance of global miners as compared to global companies.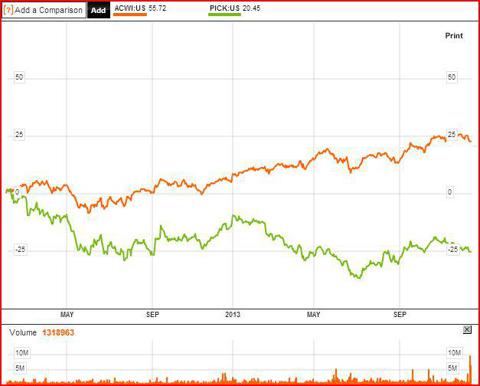 Miners have had a bad year, with companies at best flat, but mostly down, against a surging stock market. This was caused from a combination of softening commodity prices and rising capital expenditures at many of the mines. A look at an ETF for global miners, the iShares MSCI Global Metals & Mining Producers ETF (NYSEARCA:PICK), companies are down on average 17% this year. Many would expect this trend to continue if China (the biggest consumer of raw materials) has a rapid decline in growth. This grim picture will provide opportunities to start to look at the sector for and entry point.
There are a few factors that are building in favor of the sector and will need to be monitored. The first is a decline in capital expenditures in the sector, ambitious expansion plans from boom years were causing cost overruns on ambitious projects in the face of slowing demand for raw materials. A cut back will help to sustain the cash flows (and dividends) of much of the mining companies, providing a return, while investors wait, and it will ease concerns about cash flows some of these companies face.
Another factor that could cause upside potential is the downturn itself. Should China's economy deteriorate drastically, the central government will take steps to revive growth. One result is to clear up some of the bad debts that local governments and companies have on their books. This has started to take place, as the government increased the options banks can take to raise capital (like the IPO of Chinda bank) and rolling over many of the loans they have on their books. The government can also start to put more emphasis back on exports and increase stimulus spending in order to sustain growth levels while the domestic market remains slack. These measures will bring about another focus on export and infrastructure projects and fuel more commodity demand.
Couple the availability of commodities in a lower capital expenditure environment with a sudden surge in demand, and you can see prices rise and more pricing power for many miners. These factors will also be added to the fact that many banks are getting out of the commodities business, whether as a result of pending regulation or the tiring of volatile trading profits (and losses), and you have a market with less speculative capital and higher hedging costs, making moves more volatile.
Looking for the proper place to invest to take advantage of this trend, I decided to look for global miners that had direct exposure to China in the past. While the liquidity of these ETFs are not as high as, say, (NYSEARCA:XME) the dividend yields and the global scope of investments make these more attractive.
PICK has a current yield of around 2% and is closing out the year with double digit losses. A Chinese slowdown will surely affect the companies that this ETF holds (top 10 holdings below). A more volatile play would be to just focus on copper miners with Global X Copper Miners ETF (NYSEARCA:COPX). it isless liquid than the iShare and more volatile. I would look for the price of this to drop more drastically in the wake of a Chinese slowdown, but the upside could be more lucrative. with a yield nearing 5%, this could help compensate for some of the downside risks (key fund characteristics below).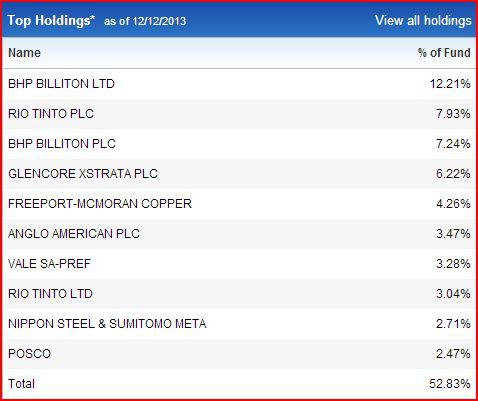 Some are arguing that the rise in stock markets are due to improving conditions in the global economy and not a function of excess liquidity. If fundamental growth was the true cause of the rise in asset prices, one would expect this to be reflected in the amount of raw materials needed to sustain these growth prospects. This leads me to believe that there is a threat of a slowdown in the global economy, and it may stem from the Fed tapering (see previous article here), China slowing down, or both. In either event, having the cash and a strategy ready to take advantage of troubles ahead is the best hedge to have. In the next article in this series, I will look at how a slowdown in Europe can increase the chances of fat tail events coming to fruition, causing governments to take more drastic steps to reforming the current state or the Eurozone economy.
Disclosure: I have no positions in any stocks mentioned, and no plans to initiate any positions within the next 72 hours. I wrote this article myself, and it expresses my own opinions. I am not receiving compensation for it (other than from Seeking Alpha). I have no business relationship with any company whose stock is mentioned in this article.