Pfizer (NYSE:PFE), the world's largest research-based pharmaceutical company has just announced its annual dividend increase. Here are a few quick highlights from the announcement:
The new quarterly dividend is 26 cents per share.
This is up 8.3% from the previous level of 24 cents per share.
This pushes the current yield for Pfizer to almost 3.5%, which is at least on par with most well known Pharma stocks.
The ex-dividend date for this new dividend is 02/05/14.
This article was written in November 2012, debating whether Pfizer would announce a 4th consecutive dividend increase in December 2012. And sure enough, it did. The 2013 dividend increase means two dividend increases have gone by since that article and it's time to revisit the numbers from the original article. Let us get into the details.
Dividend Background: Pfizer has always been a favorite among dividend investors. But the company had to cut its dividend by half in 2009 due to acquisitions. Dividend cuts are almost always viewed unfavorably by investors but Pfizer was also making it clear that it planned to grow through new patents acquired and cut costs through corporate alignment.
In spite of the dividend cut in 2009, as Seeking Alpha has mentioned in the link above, Pfizer will soon be paying out its 301st consecutive quarterly dividend payment. That is about 75 years for those wondering.
Payout Ratio: Pfizer's new annual dividend payment of $1.04 per share gives it a trailing payout ratio of about 50%, based on the last 4 quarterly earnings per share of $0.47, $0.51, $0.56, and $0.58 (total of $2.12). For those of you who wish to look at the forward payout ratio, that number is 45% based on 2014's expected EPS of $2.18.
As at the time of the last article, Pfizer's payout ratio is much lower than competitors Merck (NYSE:MRK) and Bristol-Myers Squibb (NYSE:BMY). Eli Lilly (NYSE:LLY) continues to have a lower payout ratio at 44%.
Cash on Hand: Pfizer continues to be strong when it comes to cash on hand. Those who experienced the 2009 buyout of Wyeth might even have the opinion that the company builds a serious cash position to make such strategic moves. As of the most recent quarter, Pfizer's cash and short term equivalents equal $33 Billion, up 50% since the previous article. That represents about 16% of the company's market cap.
The chart below shows how Pfizer stacks up against its competition in this department. Obviously, the market caps of these companies vary but it does not change the fact that Pfizer can flex its muscles if needed.
(Cash on Hand: Numbers in Billions.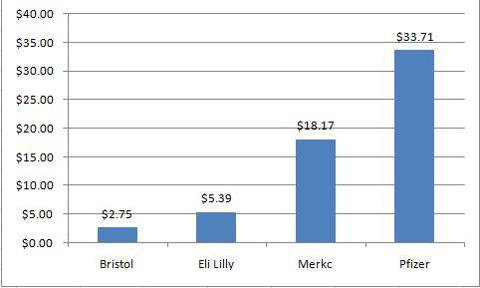 (Click to enlarge)
Dividend Growth: As impressive as the cash growth has been since the 2012 article, this is the section that should interest investors more. Pfizer has now increased its dividend 5 times since the 2009 cut. As a reminder, five years of dividend growth pushes a company into the "Dividend Challenger" category that SA contributor David Fish maintains. The table below shows the last 5 dividend increases. The average stands at about 10%.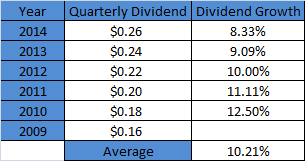 Extrapolation: As done in the original article, the table below tries to present a picture of what the future dividends might look like. The assumed dividend growth rate is 5% per year. The yield on cost reaches almost 6% even at this conservative level for the patient investor.
With the 2009 event fresh in mind, we would be a bit cautious here and say we do expect the dividend growth to continue at a better pace than the 5% but only if there are no major surprises about the $33 Billion cash hoard (One would expect a pharma company to spend big on R&D however).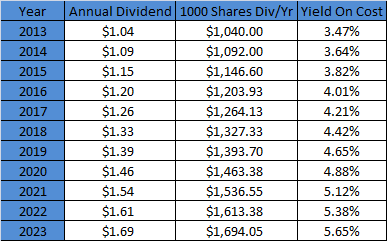 Conclusion: So, where do you stand on this sensitive topic of whether you should buy "dividend cutters" again for their dividends and dividend growth? Such companies are sometimes referred to as "Fallen Angels". We recently profiled a company that is in a similar situation, General Electric (NYSE:GE).
The comments section in that article showed both sides of the coin. Those who reinvested all the way through General Electric's troubled days in 2009 are now reaping the rewards, while there are still a few that are hurting because of buying at the highs before the crash. The key point is that if you believe in the long term prospects of the company (Pfizer or General Electric or any other), there is no harm in reinvesting your dividends to acquire cheaper shares. That brings us to the next question.
What about future earnings? It is no secret that Pfizer's earnings are not expected to rocket. But let's not forget that it is not easy to replace a blockbuster like Lipitor that easily. But the company has a few good things going its way when it comes to growth such as: a) The Celebrex patent being extended till 2015 b) continuing R&D funding and c) the big push into the Oncology division.
But what about the dividend cut, one might ask. This excellent link shows Pfizer increased dividends every year from 1981 to 2008 and from 2010 to 2013. Is it too harsh to bail out on a company that has paid dividends for 75 years straight and has increased dividends for 32 out of the last 33 years? (Pfizer's website goes back only until 1980 in terms of dividend data). We think so. In a nutshell, we believe the moderate payout ratio, cash on hand, good yield, moderate dividend growth and low beta make this stock a good candidate for an income portfolio.
Disclosure: I have no positions in any stocks mentioned, and no plans to initiate any positions within the next 72 hours. I wrote this article myself, and it expresses my own opinions. I am not receiving compensation for it (other than from Seeking Alpha). I have no business relationship with any company whose stock is mentioned in this article.