I always get excited at this time of year because of the huge opportunities that tax-loss selling creates. Stocks that have taken a hit in any given year often get punished further in the last weeks because investors sell their "losers" in order to harvest tax-loss which can then offset gains in other stocks. This often leads to a sharp rebound in these beaten-down stocks when the tax-loss selling pressure ends in what is known as a "January Effect Rally".
It is not unusual for beaten-down stocks to surge into the New Year and provide gains that are nothing short of astounding. One prime example, at this time last year was Hewlett-Packard (NYSE:HPQ). It was pushed down to about $12, but went on to make huge gains in January, and even more than double by March, 2013. I recently wrote about two other cheap tech stocks that have high potential for exceptional gains in the next couple of weeks in a January Effect Rally which you can read about here. However, there is another stock outside of the tech sector which also seems cheap and primed to rally in January:
Vale S.A. (NYSE:VALE) is a leading global metals and mining company as it produces a wide range of products including iron ore, pellets, nickel, manganese, copper, aluminum, bauxite, potash and other commodities. Some of these metals and basic materials are still trading at depressed prices when compared to the highs seen before the 2008 financial crisis. This company is based in Brazil and that has not been the best performing market due to above average interest rates. These factors have weighed on the stock this year which now trades at $14.67 per share, which is well below the 52-week high of $21.88. It's also way below the all-time high of roughly $43 per share which was reached in May, 2008.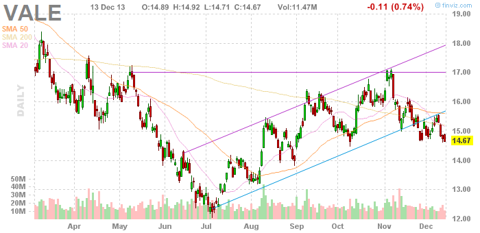 As the chart above shows, Vale shares bottomed out in July and have been in a solid uptrend until just recently. The stock peaked out at about $17 in November, and has been pulling back ever since. I believe much of this recent pullback is due to the downward pressure that tax-loss selling creates. Because of this, it is not surprising to see the stock heading lower in November and December, but that could be setting investors up for gains if they take advantage of this seasonal buying opportunity.
Once tax-loss selling pressure ends, the stock could rebound and this might be even further fueled by shorts. According to Shortsqueeze.com, there are nearly 95 million Vale shares short. With average trading volume of about 15 million shares, the short position is equivalent to about 6 days worth of trading volume. That could be enough to put some extra "juice" into any "January Effect Rally" that could be coming in the next couple of weeks. When shorts see a stock suddenly showing strength, many might prefer to cover or even have limit orders in that will trigger automatically if the stock begins to rise.
Aside from the seasonal catalysts that could cause this stock to jump higher in the coming weeks, the long term fundamentals also make Vale worthy of investment. JPMorgan (NYSE:JPM) recently selected Vale as its top Latin America metals and mining stock pick. The analysts believe that Vale has streamlined its business operations and that iron ore prices are poised for solid gains in 2014. A recent Barron's article details the bullish view from JP Morgan and states:
"Management has been consistently delivering on its strategy of discipline and simplicity. A few examples: capex budgets have been slashed; Rio Colorado potash project was discontinued; divestitures such as VLI and Norsk-Hydro were delivered; installation license of S11D was obtained. The final and more important one was the settlement of the tax liabilities, taking away the main uncertainty around Vale's investment case. Vale is now a simple story of iron ore growth and turnaround of base metals."
That article goes on to say that JPMorgan has set a $21.50 price target on Vale shares which would offer investors superb upside of about 50% from current levels. While it might take a while (perhaps until late 2014) for the stock to reach that level, it would not be surprising for Vale shares to head back up to recent highs of $17, perhaps in January, as tax-loss selling pressure ends. Potential downside risks could include another global recession or a "hard landing" in China which consumes plenty of base metals. Vale has a fair amount of debt which is around $36.46 billion, which is partially offset by about $8.13 billion in cash on the balance sheet. This could be a potential downside risk to consider, but with the global economy showing increased signs of strength, this risk seems limited now. Analysts expect Vale to earn $2.27 per share in 2013, and $2.06 per share for 2014. That puts the price to earnings ratio at a bargain level of just around 7 times, while the S&P 500 Index (NYSEARCA:SPY) trades for nearly 16 times earnings. Vale shares also look cheap as it trades below book value which is right around $15.77 per share. All these factors make this stock appear to be a "strong buy" for the long-term as well as for a potential January Effect Rally.
Here are some key points for VALE:
Current share price: $14.67
The 52 week range is $12.39 to $21.88
Earnings estimates for 2013: $2.27
Earnings estimates for 2014: $2.06
Annual dividend: about 11 cents per share which yields .7%
Data is sourced from Yahoo Finance. No guarantees or representations are made. Hawkinvest is not a registered investment advisor and does not provide specific investment advice. The information is for informational purposes only. You should always consult a financial advisor.
Disclosure: I have no positions in any stocks mentioned, but may initiate a long position in VALE over the next 72 hours. I wrote this article myself, and it expresses my own opinions. I am not receiving compensation for it (other than from Seeking Alpha). I have no business relationship with any company whose stock is mentioned in this article.